AS THE resident country bumpkin of the Driving team, I've been elected to run an Audi A3 e-tron as part of our extended test of three PHEVs — or plug-in hybrid electric vehicles. It should be revealing, for me at least. I drive to the train station once a week to catch a train to London, and over the past couple of years the number of plug-in hybrid and pure electric cars parked at the station car park has visibly grown. Why?
Admittedly, the number is still modest. Gas-guzzling, super-size SUVs have multiplied like weeds in the garden, but there's a definite trend, borne out by the official sales figures. What is it that's convincing drivers to ditch their dirty diesel hatchback for a complicated, heavy hybrid?
The e-tron faces mostly local trips, ferrying children around, but there will be the occasional long run for work and weekend visits to friends and family.
View the Audi A3s for sale on driving.co.uk
The A3 e-tron is available in only the Sportback, five-door hatchback body style. My test car is finished in Scuba Blue, which is a £550 metallic paint option, and the interior is trimmed with Black Milano leather. All A3 e-trons come with an automatic gearbox; you can browse a list of the other standard equipment here.
But anyone considering this car for their family hatchback has far greater concerns. Can its electrically powered motor really take the car 31 miles before the battery needs recharging? Does it genuinely take less than four hours to return the battery to fully charged? How much does the electricity needed to do that cost? And let's take the official fuel economy figure of 166mpg with a pinch of salt: what's the true long-term fuel consumption of the car?
That's not all. Is it a hassle to have leads trailing all over the place? How good is the national recharging infrastructure? How impressive, or unimpressive, is Audi's smartphone app? Is the A3 e-tron a practical family car and good to drive? Or would a diesel or petrol car be a better bet?
Time to hit the road and find out.
Vehicle 2016 Audi A3 Sportback e-tron
Run by James Mills
Delivery date May 2016
Odometer reading at start 183 miles
Price £33,190 (after government grant)
Price as tested £38,325 (including options, after government grant)
Options fitted 

18in 15-spoke Turbine design alloy wheels, £995; Cosmos Blue metallic paint, £550; black Milano leather trim, auto-dimming rear-view mirror, £245;
 storage and luggage package, £145;
 interior lighting package, £170; panoramic glass sunroof, £950;
 heated front seats, £295;
 electric lumbar support, £195; Audi parking system plus, front and rear, with selective display, £250; cruise control, £225.
Read more: Philip Glenister fires up the e-tron
March 30, 2017: Final report on living with an Audi A3 e-tron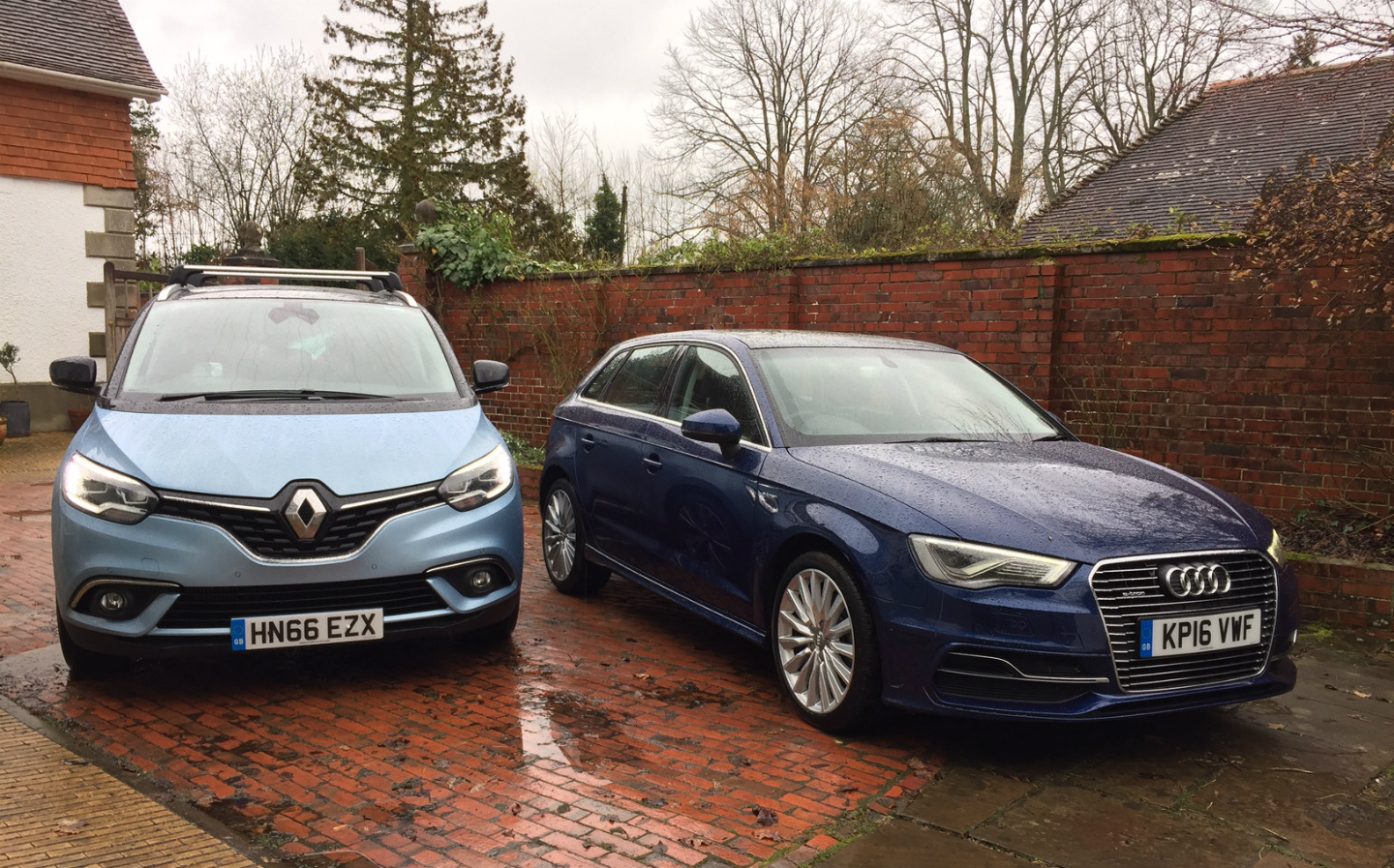 After nine months, 8643 miles and 320 hours of driving an Audi Ae Sportback e-tron, it's time to climb out of the driver's seat and take a break. That's not some sort of Guinness World Record for the longest continual spell at the wheel; it's how long Driving's extended test of the popular plug-in hybrid vehicle (PHEV) has lasted.
The objective was to find out what it was like to live with a plug-in hybrid. And the findings were generally very positive.
First things first, let's cut to the chase and talk about the fuel economy. The average over our time with the car was 69mpg. Audi claimed 166mpg for this, pre-facelifted A3. That's a big difference.
However, compare it with a similarly powerful A3 2.0 TFSI (190) S Line S Tronic; that is said to return 49mpg on the combined cycle, but it's unlikely to get over 40mpg. Meanwhile, a 2.0 TDI (184) quattro S Line S Tronic is said to manage 57mpg, but the reality would most likely be somewhere in the mid 40s.
Further more, to give the A3 e-tron credit, toward the end of its time with our test team it carried out a higher proportion of long-distance drives. These had a knock-on effect on the average fuel economy, dragging it down from an impressive 77mpg to 69mpg by the end of our test.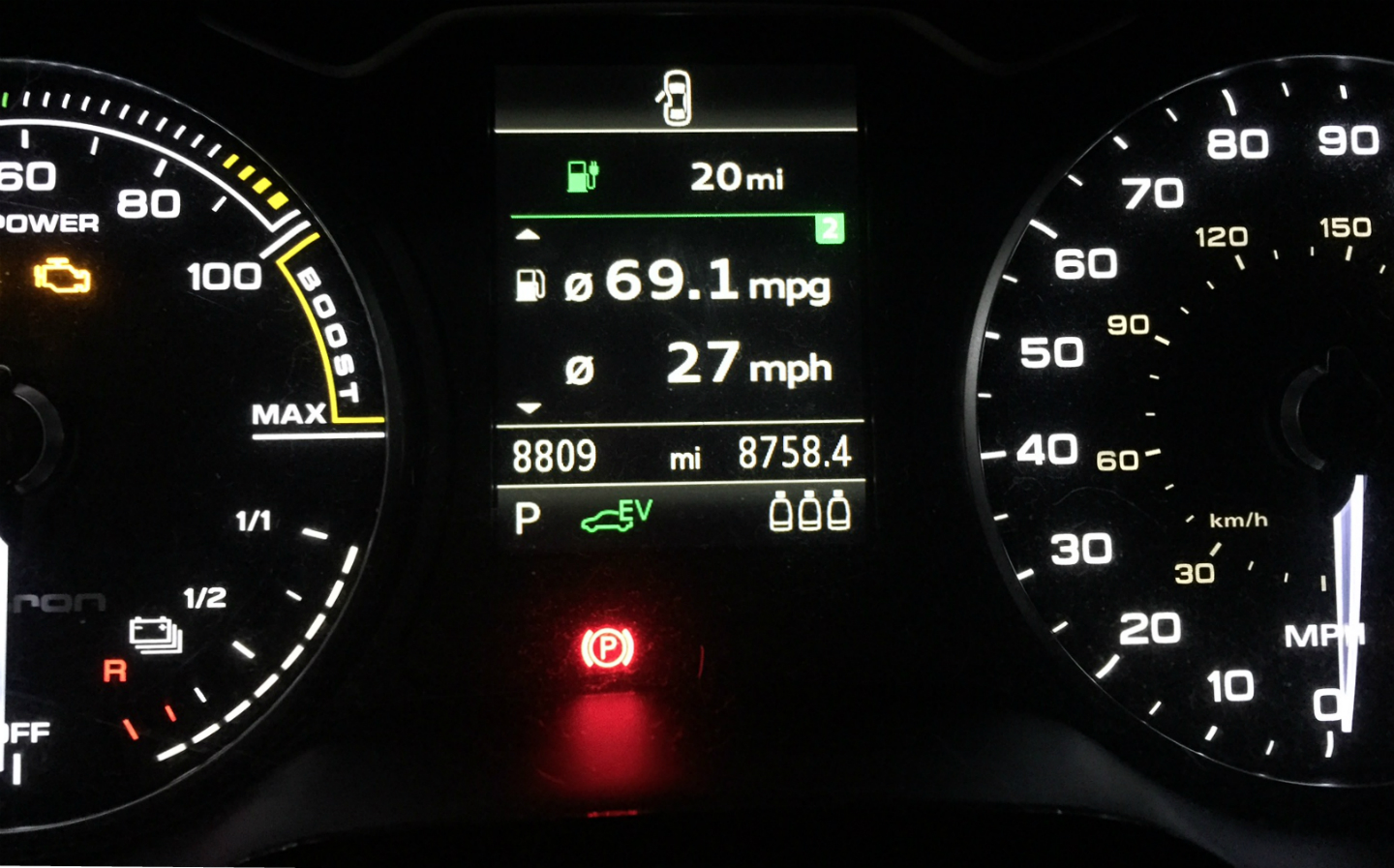 In our experience, buyers of this type of car will need to have 24/7 access to an electric plug socket at home or at work, or install a fast-charging wall box, to get the best from its petrol and electric powertrain. Without charging it, the fuel economy would tumble to around 40mpg, in part because this is quite a heavy car. (At 1540kg, it's 115kg heavier even than the four-wheel drive 2.0 TDI A3 Sportback.)
The battery charge would last for around 22 miles in favourable weather conditions, and about 16 miles in the winter. Regardless of the weather, it remained an eternal bugbear that the cover for the charging point lacked any warning on the dashboard for when you left it open – something that happened all too frequently, when the distractions of everyday family life got the better of you.
It took approximately 3 hours to recharge the 8.8kW lithium-ion battery from a household socket. Given that a Type 2 wallbox would have reduced the charging time by just 45 minutes, and its installation would have required my house to be ripped apart, it seemed a pointless upgrade.
No two public charging points seem to have the same provider
Out and about, I never made use of public charging points for electric cars. That's partly because the car has a 1.4-litre, four-cylinder petrol engine to call on when the battery charge is exhausted, and also because no two charging points seem to have the same provider, and handing over personal and financial details to countless companies didn't sit well with me.
The integration of the electric motor and petrol engine together with the six-speed dual clutch automatic gearbox was one of the better ones, as far as PHEVs go. Outright performance was impressive,with zippy flat-out acceleration and good overtaking abilities when required, and during everyday driving the car was much more refined than a diesel.
However the A3's road holding was noticeably compromised by the car's extra weight. It felt something like a father entering a school piggyback race with their child on their back; the agility and control of the regular A3 was missing. More concerning, on too many occasions in winter weather the weight of the battery (which is stored under the boot floor) got the better of the car's balance and pitched the car's tail into a slide – such as when you misjudged the severity of a tightening corner. Both the driver and the ESP system earned their keep in gathering up such potentially dangerous situations.
As a family car, the A3 Sportback coped well with everything that a family of five could throw at it. Nothing fell apart, there's a reasonable amount of legroom in the back and we were able to fit one child seat and two older kids across the back seat. The 280-litre boot wasn't quite as impractical as its capacity figure suggests, because it had flat sides with no intrusions, but it was shallow and a packing in a folded pushchair was a seriously tight squeeze.
However, on more than one occasion I wished for the BMW 225xe PHEV that my colleague, Will Dron, was testing at the same time. It boasts 400-litres of luggage space and three individual back seats, which is a more family-friendly set-up. And that car returned 79mpg during its time on extended test.
I also wished for the BMW's smartphone app, which seemed more reliable than the Audi version and provided the driver a little more insight into their fuel-sipping driving techniques. The ability to programme the battery charge for your morning start was appreciated, but the app rarely communicated in real time with the car and generally felt in need of further development and more features.
The question that remains is would I buy one with my own hard-earned money? No. But there's a good reason for that: PHEVs typically make the most financial sense for company car drivers. Anyone paying their own money for a fuel efficient family car would be better off spending less on, say, a 1.4-litre TFSI A3 Sportback and whatever money they save – more than £10,000 – would more than cover the difference in fuel bills.
However, if you need a car for maximum tax efficiency, the A3 e-tron has to be on your shortlist. It's a classy package and proved faultless during its time on extended test. For such new technology, that's impressive in itself.
February 13, 2017: Winter weather hits the fuel economy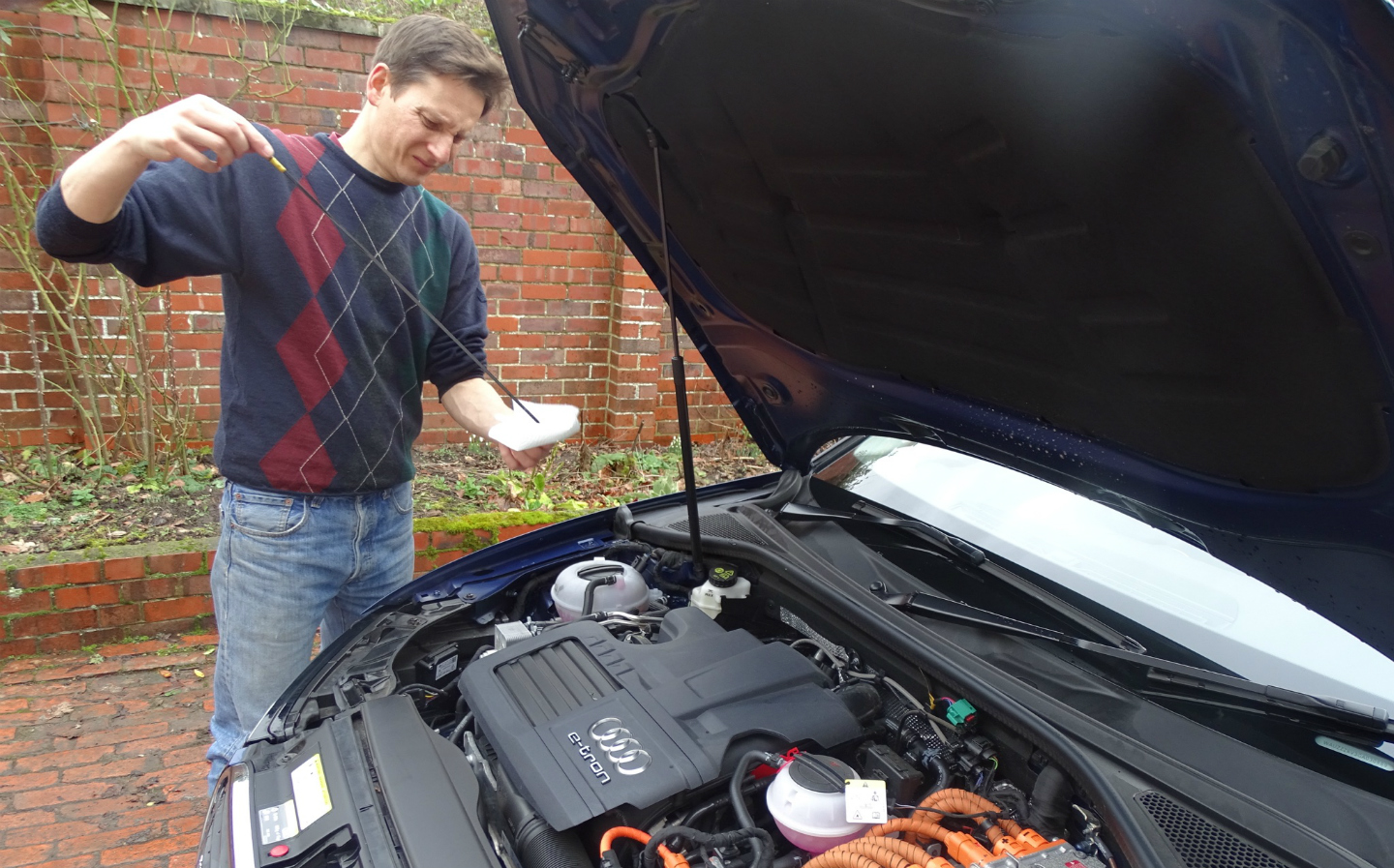 It's often said, by both the engineers who designed them and the people that buy and live with them, that cold, winter weather depletes the battery performance of a plug-in hybrid or electric car. And after experiencing sub-zero temperatures while putting Driving's Audi A3 Sportback e-tron through its paces, I'd have to agree.
For the first 7,000 or so miles, the car's fuel economy has been steadily increasing. That's because it's been gliding along like a stealthy, diesel-slaying assassin, operating under battery and electric motor propulsion. As the number of local trips made in EV (electric vehicle) driving mode increased, steadily making up for the occasional long distance run using the 1.4-litre, four-cylinder petrol engine, the average fuel economy worked its way up to 77mpg.
However, once the morning start involved defrosting the windscreen, the operating range of the battery began to dwindle like the legendary lettuce shortage of 2017.
Last summer, it was managing just over 20 miles on battery power alone. But this winter that has fallen to around 14 miles. That's being driven through village areas, with a 30mph speed limit, and B roads with a national speed limit. And I purposely drive it gingerly; wouldn't you, if it was your money being poured into the fuel tank and topping up the battery?
Because of the cold temperatures, I've been using the car in its Hybrid Auto setting more frequently. This is where the onboard computer decides on the best mix between electric and petrol power, switching between the two or running both together as it sees fit for the driving conditions. It means the average fuel economy to date now stands at 69.2mpg. That's a fall over just over 10 per cent.
The operating range of the battery began to dwindle like the legendary lettuce shortage of 2017
Over a full year, an average of over 70mpg should be achievable. You'd be Britain's most frugal driver if you were to get anything approaching that from a diesel-powered A3 Sportback.
Then again, if all you care about is how much money you're spending, a basic diesel A3 could be bought for considerably less – prices for the Sportback 1.6 TDI SE start from £22,075. Pick the more potent 2.0 TDI SE and add an automatic gearbox and you'll pay from £24,975. The e-tron model costs from £35,930.
Meanwhile, after just over 8,000 miles since rolling off the production line, the Audi's service indicator has sprung to life. It's warning that an oil change service will be needed at 9,000 miles, which will cost £196.42 – according to my local Audi franchise, in Tunbridge Wells, Kent. However, Driving's A3 e-tron is unlikely to get to that point before it has to be returned to Audi UK.
As it is, the petrol engine's oil level remains barely diminished, and the performance of both the engine and electric motor working in tandem is impressive on the rare occasions that you give this car 'the full beans'.
And they are few and far between. Because let's face it, climbing behind the wheel of any plug-in hybrid car automatically results in a halo hovering over the driver's head, as they try to achieve a new 'PB' fuel economy figure. Well, it does for me.
January 15, 2017: Clean me

Winter has taken its toll on the A3. Its Scuba Blue paintwork looks less like the sort of crystal clear torquoise waters that its name is meant to invoke, and closer to the BP Deepwater Horizon oil spill.
Sludge clings to inside of the wheelarches. The distinctive front grille, unique to the e-tron, is caked in road salt. And the rear registration plate is borderline illegal, its numbers and letter barely legible beneath a film of filth.
This is just the kind of challenge Marigold gloves were made for. Well, those and a Draper pressure washer, some Autoglym car shampoo, two buckets and wash mitts the brilliant invention that is the Absorber, a synthetic chamois that seems capable of holding more water than a bath.
Professional car valeters – or detailers, as they seem to be known these days – say a pressure washer is an essential bit of kit for cleaning a car. Its powerful jet of water dislodges all the tiny particles of grit and debris that cling to the surface of a dirty car's paint – and you can read Driving's review of pressure washers here.
Seeing the amount of grime made me feel as ashamed as a parent who forgot to change their child's nappy for an afternoon
The Draper unit is rather unsteady and the hose remains forever coiled, like a snake poised to strike, but the adjustable nozzle on the lance means it's easy to blast under the wheel arches, then start from the roof and work your way down the car's body.
Surprisingly, a splash of Autoglym alloy wheel cleaner, short soak and another blast from the pressure washer put the sparkle back into the optional 18 inch, 'Turbine' wheels. They look good, but the ride comfort with the low profile, 225/40 section Continental tyres takes a bit of a hammering and any A3 e-tron buyers will have to pay £995 for them, which seems like money not terribly well spent.
Seeing the amount of grime that came away with every stroke of the wash mitt made me feel as ashamed as a parent who forgot to change their child's nappy for an afternoon. It was filthy. By the end of the process, it came up gleaming, and as good as new.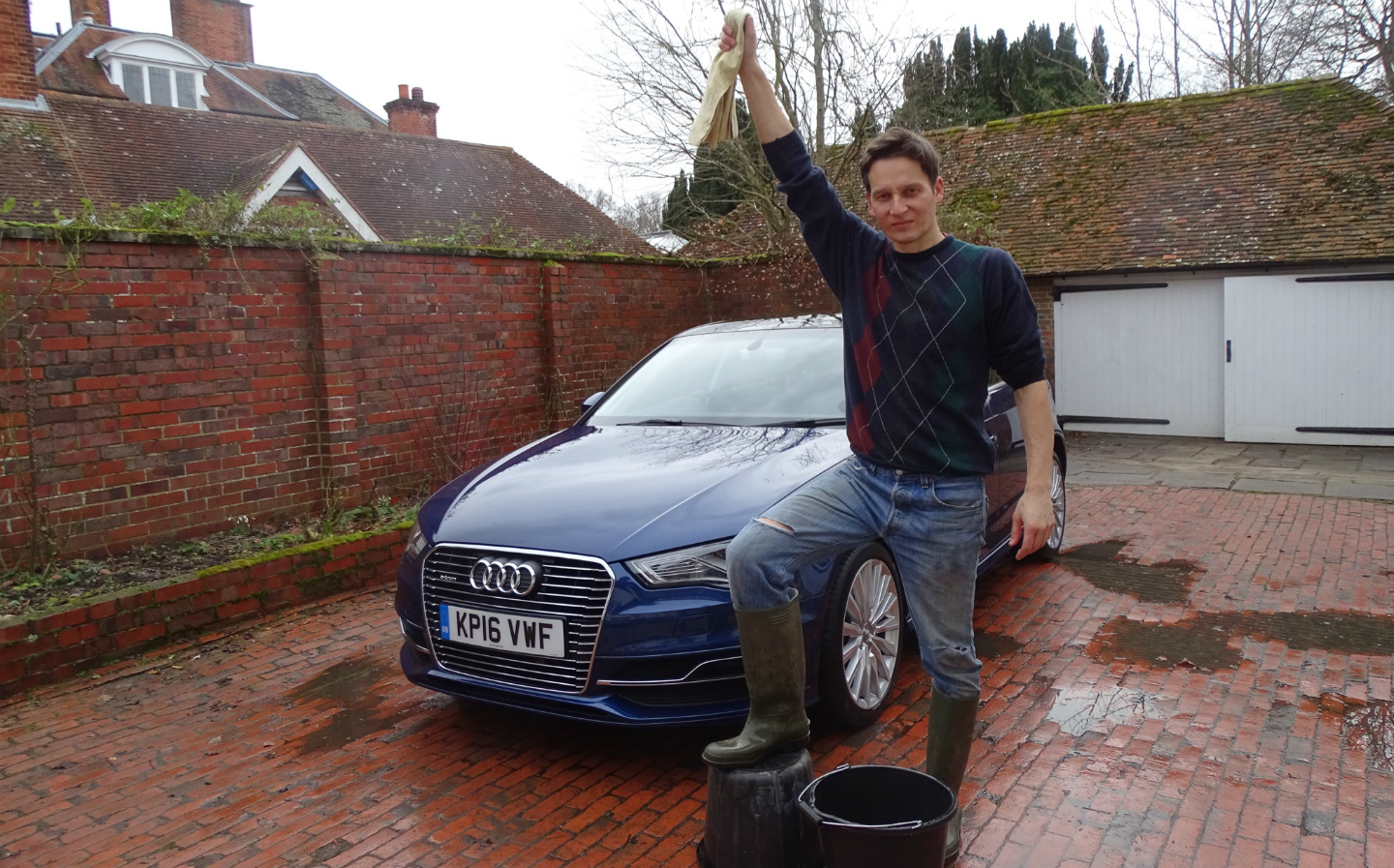 However, I'd still choose a different colour. Silver or grey would get my vote, but unless you like brown – does anyone really like a brown car? – the choice of colours isn't terribly inspiring unless drivers shell out an extra £2,025 for an 'Audi exclusive' shade of paint.
This got me thinking about other options I'd recommend to anyone ordering an A3 e-tron. It's comprehensively equipped in the first place, but top of my list would be an upgraded audio system. Audi offers a 10 speaker, 180 Watts option for £225, which would be a step in the right direction. But for those with an eye, and ear, for detail, the Bang & Olufsen sound system has to be worth exploring, as it ramps things up to 14 speakers and 705 Watts – at a cost. Yours for £750.
At a practical level, the reversible boot mat, for £65, would be useful. It's velour on one side and rubber on the other, which would be ideal for muddy wellie boots and all-terrain pushchairs.
A reversing camera and automated parking system are also an option, but in a car of this size, which is easy to see out of and features effective audible parking sensors, I'd say neither is worth having and would save on the respective £275 and £490.
Our extended test car came with cruise control, a £225 option, and I'd go one step further and upgrade this to adaptive cruise control, and it is only an additional £150 and gives extra peace of mind when using the system. There's a side assist system available, but as with the parking options, I've never once felt it was something worth having.
And finally, if this is a car bought with your own money, and you're going to keep it for more than three years, then extending the warranty to five years (or 90,000 miles) costs £545. In a car with an unusually complicated, plug-in petrol-electric hybrid system, I'd say that's a wise investment.
November 10, 2016: The true fuel economy of an Audi A3 e-tron PHEV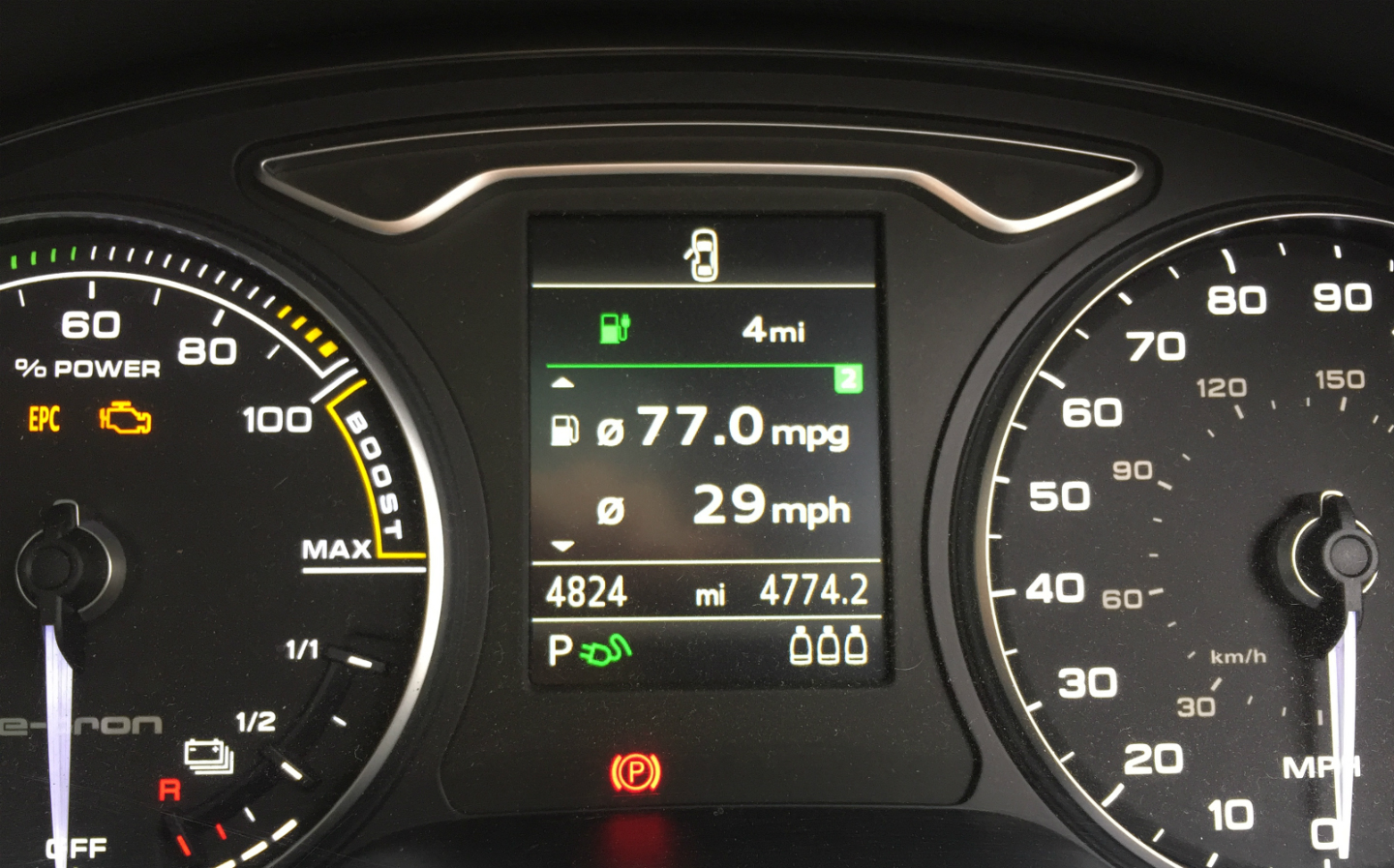 What's the true fuel economy of an Audi A3 e-tron plug-in hybrid? Could it be 166mpg, as Audi claims? In a word, no. I've been living with an A3 e-tron for nearly six months, and have covered 4,659 miles. It has returned an average of 77mpg.
There are two ways of looking at this result. It's nowhere near the figure quoted in the oozingly glossy brochures. So the real CO2 emissions must be more than twice the 38g/km promised.
Alternatively, you could view the A3 e-tron as one of the most fuel-efficient family hatchbacks you can buy. In my experience of testing cars, a genuine average fuel economy of 77mpg is remarkable. And it's getting better all the time.
The information available from the car's MMI (multimedia) system is limited. The display tells me, for example, that as the car has piled on the miles, it has spent 62% of its time running "emission free". If my electricity supply came entirely from sustainable sources, such a description wouldn't raise eyebrows.
The car is mainly used for local journeys, including the school run and shopping trips to the nearest town. I spend most of my time driving it as if it's about to run out of fuel, on B-roads that have plenty of hills, and the car's true range on electric power alone is 20 miles at best, now that the weather has turned cold.
Using features such as the heated door mirrors saps energy, and during the morning school run my daughter and I have almost come to blows over her fondness for the heated passenger seat.
Of course, drivers don't suffer the dreaded effects of range anxiety in a plug-in hybrid car. But somehow you do approach things with a different mentality, and focus on eking out as many mile per gallon as possible.
It's probably a good job that I do drive it like a milk float. If you call upon the twin power reserves of the electric motor and the engine, the A3 e-tron really can get a move on: 0-62mph takes just 7.6 seconds. But there's so much battery weight to be lugged around, much of it over the rear axle, that the car feels uncomfortable when the driver asks it to hurry up.
On more than one occasion I've found myself in a trouser-trembling moment. The nose of the car pushes wide in corners, so you lift off the accelerator to ease it back on course; this unsettles the back axle, and the weight of the battery can send the tail pivoting outwards. Let's just say the electronic stability control and driver have given each other a virtual high five once or twice for stopping things getting seriously out of hand.
Once I'm home, the A3 e-tron is plugged in and takes around 3 hours to recharge the 8.8kW lithium-ion battery. I investigated having a dedicated wall box charging point installed — the type 2 version — but given that it would have reduced the charging time by only 45 minutes, to 2¼ hours, and the whole of my house would have had to be ripped apart to allow a high-power cable to be laid, it seemed a pointless exercise.
Every now and then the A3 e-tron ventures out into the big wide world and tackles the nation's congested motorways. At which point I switch the operating mode from EV (electric vehicle) to Hybrid Auto and leave the car to determine the most efficient use of electric motor and 1.4-litre four-cylinder turbocharged petrol engine.
That's what hammers the fuel consumption. At best I'll see 45mpg on a long run. So, if you drive mainly long distances, a diesel-powered A3 might better meet your needs — though that doesn't take into account the company-car tax benefits that come from running an e-tron.
September 22, 2016: It's the little things that count when living with a car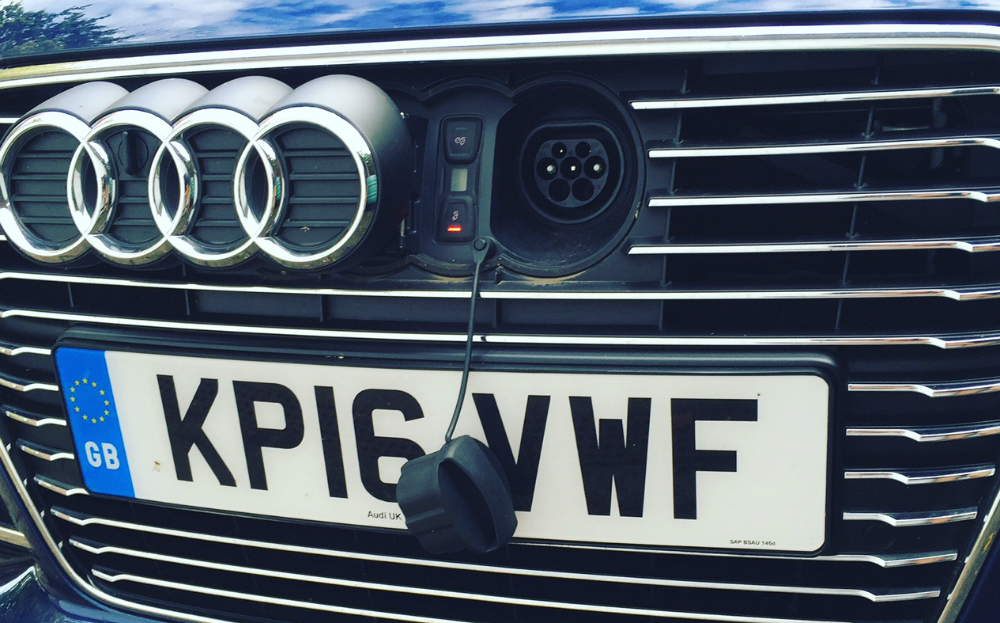 When living with a car, it's the little things that can delight or annoy a driver and passengers.
The Audi A3 Sportback e-tron has plenty of pleasing touches. From its understated yet elegant styling, to the simplicity of the high quality dashboard and smooth operation of the e-tron's petrol and electric motor hybrid system, it feels a polished product.
Yet there are some small oversights that only become apparent when you live with the car over a meaningful period of time.
For example, picture the scene: it's the school run, you should have left home five minutes ago but the kids haven't still finished their breakfast, let alone brushed their teeth and pulled on their shoes. In the mad dash that ensues, it's all too easy to unplug the charging cable from the nose of the A3 e-tron, put it away in the garage, then turn around and jump into the driver's seat.
It's only when you arrive home that you realise what everyone has been staring at, as the A3 e-tron cruised away from the school gates, in the stealthy silence of its 'EV' electric driving mode; the protective cap and hinged cover for the car's charging point are respectively dangling and wide open.
Irritatingly, there is no way for the car to tell you that you've made such a mistake. It will tell everyone to fasten their seat belts, or close a door, shut the bonnet or boot properly, or even warn when the petrol or oil are running low. But it can't tell the driver when they've left the charging connector open and driven away, oblivious to as much.
This is not at all good news. Especially if it's raining. The vehicle handbook states that "The cover and the electric components behind it can be damaged if you drive with the charging unit open." Precious electrical components and water and dirt not a good mix? Who'd have thought it? Not Audi's engineers, clearly.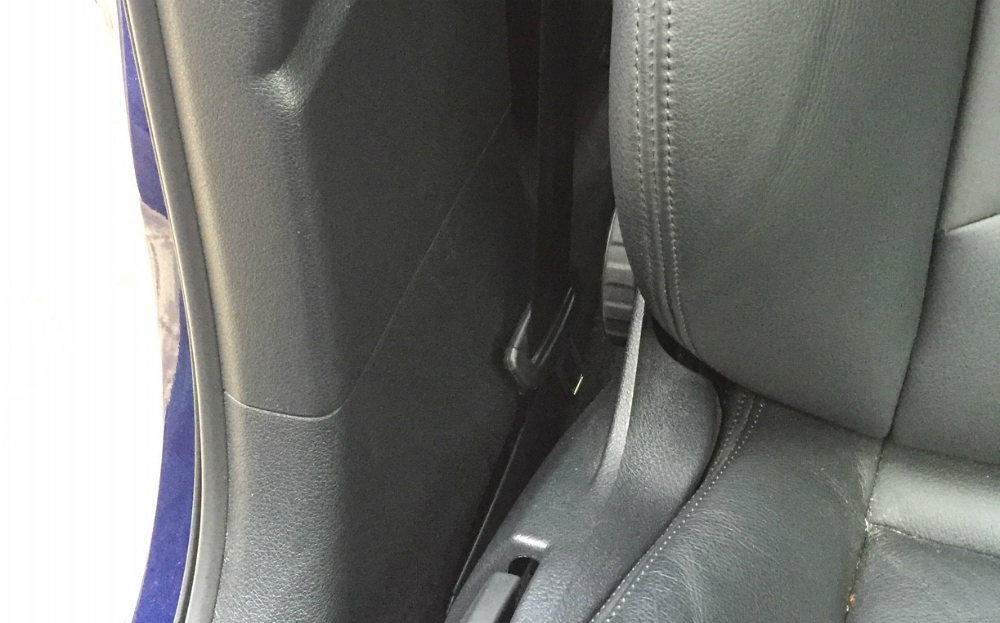 Another thing that never fails to annoy is the driver's seat belt. It doesn't have a small clasp to prevent the buckle from sliding to the base of the belt when not in use. So each time you jump it, you have to fumble in the tight space between the seat and B-pillar to fish it out.
And finally, the standard Audi MMI audio system seems to struggle to play compress MP3 files, via an Apple iPhone, with anything like the clarity and punch of other cars. In fact, it's so bad, you tend to stick to the digital radio, rather than wince at the poor sound quality of your own music. And before you ask, not, it's not down to my poor taste in music…
September 2, 2016: How convenient is it to live with a plug-in hybrid car?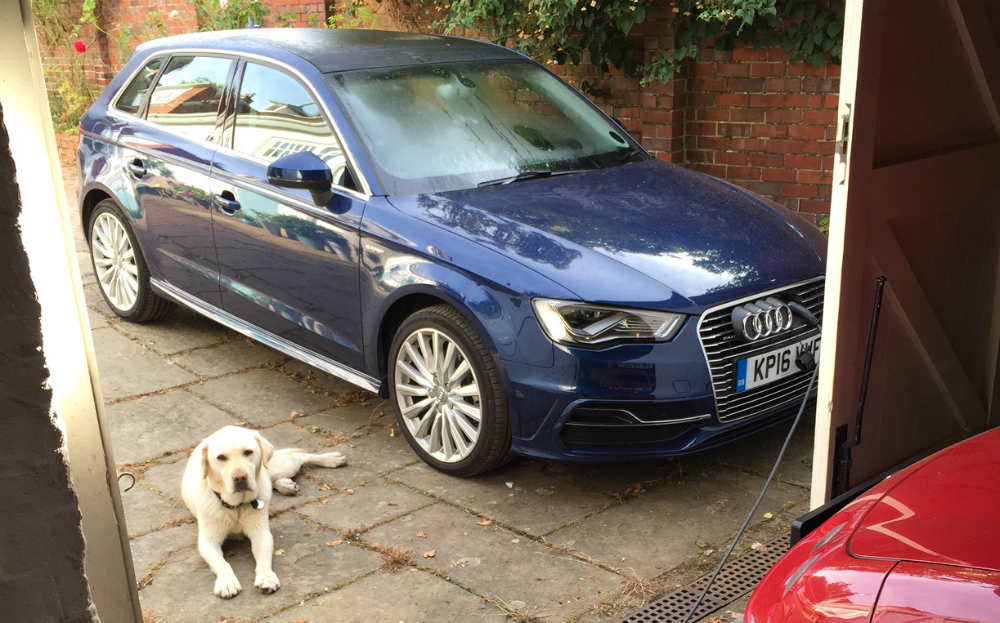 When people find out that I drive a plug-in hybrid car, the second question they ask – after, "How far will it go on a charge?" – is whether it's a bit of a palava to have to plug in leads whenever you want to recharge the car's battery.
Until recently, my answer had always been, yes, it's a pain. At home, we didn't have a garage and our outdoor power point wasn't within reach of our driveway. The first time I wanted to charge the A3 e-tron, I stood around, scratching my head like Stan Laurel, wondering whether the only way to recharge the car's battery would be to fill the petrol tank and use the engine like a some sort of incredibly expensive generator.
This seemed to somewhat defeat the object of plug-in hybrid car; namely, to be convenient and practical enough to make it a viable proposition for all drivers, rather than just a select group of green-minded geeks.
My solution was to resort to the tried and trusted approach of bodging it. I would spend 10 minutes fetching and unwinding a heavy duty extension cable, plugging it into the Audi's charging unit, entering a PIN code to unlock the charging unit, then wonder why it wasn't working and remember that I needed to flick a switch inside the house to make the outdoor socket live. After which, inevitably, it would start to rain, and I'd cobble together a water-tight housing for the whole lot, which consisted of, er, one of those plastic recycling boxes provided by local councils.
Needless to say, all of this was frowned upon by Audi. Like all manufacturers of plug-in hybrid or electric cars, it says extension leads are strictly verboten. There's a risk of damaging your domestic electrical circuit or, worse still, causing an electrical fire. So, I'd only ever charge the A3 e-tron at home during waking hours, when I was on hand to keep an eye on proceedings.
Happily, there was never a problem. However, as time went on wrestling with leads and wires it became such a faff that I decided to move house. Admittedly, having three children and not enough bedrooms was also a consideration.
The new Mills residence has a garage. Which means I can leave the Audi's charge unit plugged into the wall, indoors, all of the time. As soon as I arrive home, I open the garage door, push the connector into the Audi's nose and leave it to do its thing. A full charge takes around three hours, using a conventional household socket.
It has made a huge difference to the way I feel about the car. One moment it felt flawed, the next it works perfectly well. If you're considering buying a plug-in hybrid, or electric car, it would be wise to have such seemingly mundane practical concerns at the front of your mind. Otherwise, you could be left cursing your car every time you use it.
The next step for any car maker looking to take the lead in the race to sell more electric or plug-in hybrid cars would be a bespoke car port, with solar panels on the roof and conductive, wireless charging in the ground. Heck, I'd move house for that kind of convenience.
August 12, 2016: Family favourite?

What is it like to live with an Audi A3 Sportback e-tron? Especially in terms of practicality and cabin space, if you have a young family that treats it like an indoor play zone while fired up on a diet of biscuits, sweets and fruit juice?
The e-tron Sportback is a five-door hatchback a similar size to a VW Golf or the Mini Clubman pictured above. So, many drivers will be choosing between, say, a diesel-powered Clubman and a plug-in hybrid, like the A3 e-tron.
First things first: the A3's cabin has a feelgood vibe that I thought couldn't be bettered by any similarly sized family car. But then I slid down into the driver's seat of the Clubman Cooper SD All4 automatic, gazed in awe at the dashboard's bold design, caressed the chrome-effect trim around the giant dials and marvelled at the head-up display.
The Audi is robust and has a stylish restraint that elevates it above, say, a Golf. But the Mini Clubman has the wow factor all sewn up. The moment Mrs Mills had set eyes on it, she could not unsee it, and suggested that perhaps, in the interests of a long-term comparison test, she should live with the Clubman while I stuck to the A3 Sportback e-tron.
The Mini Clubman should feel special, though. Once you have added essential options to match the Audi's generous spec, there's not much in it in terms of price, the Mini working out to be just a couple of thousand pounds less.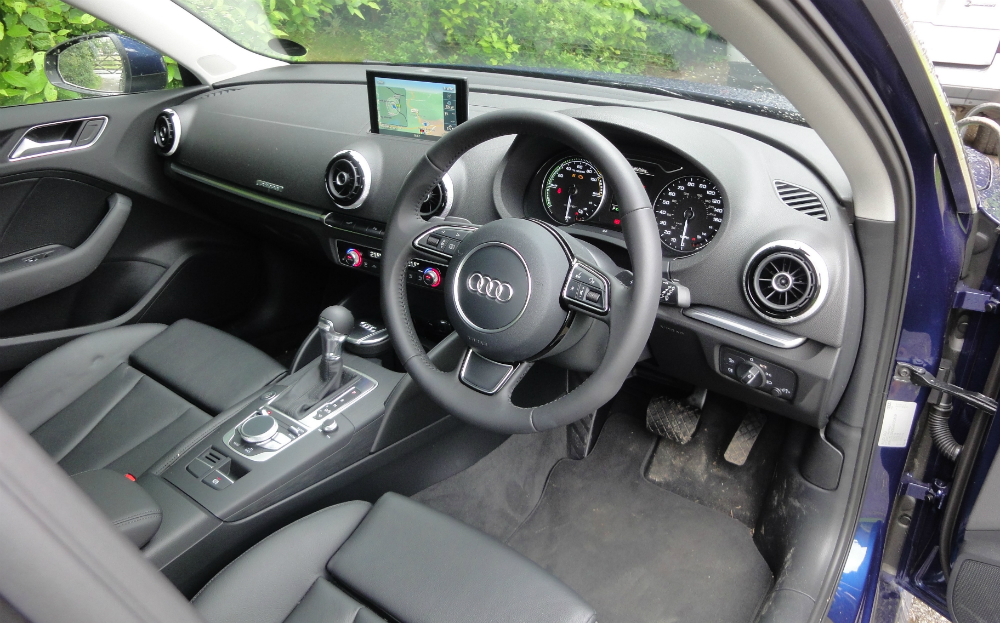 As for clarity and ease of operation, the A3 wins hands down. The dashboard is a clutter-free environment, and the controls for Audi's multimedia interface (MMI) are straightforward enough not to have the driver lowering their eyes to see what's going on.
By contrast, the Mini has been designed to look good, and practical concerns seem to come second. They both have a good driving position and comfortable seats for long-distance trips, but the Clubman driver can sit lower to the floor and the view out ahead is somehow more sporty, framed by the narrow windscreen surround — it's like peering out of a postbox.
The big news, especially for those with kids in tow, is that the Audi's back seats aren't as spacious as the Mini Clubman's. There's more legroom in the Mini, admittedly only 30mm, according to my tape measure.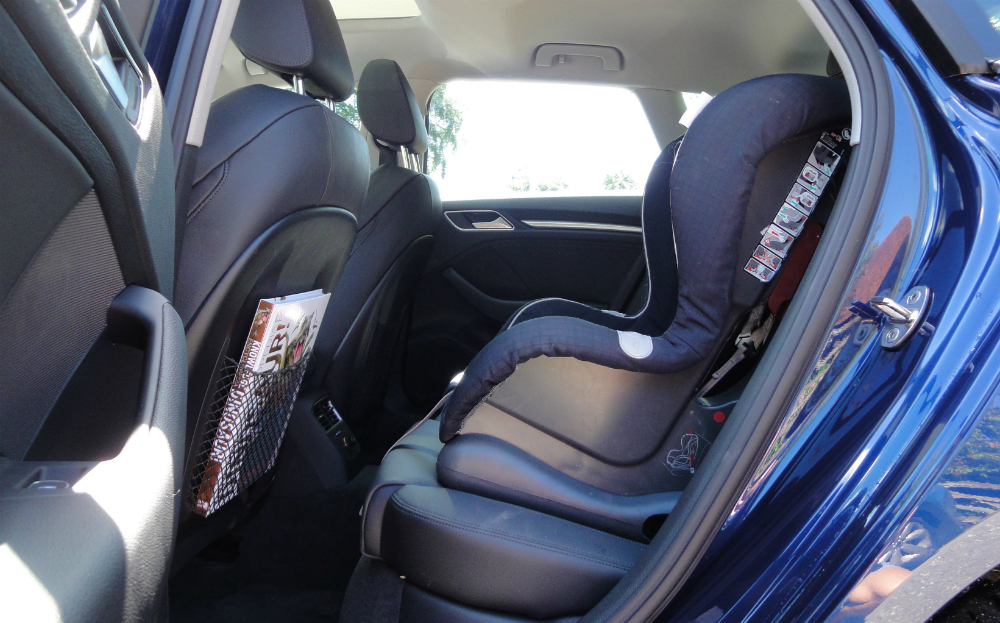 It's a small but surprising win for the Clubman. Moreover, the Mini's upright rear pillar means that passengers feel less claustrophobic. Mind you, the children haven't complained about sitting in the back of the Audi.
Rarely a day goes by when I don't find myself grumbling about the e-tron's small boot. It is very shallow, because the battery sits beneath the floor where the spare wheel would have gone.
It has only 280 litres of luggage capacity, which is decidedly "carry-on" rather than "check-in", and the bag for the charging lead eats into that further. The Clubman has 360 litres, which is a significant advantage when you have to cart a pushchair around.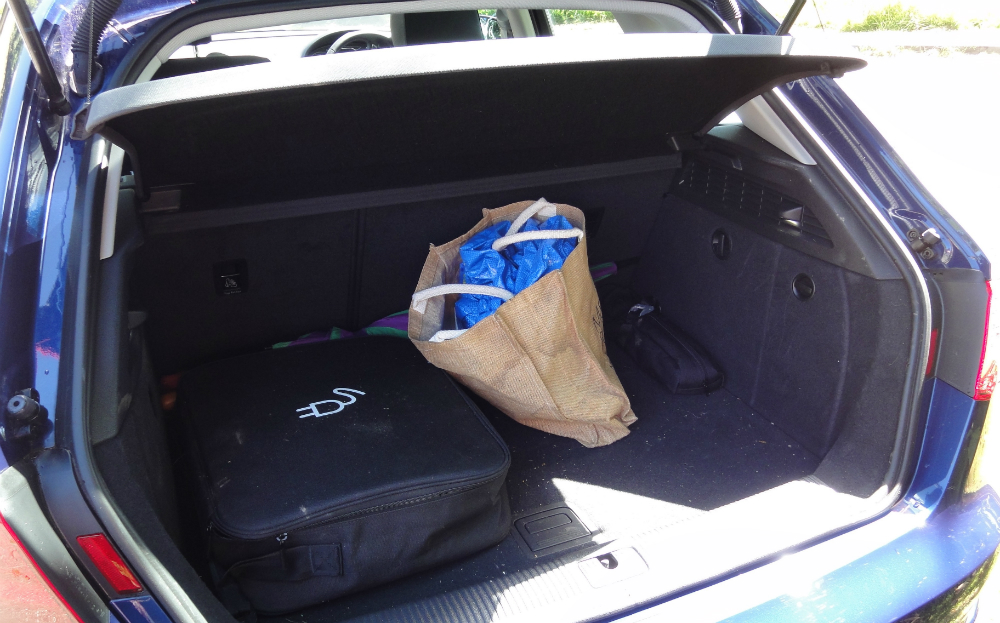 If you leave a pushchair in the boot, there won't be much room for shopping or luggage. When they are designing the next A3 and any e-tron version, I'd hope that Audi's engineers find a way around this flaw.
For now, though, there is one solution: order your A3 Sportback car with roof rails (a £250 option) and buy a roof box. Better still, tell the Audi dealer to throw them in for free, or you'll head for the nearest Mini showroom.
July 8, 2016: What'll she do, mister?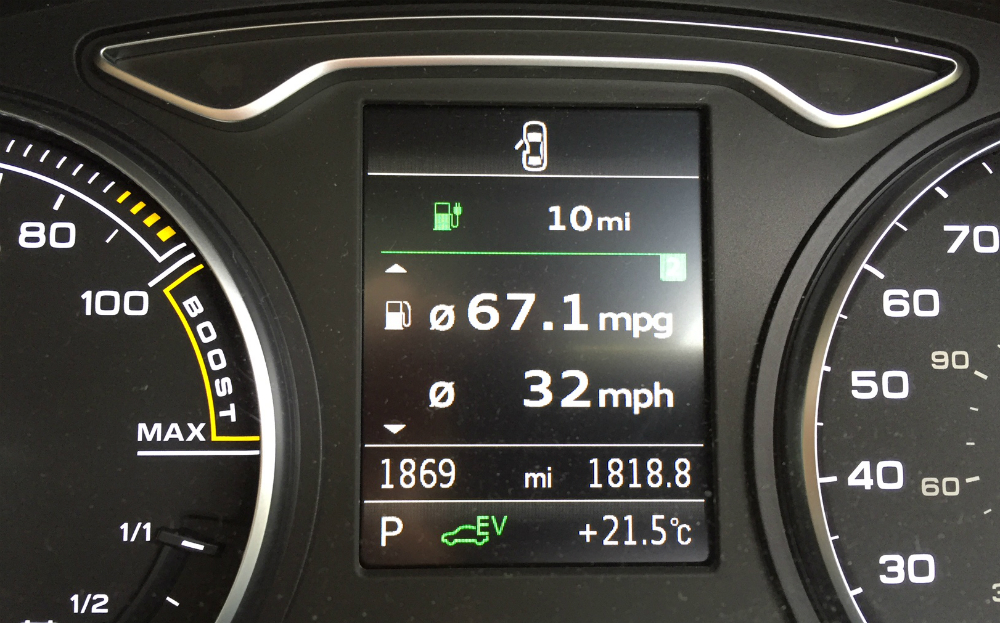 The obvious question to ask any driver of a plug-in hybrid electric vehicle (PHEV) like our Audi A3 Sportback e-tron is, "What'll she do, mister?"
After all, those that are asking are probably driving around in a sensible, diesel-powered hatchback and have been mulling things over in their head since reading about the deadly particulates that are spewing from its exhaust pipe like radiation from Japan's Fukushima nuclear reactor seeping into the sea.
Perhaps, they ponder, a plug-in hybrid with a petrol engine and electric motor would be better for the planet, not to mention healthier for their wallet, too.
The claimed combined fuel economy of an A3 Sportback e-tron is 166mpg – when it's fitted with the 18in, 15-spoke Turbine alloy wheels of our car. There are times when it's easy to exceed this. If you can charge the car whenever it's not being used, and drive it exclusively on battery power (EV operating mode), the trip computer will display its maximum value of 300mpg.
View the Audi A3 e-trons for sale on driving.co.uk
The car's battery is meant to give a range of 31 miles, but even when treading the throttle with the most delicate of touches, I can't eek out more than 22 miles of range. Even so, that's more than enough for local trips in the sticks, or further round trips into our nearest large town, Tunbridge Wells, in Kent.
I suppose what I'm getting at is that the car fits really well into our family's day to day routine. Especially as it takes no more than 3.5 hours to fully recharge the depleted battery from a domestic plug socket.
However, take it on a long journey and the car's fuel economy will tumble like the Eiffel Tower with a leg removed. On a recent run from Kent to Cirencester and back, it managed 46mpg. It's not bad, given that it's lugging around an extra 170kg compared with a 2-litre TDI A3 Sportback with the automatic gearbox, but most likely would be about 10mpg less than the diesel.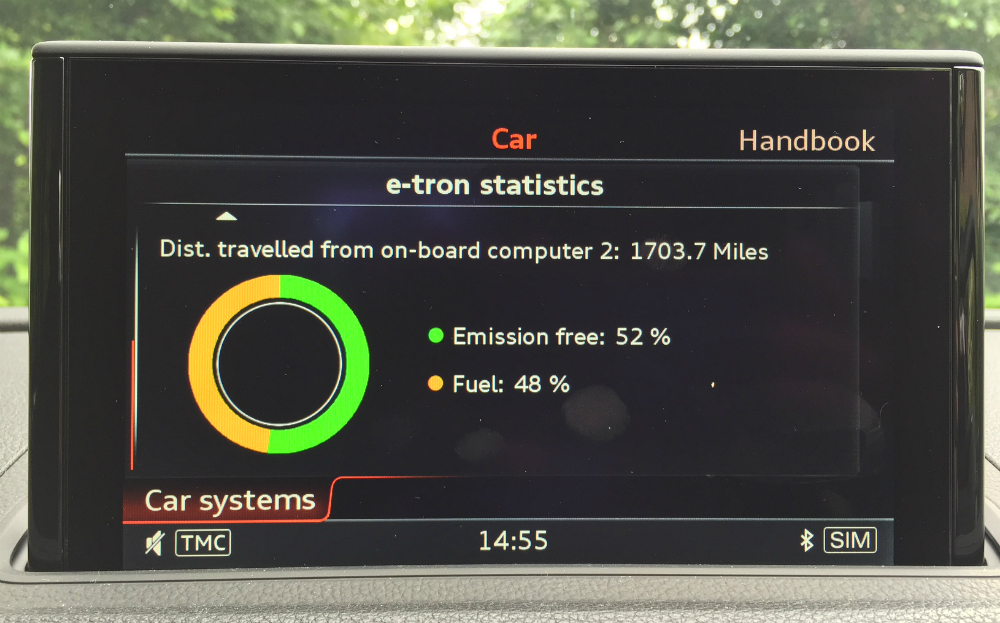 To date, I've covered 1703 miles, and 52% of that time has been spent driving 'emission free'. That's not quite true, is it? After all, my domestic electricity supply is not from sustainable supplies.
However, that averages out at a fuel economy figure of 67.1mpg, which is impressive when you consider how many long trips I've been making recently. And it will improve substantially in the immediate future, as the car will be making more local trips on battery power alone.
For my next update, I'll investigate the cost implications of a plug-in hybrid electric vehicle, like this, versus a petrol-powered 1.4 TFSI model, which would be substantially cheaper to buy, but comes without the appeal of low company car tax.
June 27, 2016: Appy days? Not a chance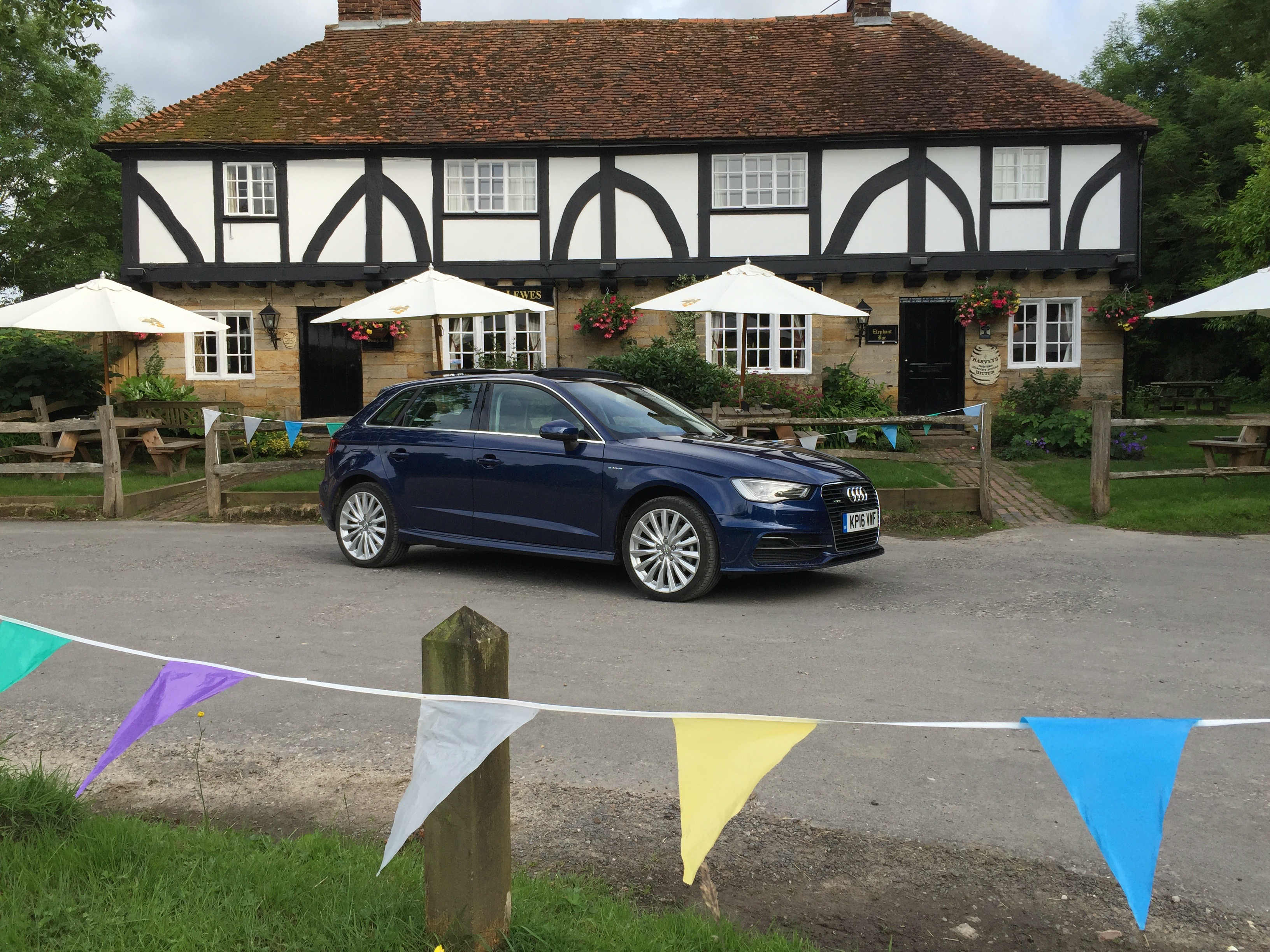 The first thing any owner of a plug-in hybrid electric car is bound to do is download the smartphone app and see whether it will let them drive their car from the office car park to the front door, performing a handbrake turn along the way, like a gamer on Grand Theft Auto.
It was certainly the first thing I did, after taking charge of Driving's Audi A3 Sportback e-tron, which is on extended test.
Unfortunately, neither the app nor the car are clever enough to allow for such shenanigans. But it's only a matter of time until they are, isn't it…?
Or is it? Because judging by the features and performance of the A3 e-tron connect app, even a company that never tires of talking Vorsprung durch Technik can't make an app that's a patch on the smash hits that are knocked out by school leavers in their bedrooms.
The app is free to users with an iOS or Android operating system. Interestingly, you need to be four years old to use it, so does that mean A3 e-tron drivers start young?
Initially, I couldn't set it up after downloading the app, because it won't let you tick the terms and conditions box using an iPhone or iPad. I got around that by having a third go at it with an iMac.
Then the car's odometer reading didn't tally with whatever figure the car was reporting to the app. And without that, I couldn't use the app. By now, I was getting annoyed – and I don't have a monthly PCP bill being deducted from my bank account. Heaven knows what paying customers must feel. Audi UK had to step in and fix the mileage discrepancy.
If it won't let you drive your car from your garage to your front door on a rainy morning, what is the most exciting thing the A3 e-tron app can manage?
In theory, it should be able to schedule a charge of the battery, working backward from the time you wish to depart. The trouble is, the app never works. Like the colleague at work who unfailingly misses meetings and never hits deadlines yet blows the budget, the app drags its feet and always seems one step behind, with outdated information.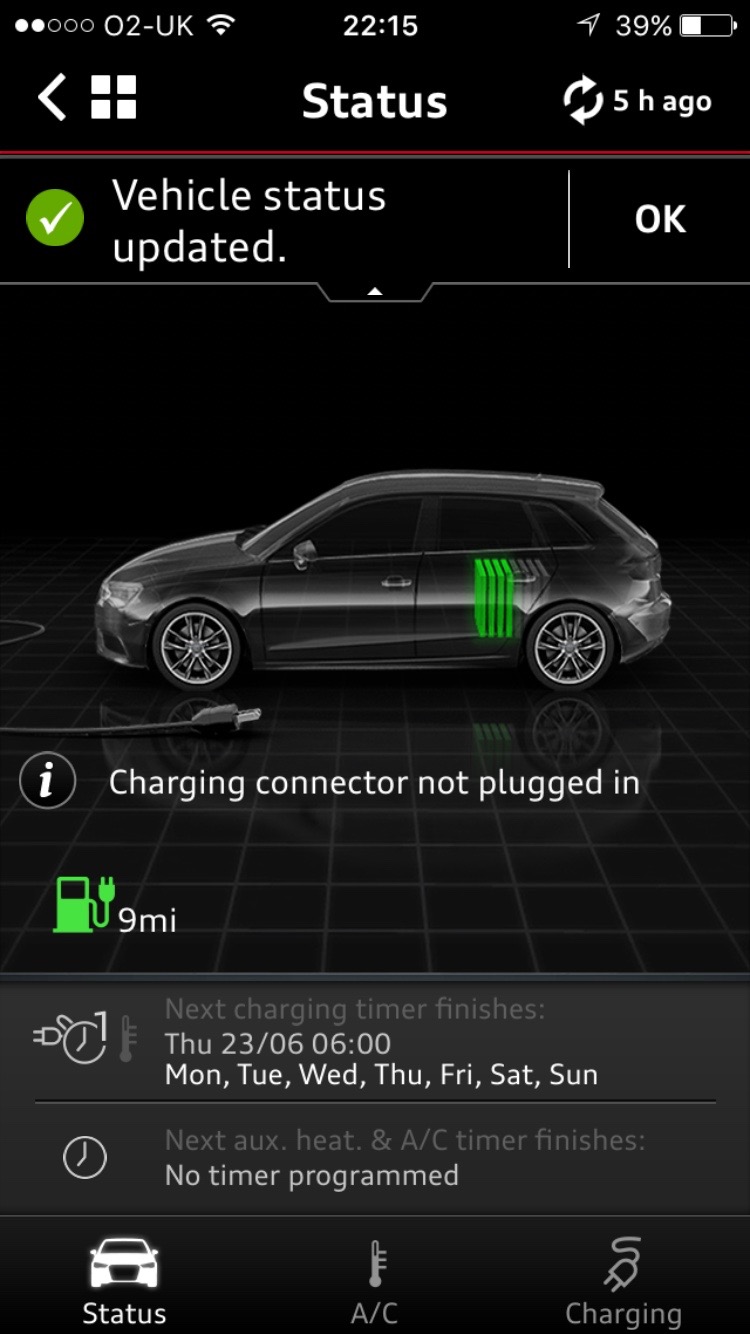 I have never been able to schedule the automated charge using the app. I have successfully set it using the car's onboard trip computer, but the app? Not a chance.
Even the simplest thing a driver is most likely to do with an electric car – checking if the car's battery is fully charged, to its maximum 31 mile range – rarely works.
The app's icon will spin away, as it says it's updating the figure, before concluding that the status update is complete. But patently it isn't, because it says there's an empty battery. Yet after leaving it on charge for three hours, you went back out to the car to check for yourself and could see it is, indeed, fully charged.
Another grumble is how the German developers have chosen to display the energy consumption. You can review individual trips or look at the longer term use, but it's meaningless to most of us who aren't electric car evangelists, because we think in terms of mpg, not the number of miles travelled per kilowatt hour (kWh).
The BMW 225xe Active Tourer, run by Will Dron on extended test, has a far better app which talks our language (mpg) and seems better able to communicate with the car.
Because the Audi's lags, it will tell you that the car isn't parked where you parked it. The first time you see that, it causes the heart rate to rise, I can tell you. It also thinks that the charging connector isn't plugged in, when it is.
And while we're on the subject of gripes, it won't let you make the most of the remote air conditioning programme, so you have to set it from the car. Which, again, rather defeats the purpose of having an app with remote control features.
Sometimes, the app won't even let you log in. And you know what? There are times when I think, "Fine. I'll just delete it, like the million and one other useless apps I've never used more than once."
But in the interests of this extended test, I shall continue to have it try my patience. Will Audi listen to owners' grumbles and make improvements?