Where next for Aave after recent gains? – Photo: Ivan Babydov / Shutterstock.com
2022 has been a turbulent period for the aave protocol so far. The decentralized finance (DeFi) market lost almost $100bn in total value locked (TVL) during the 2022 summer crypto crash.
However, the protocol's native AAVE token started to show signs of recovery in October as its decentralized autonomous organization (DAO) prepares to launch its own stablecoin under the ticker GHO.
But the recent collapse of the FTX cryptocurrency exchange has halted this upward trajectory and AAVE was down 31% over the past month, at the time of writing.
In this article, we discuss the Aave protocol, dive deep into the AAVE token price action and read analysts' commentary, in a bid to draft a plausible AAVE price prediction for this year and beyond.

The Aave protocol
Aave is a cryptocurrency liquidity market protocol. Users can participate as depositors or borrowers.
Users can deposit their cryptocurrency tokens to provide liquidity to the market and earn interest on them. Aave users can also borrow stablecoins and cryptocurrencies without knowing your customer (KYC) requirements or credit scores. Borrowers need to deposit their cryptocurrency assets as collateral.
The maximum available amount that a person can borrow will depend on variables such as available liquidity and loan-to-value (LTV) ratios.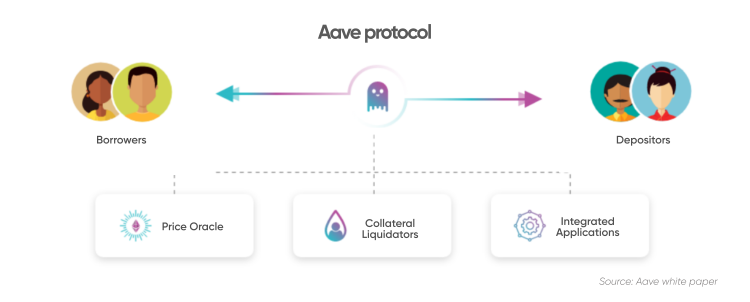 Aave, along with the likes of Uniswap (UNI), Compound (COMP) and Curve, is considered one of Ethereum's blue-chip DeFi protocols. Aave is also deployed on layer-1 network Avalanche (AVAX) and Ethereum's layer-2 protocol Polygon (MATIC).
According to Defi Llama, the Aave protocol had the third-highest TVL compared to other protocols as of 5 September 2022.
What is AAVE coin?
AAVE token is the governance token for the multi-chain DeFi protocol Aave. AAVE token holders have the power to vote on improvement proposals for Aave, such as listing new assets on the platform. Token holders can stake their AAVE coins and earn staking rewards and fees from the protocol.
According to Aave, locked AAVE tokens will be used as a mitigation tool in the event of a deficit in liquidity in the Aave protocol.
"In the instance of a shortfall event, part of the locked AAVE are auctioned on the market to be sold against the assets needed to mitigate the deficit that occurred," said Aave.
In September 2017, Aave, which was then known as 'ETHLend', raised about $600,000 pre-sale from its token sale. This was followed by a $16.2m initial coin offering, where one billion LEND tokens were sold. The LEND cryptocurrency was converted to AAVE tokens at the rate of 100 LEND to 1 AAVE, as EthLEND rebranded to Aave.
AAVE's maximum supply is capped at 16 million tokens. As of November 21, the circulating supply of AAVE coins stands at over 14 million, data from CoinMarketCap showed.
Aave price analysis: AAVE chart today
At the time of writing, November 21, 2022, AAVE was the 50th-largest cryptocurrency with a market capitalization of almost $800m.
After reaching a high of $0.51 on its launch date, 4 October 2020, AAVE saw a steady climb throughout the rest of the year.
It then experienced a significant breakout in the first quarter of 2021, rocketing to its current all-time high of $666.86 on 18 May 2021.
Aave (AAVE) all-time performance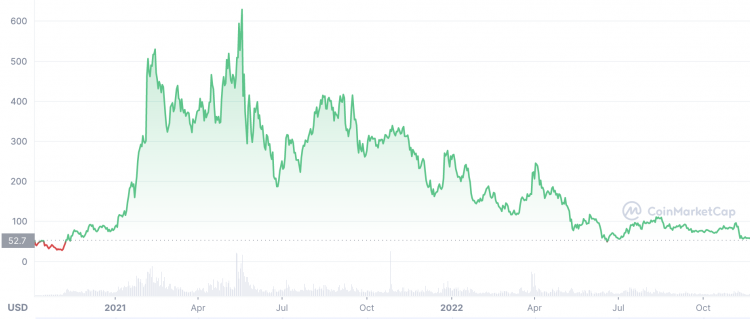 Source: CoinMarketCap
Since then AAVE has been on a downward trajectory and is more than 80% below its all-time high. At the time of writing on November 21, 2022, AAVE was trading at $56.98, down 78% YTD.
Recent news: Aave reacts to ETH merge and FTX's downfall
As Ethereum migrated to a proof-of-stake (POS) consensus mechanism this month, Aave's DAO passed a proposal to continue running on the upgraded blockchain.
It also made a proposal not to implement any Ethereum forks from other groups that might result from The Merge, including a potential fork to its old proof-of-work (POW) consensus mechanism.
A governance post said: "There is general consensus from builders involved in the protocol's development that it is effectively impossible to sustain a viable Aave market on any Ethereum fork running an alternative consensus (such as proof-of-work)."
The proposal was passed by a significant majority of 99% on 26 August, delivering the proposal's mission of sending "a clear signal to the DeFi ecosystem about where it stands with respect to the Ethereum Merge" as the fifth-largest DeFi app on the blockchain .
Meanwhile, it has given an update to its community on the progress of GHO, Aave's planned stablecoin. Aave revealed that the GHO testnet will launch in the coming weeks.
The update said: "With the GHO technical paper, first audit, and access points under development, the Aave companies are now ready to experiment with the first testnet deployment."
But aave's recent price fall follows a wider decline in the crypto markets. The bankruptcy of centralized cryptocurrency exchange FTX has led to sell pressure throughout the industry.
While Aave did not have any exposure to FTX, its token has dropped by 31% in the past month and the protocol's TVL has fallen by 9% in the past seven days, according to DeFi Llama.
Aave price prediction: Targets for 2022, 2025 and 2030
According to a short-term AAVE prediction from CoinCodex as of 21 November 2022, the value of the token could drop to $39.94 by 21 December. CoinCodex added that technical indicators showed current sentiment was 'bearish', while the fear and greed index indicated 'extreme fear'.
The Aave crypto price prediction from WalletInvestor expected AAVE's value to have plunged to $5.27 in a year's time. Its Aave price prediction for 2025 anticipated it have dropped to the $3 mark by the beginning of the year.
According to PricePrediction's AAVE/USD forecast, it could reach an average of $64.53 by the end of this year. But the site's Aave price prediction for 2030 was much more optimistic, saying it could rocket to $1,186 by that point.
According to DigitalCoinPrice's Aave price prediction for 2023, the token could trade at an average price of $139.41. Its Aave coin price prediction suggests the token could climb to $254.28 in 2025 and $791.80 in 2030.
When looking for AAVE price predictions, bear in mind that analysts' and algorithm-based Aave crypto price predictions can be wrong. Their expectations are based on fundamental and technical studies of the cryptocurrency's past performance, which offers no guarantee of future results.
It's essential to do your own research. Always remember that your decision to trade depends on your attitude to risk, your expertise in the market, and your investment portfolio spread. You should never trade money that you cannot afford to lose.
FAQs
Is aave a good investment?
Aave is a robust DeFi protocol that is ranked number ninth in the list of top DeFi tokens by market capitalisation, according to CoinMarketCap as of 21 November 2022. However, the token has not shown gains YTD and is down 31% in the past month.
Whether the AAVE token is a good fit for your investment portfolio depends on your circumstances and risk tolerance. You should estimate the level of risk you are ready to take and conduct a thorough analysis of the aave cryptocurrency prospects.
Should I invest in aave?
Aave has been stuck in a long-term bearish trend, along with the wider DeFi industry. This has led to conflicting forecasts, including bearish projections from WalletInvestor and a bullish one from DigitalCoinPrice.
Whether you should invest in aave is a question that you will have to answer for yourself. Before you do so, however, you will need to conduct your own research. Never invest more money than you can afford to lose, because prices can go down as well as up.
Will aave go up or down?
The AAVE future price prediction from WalletInvestor was bearish as of 21 November 2022, projecting that it will eventually fall below $10. Meanwhile, PricePrediction expected the AAVE cryptocurrency could pass $1,000 in the next decade.
In volatile cryptocurrency markets, it is important to do your own research on a coin or token to determine if it is a good fit for your investment portfolio. Whether AAVE is a suitable investment for you depends on your risk tolerance and how much you intend to invest, among other factors.
Keep in mind that past performance is no guarantee of future returns, and never invest money that you cannot afford to lose.
Related reading
Rate this article
Rate this article
Comments
There are currently no responses for this story.
Be the first to respond.