Join Our Telegram channel to stay up to date on breaking news coverage
Bitcoin, the world's first cryptocurrency and still its largest by market capitalization, continued to push higher on Friday. BTC/USD was last changing hands in the $19,100s, up a further 1.5% on the day, taking its weekly gains to nearly 12%. That means the cryptocurrency is on course to post its best weekly gain since pumping 13.5% in one week back in March 2022.
Bitcoin's latest rally has seen it jump to the north of key resistance in the low $18,000s and come within a few percent of testing its 200-Day Moving Average near $19,500. The last time Bitcoin tested its 200DMA was also in March 2022. Back then, the 200DMA proved an important local top. Bulls will be hoping that is not the case again and, with prices recovering from a much lower base this time, near-term price predictions remain bullish.
Falling Inflation Contributes to Bitcoin Pump
Bitcoin's latest surge comes despite further evidence that the "crypto winter" continues to bite. Just this week, crypto financial services company Blockchain.com and popular cryptocurrency exchange Crypto.com have announced job cuts. Traders and analysts have said that sentiment towards the world's largest cryptocurrency by market capitalization has been bolstered amid fresh evidence this week in the form of the latest US Consumer Price Index report that price pressures in the US are rapidly easing.
While policymakers at the US Federal Reserve continue to talk a tough game on the need for further rate hikes, and then the need to maintain interest rates at restrictive levels for some time to ensure that inflationary pressures don't get embedded, if inflation falls quickly back to their 2.0% inflation target this year, this would open up the room for interest rate cuts.
A softer interest rate environment has historically been a positive environment for Bitcoin given that 1) lower interest rates reduce the opportunity cost of owning zero-yielding assets (like Bitcoin) and 2) lower interest rates boost the economic outlook and risk appetite in traditional finance markets, which has typically also boosted crypto (which is very much still viewed as a speculative asset class).
Options Market Signal Uptick in Bullish Bets
According to analysts at crypto derivatives analytics firm Block Scholes, options markets indicate that investors are increasing their bets that Bitcoin's price continues to rally. More specifically, the firm said that demand for out-of-the-money (OTM) call options, which are essentially bullish bets, have increased relative to demand for OTM put options.
The shift in option markets "indicates that BTC's derivatives market is now not only pricing for a drop in bearish sentiment but is reflecting an increase in demand for exposure to upwards movements", noted Block Scholes research analyst Andrew Melville.
#BTC's short-dated, OTM calls have seen an increase in implied vol compared to OTM puts.
📈📉📊All charts made on Block Scholes' platform: https://t.co/wxyUH2FFPB
Read the full report 👇 to find out morehttps://t.co/FAlPy25zhH pic.twitter.com/qkwB6BR0Di
— Block Scholes (@BlockScholes) January 12, 2023
Price Prediction – Where Next for BTC?
Technically speaking, the door looks open for Bitcoin to enjoy further upside in the coming days and weeks, provided it can muster a break above its 200DMA. Now that Bitcoin is above the key low-$18,000s resistance zone, a retest of the early November pre-FTX highs just under $21,500 looks possible. That would mark a further 11.5% rally from current levels.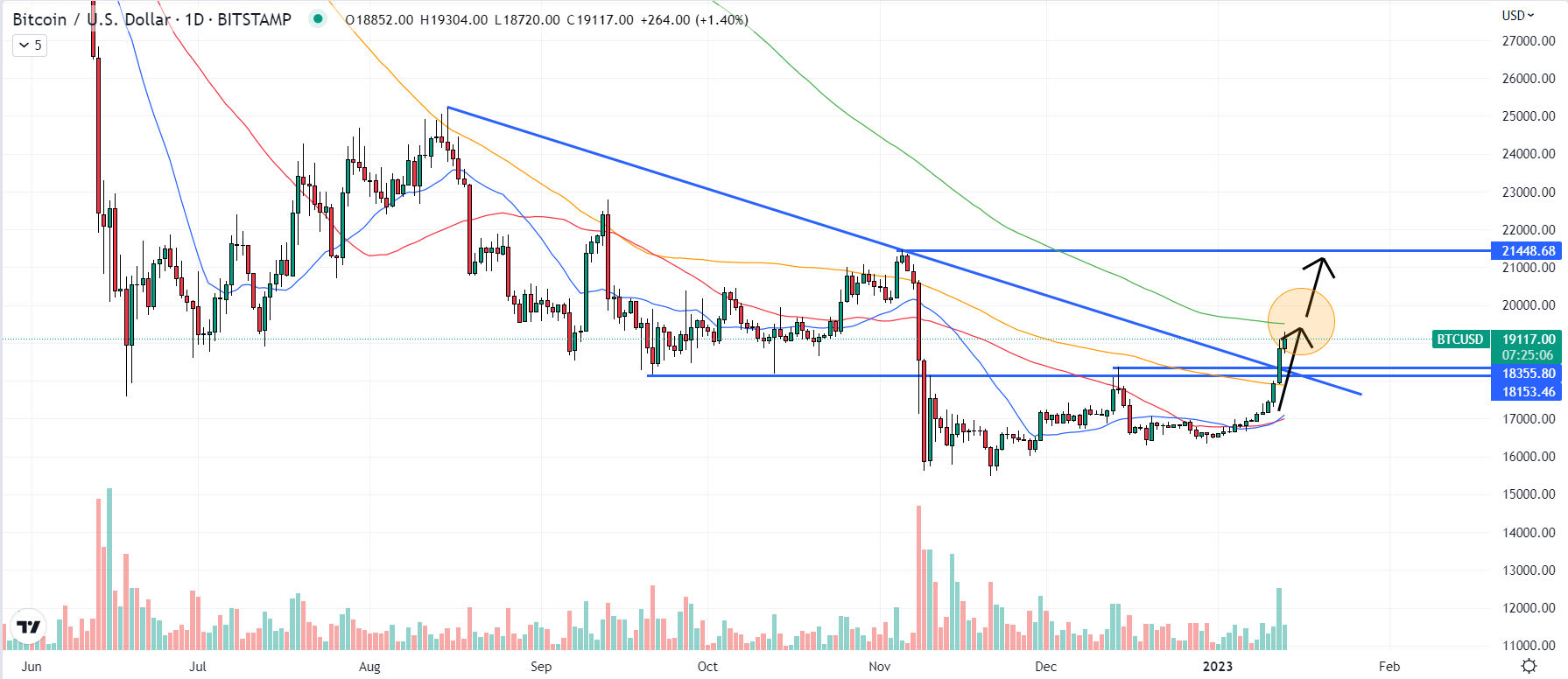 US equity markets don't quite share Bitcoin's enthusiasm. While the S&P 500 is up over 5.0% versus its late December 2022 lows, it is struggling to get above its 200DMA just under 4,000. With US economic data and the most recent batch of bank earnings pointing to a struggling economy, the S&P 500 may struggle to break back to its December highs in the mid-4,100s.
Given the usually fairly strong correlation between bitcoin and US stocks, this could be a problem for the Bitcoin bulls. But Bitcoin also has a historic (negative) correlation to the US dollar, which has been falling sharply recently as traders scale back long-term Fed tightening bets. Maybe that can continue to underpin the bitcoin rally.
Altcoins to consider
Cryptocurrency markets have been performing well since the start of 2023, but the longer-term bear market remains very much still in play. Investors might still want to consider diversifying their holdings with the discounted presale tokens of some promising, up-and-coming crypto projects. Here is a list of a few that analysts at InsideBitcoins think have the potential to perform well.
FightOut (FGHT) – Presale on Now
The young move-to-earn crypto niche has shown a lot of promise, but early success stories like STEPN have significant limitations that have, so far, prevented them from conquering the mainstream. FightOut, which touts itself as the future of move-to-earn, wants to change that in 2023. FightOut is a brand new web3 fitness application and gym chain that rewards its users for working out, completing challenges and competing within a first-of -its-kind fitness metaverse.
While existing M2E applications such as STEPN only track steps and require expensive non-fungible token (NFT) buy-ins to take part, FightOut takes a more holistic approach to tracking and rewarding its users for their exercise and activity, and doesn't require any expensive buy-ins to take part. FightOut seeks to combine the physical and web3 worlds.
The project aims to eventually acquire gyms across all of the world's major cities, whilst simultaneously promoting an integrated web3 fitness experience. At the center of FightOut's digital ecosystem will be its smartphone application which, according to FightOut's whitepaper, is scheduled for launch in Q2 2023.
The FightOut app will harness smartphone and wearable technology to measure and track physical performance. The app will have its own in-house tokenized economy, where users can earn rewards for completing M2E tasks, and can mint their own soul-bound token avatar, through which the user will be able to interact with the FightOut metaverse.
FGHT is the token that powers the FightOut metaverse ecosystem. Users will pay to enter competitions and leagues with FGHT, and winning will be paid out in FGHT.
FGHT can also be used in peer-to-peer fitness wagers. FightOut's FGHT tokens are currently selling for 60.06 per 1 USDT, and interested investors are encouraged to move fast to secure their tokens, with the pre-sale having already raised close to $2.9 million in just a few weeks. FGHT is the token that will power the FightOut crypto ecosystem.
Visit FightOut Now
Calvaria (RIA) – Pre-sale Nearly Over
RIA, the token that will power afterlife fantasy-themed NFT battle card game Calvaria, is also currently in presale. The play-to-earn (P2E) crypto gaming start-up has raised close to $3.0 million in just a few months since the launch of its pre-sale. Only around 12% of its tokens remain up for grabs.
Calvaria seeks to bring crypto gaming into the mainstream by tapping into a huge, existing market – the market for physical battle card games (think viral sensations of the past like Pokemon and Yu-Gi-Oh). And with the crypto gaming space expected to grow from $4.6 billion in size in 2022 to $65.7 billion in size by 2027, according to an analysis by Markets and Markets, there is plenty of room for massive growth. Calvaria is set to launch its headline fantasy-themed card game "Duels of Eternity" in Q2 2023.
Visit Calvary here
C+Charge (CCHG) – Presale Now On
The carbon credit industry is projected to be worth $2.4 trillion by 2027. Democratizing access to accrue these benefits is going to massive business in the years ahead and this is something crypto start-up C+Charge hopes to achieve. C+Charge is currently building a blockchain-based Peer-to-Peer (P2P) payment system for EV charging stations that will allow the drivers of electric vehicles (EVs) to earn carbon credits.
C+Charge aims to boost the role of carbon credits as a key incentive for the adoption of EVs. At present, large manufacturers of EVs like Tesla earn millions from selling carbon credits to polluters. C+Charge wants to democratize the carbon credit market by allowing more of these rewards to find themselves in the hands of the EV owners, rather than just the big businesses.
C+Charge has just started its pre-sale of the CCHG token that its platform will use to pay at EV charging stations. Tokens are currently selling for $0.013 each, though by the end of the presale, this will have risen by 80%. Investors interested in getting in early on a promising environmentally friendly cryptocurrency project should move fast, with the project having already raised nearly $300,000 in just a few weeks since the presale launch.
Investors should note that the remaining tokens could be scooped up quickly. A crypto whale recently scooped up over $99 worth of CCHG in one transaction, as can be verified here on BscScan.
Visit C+Charge here
Join Our Telegram channel to stay up to date on breaking news coverage