Cardano trends to the downside with the crypto market recording small profits on lower timeframes. The cryptocurrency continues to move in tandem with Bitcoin and Ethereum and seems poised for some volatility over today's trading session.
Related Reading | Dogecoin Seen Doubling In Price, Despite Shedding 10% In Last 7 Days
At the time of writing, Cardano (ADA) trades at $0.46 with a 2% profit in the past 24 hours and a 9% loss over the past week. ADA's price has given out almost of the gains it recorded during the crypto market relief and stands as the worst performing asset in the crypto top 10 by market cap.
ADA's price with minor profit on low timeframes. Source: ADAUSDT trading view
Only Solana (SOL) records the worst performance with an 18% loss over the same period. Cardano is negatively reacting to the uncertainty across the crypto market increased by today's US Federal Reserve (Fed) Federal Open Committee (FOMC) meeting.
During this event, the financial institution is set to announce its interest rate hike. The market expects a 75 basis points (bps) increase.
If there are no surprises, the crypto market could see a potential rally into previous levels with a spike in volatility.
Cardano And Crypto Market See Spike In Short Positions
As mentioned, the uncertainty around the crypto market could translate into the volatile price action, with no clear direction for the short term.
A pseudonymous trader said the following on the effect of the FOMC meeting in the sector:
Leading into the FOMC, there is a huge increase in Open Interest (total dollar amount of open positions in the futures market). This comes together with negative funding rates, which means traders are shorting (…).
The increase in short positions is attributed to speculators betting on a negative reaction to the FOMC. In that sense, the pseudonymous trader bets on no clear direction after this event.
However, as NewsBTC reported earlier, trading desk QCP Capital has recorded a relief rally over the past month each time there is an FOMC event. This time should be no different with a decline in inflation expectations and a slowdown in economic growth metrics.
In short timeframes, retail investors are buying into ADA's current price action. As seen below, these investors have been buying ADA since May at an increasing rate.
Related Reading | Ripple (XRP) Is Up 190% From Cycle Low, But Will It Ever Reach $3?
The market tends to move in the opposite direction than retail investors, but this time macro-economic conditions might be stronger and exercise a bigger influence on the price of Cardano.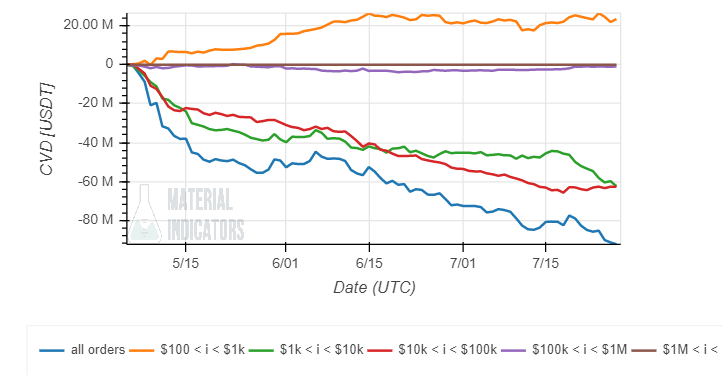 Retail investors (yellow on the chart) buying into ADA's price. Source: Material Indicators