Please note that we are not authorised to provide any investment advice. The content on this page is for information purposes only.
There's no doubting that blockchain technology has paved the way for many exciting innovations across various industries. Yet, at present, most of these blockchain platforms compete with one another rather than working together. Cosmos looks to solve this issue by creating an 'Internet of Blockchains' through its exciting tools.
In this guide, we'll cover our Cosmos Price Prediction in detail. We'll touch on what Cosmos is and the token's prospects before highlighting where you can buy Cosmos today – with 0% commissions!

Cosmos Hub (ATOM)
Price
$ 10.05
Cosmos Price Prediction 2021 to 2022
Throughout this Cosmos stock forecast, we'll cover everything you need to know about the platform and highlight its short and long-term outlook. However, if you are short on time, the bullet points below present a brief overview of our Cosmos prediction 2021, covering the months ahead.
One Month – The Cosmos price today is hovering around the $33 level, following a slight decline over the past week. We estimate that Cosmos will head down to the nearby support level at $30 and rebound over the next month, heading back up towards $40.
Three Months – The all-time highs of $44.5 may represent a difficult level to break, but if Cosmos can showcase some solid bullish momentum, we may see a push past these to the $50 level over the next three months.
Start of 2022 – Once Cosmos has printed new highs, there's no telling how far this coin could rise. However, judging by the current price momentum, we may see the token reach $60 by early 2022.
67% of retail investor accounts lose money when trading CFDs with this provider.
Cosmos Price History – the Story of 2021 So Far
Before diving into our cryptocurrency price prediction, it's a good idea to discuss what Cosmos is and how price arrived at this point. Cosmos is an exciting platform and one that differs significantly from most other blockchain networks. So, with that in mind, let's explore Cosmos and its price history.
Cosmos is a network that aims to create an 'Internet of Blockchains' by allowing interoperability between different platforms and developers. Essentially, Cosmos offers blockchain platforms the technology to become part of the Cosmos ecosystem, thereby allowing the platform to communicate and share data with other platforms. As such, the competition between blockchain networks is reduced, and Cosmos can help foster a more connected community.
It does this through the Inter-Blockchain Communication Protocol (IBC), which launched in February 2021. This protocol allows blockchain developers to connect their platform to the Cosmos Hub, which is at the centre of the Cosmos network. All of the blockchains connected to the hub are called 'zones', and these zones can freely exchange information – even if they have entirely different consensus algorithms or use cases.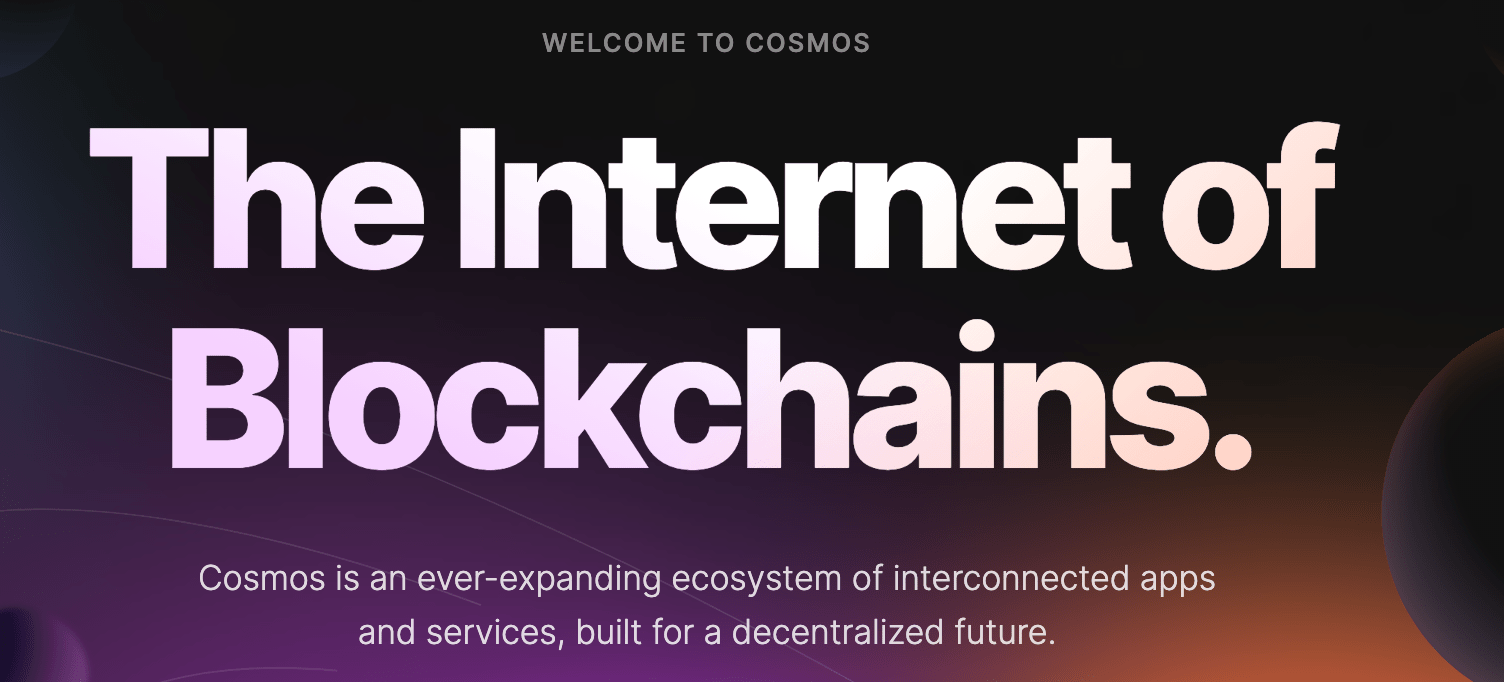 Cosmos' native cryptocurrency is ATOM, a digital coin used for things like governance, staking, and validation. ATOM is crucial to Cosmos running effectively, as users must stake it to validate blocks. Furthermore, ATOM is used to pay fees on the network – similar to how GAS is used in the Ethereum (ETH) network.
Users can also stake ATOM coin to earn a return, similar to many other altcoins. Finally, Cosmos even provides a protocol called 'Tendermint', allowing developers to create a Proof-of-Stake (PoS) blockchain that can become part of the Cosmos ecosystem. Ultimately, Cosmos aims to have many blockchains running this system, creating a vast network of connected platforms.

Turning our attention to the Cosmos price, we can see that price rallied a remarkable 453% between January and May 2021. However, as people who buy Bitcoin (BTC) will know all too well, the cryptocurrency market crashed in May due to issues in China and Elon Musk's comments. This affected Cosmos too, with the price falling to a low of $7.86 over the next month.
Since then, the ATOM price has bounced back very well. Price is now trading 325% higher than June's lows following a strong bull run since early July. Although the price has pulled back slightly from the all-time highs of September, we may be gearing up for another push shortly.
Cosmos Price Forecast
Now that you have an idea of what Cosmos cryptocurrency is and how the price arrived at this point, let's look at the token's future outlook. When investing in cryptocurrency, there are various factors to consider that may influence price movements. With that in mind, let's look at the technical and fundamental elements of this Cosmos forecast.
Technical Analysis
As you can see from the price analysis below, the price of Cosmos is currently trapped in a range between $30.4 and $44.5. Price has been pretty volatile since coming into this area, with any touch of the resistance or support levels being met with an immediate retracement. Right now, Cosmos is trending downwards and heading for another touch of the $30.4 region.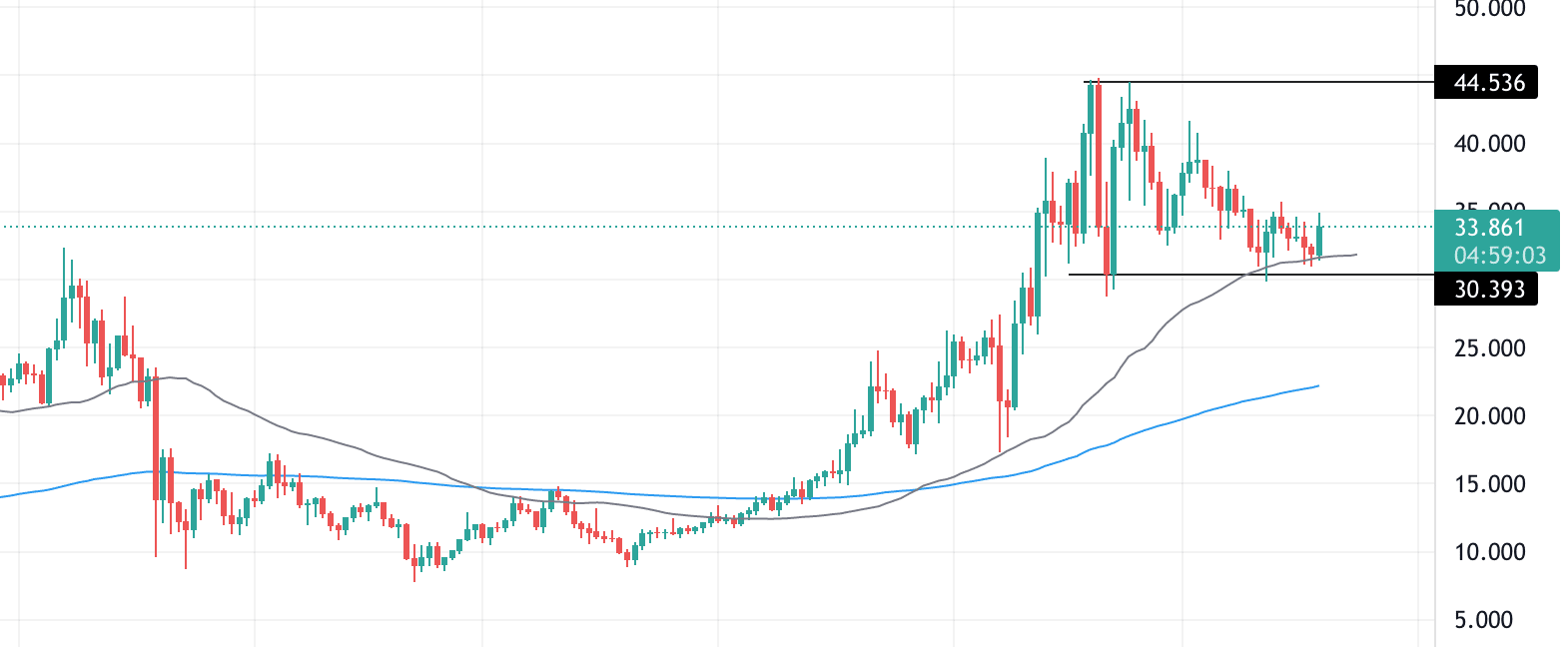 67% of retail investor accounts lose money when trading CFDs with this provider.
The good thing is that Cosmos did recently reject the 50-day EMA. This price action can be seen as a bullish signal, as EMAs can often represent support areas. So, now that Cosmos has pushed off the 50-day EMA, we may now see some upwards momentum in the short term.
The $44.5 level will represent a solid psychological barrier to break due to it being the token's all-time high. Price has attempted to break this level twice before and been aggressively rejected, so don't be surprised if we see some struggle around this area. However, if the price closes past here on the daily or 4H chart, it could signal that some new highs may be posted.
Fundamental Analysis
On the fundamental side of things, Cosmos has a market cap of $7.53bn, according to CoinMarketCap. This makes it the 24th largest crypto in the world at the time of writing, behind BTC, ETH, XRP, and BNB. The trading volume over the past 24hrs has reached $908m, up a remarkable 198% from the previous day.
This increase in trading volume can perhaps be attributed to Cosmos' growing popularity, which has seen the coin being listed as a tradeable asset on eToro. This has made it a lot simpler for retail investors to buy Cosmos and has contributed to a considerable increase in liquidity. The more people that can invest in the token, the better the coin's outlook over the long term.
One slight worry about Cosmos is that there is no maximum supply of ATOM coins. The circulating supply right now is just over 223m, with 280m in existence. As the Cosmos developers can issue more tokens if they wish, this reduces the element of scarcity that other coins have – making it harder to see price appreciation.
Cosmos Price Prediction 2025 – Long Term Outlook
The volatility when you invest in crypto is much higher than when you buy stocks – which is why it's essential to have a long-term outlook for the former. In the case of Cosmos, having this outlook is beneficial, as the platform is just starting to gain some traction outside of advanced cryptocurrency investors. Furthermore, combine this with its compelling use case, and we have many elements to be optimistic about.
One of the things that will go in Cosmos' favour in the long term is that the developers have built a Software Development Kit (SDK) that allows developers to easily build their own blockchain using Cosmos' Tendermint protocol. This SDK removes many complex elements of creating a blockchain and ensures that the new platform is interoperable with other platforms on the Cosmos network. In the future, as blockchain technology continues to become more prevalent, we may see more developers use this SDK.

The technicals for Cosmos look good over the long term – and there's even a hint that price is making a large bull flag on the daily chart. This sort of pattern usually occurs just before some bullish momentum, so this will be music to the ears of ATOM investors. If you combine this with the fact that the price is above both the 50-day and 200-day EMAs, it's easy to make a case that Cosmos' price may rise long term.
However, to ensure a balanced outlook, it's worth noting that Cosmos offers a similar service to the one provided by Polkadot (DOT). Polkadot is currently larger and more established than Cosmos, meaning stiff competition within this niche. Thus, Cosmos will have to try and pivot slightly to appeal to newcomers to the space; otherwise Polkadot may continue to grow its crypto market share.

With that in mind, our Cosmos price prediction 2025 is still very bullish. We estimate that Cosmos may reach $200 by 2025, as the need for blockchains to become more interoperable grows larger.
In addition, our Cosmos price prediction 2030 is also optimistic. By this point, we estimate that the token could reach $400, as blockchain technology will likely be implemented in most industries by this point – necessitating the need for a system where blockchains can communicate with one another securely.
Cosmos Price Chart
The best investments UK tend to be those with a strong community backing, great technicals, and a solid use case – and Cosmos seems to have all three. Social media's effect on assets can't be underestimated these days, so the fact that Cosmos has over 42,000 members on its subreddit is a good thing. This backing helps to build hype, which translates to price appreciation.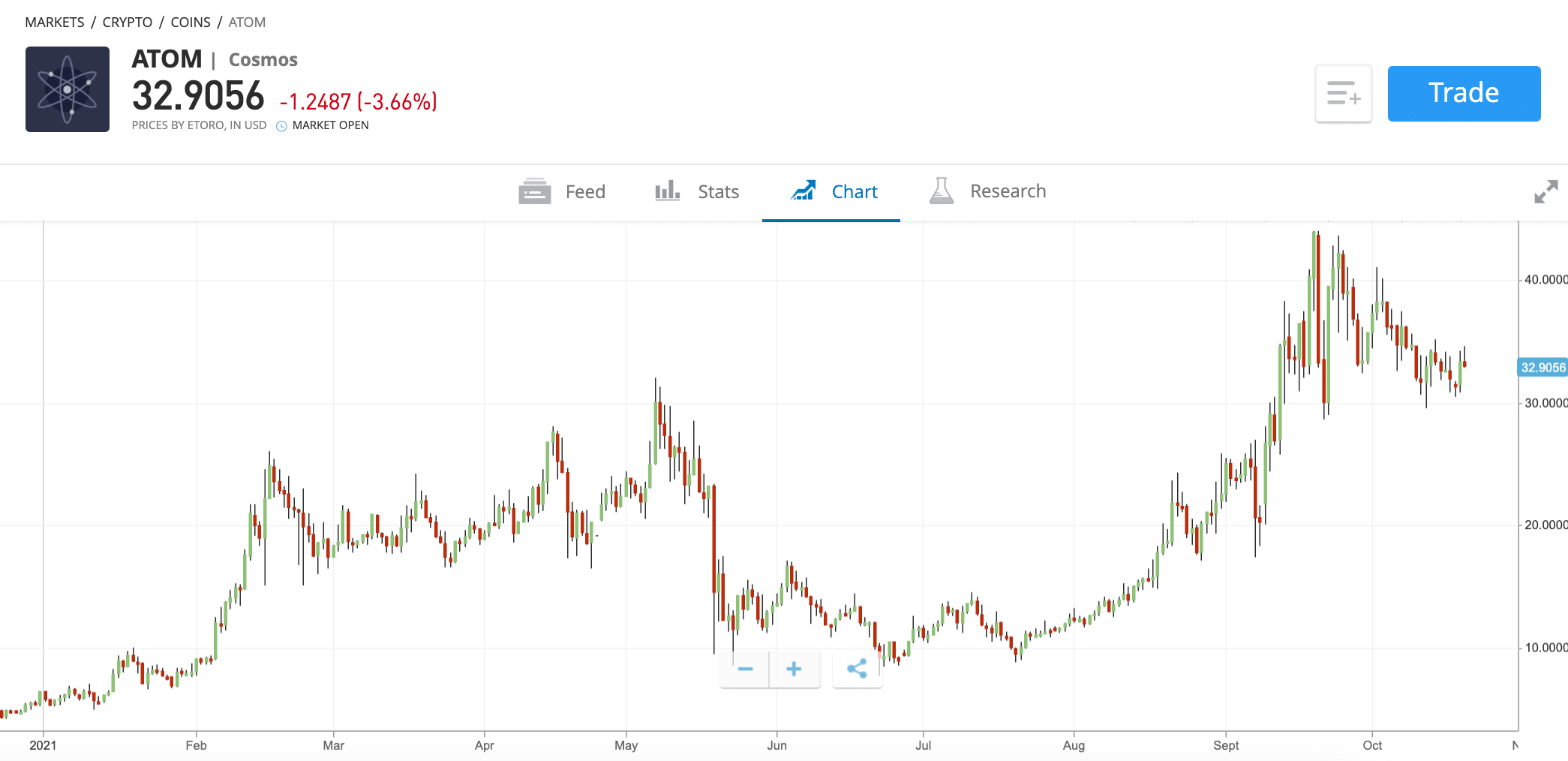 67% of retail investor accounts lose money when trading CFDs with this provider.
Overall, if you zoom out and look at the price chart in full, you can see that the exponential growth in Cosmos could just be the beginning. After the bull run earlier in the year, it's natural that price will 'pause' and consolidate for a while before pushing upwards once more. The key here is to be patient and wait for an entry at the bottom of the range that may provide the highest chance of generating a positive return.
Where to Invest in Cosmos
Before rounding off this Cosmos price prediction, let's turn our attention to where you can buy the token. As we noted earlier in this guide, eToro has recently listed Cosmos as a tradeable asset. This is massive news for retail investors and is a huge sign of confidence that Cosmos will be around for the long term.
eToro is therefore our recommended broker for buying Cosmos this year. Firstly, we like eToro as they are regulated by a variety of top organisations. This is important when crypto trading, as it ensures the platform abides by the strictest security protocols. Furthermore, with over 20 million users worldwide, eToro has enormous credibility in the sector.

One of eToro's most appealing factors is that the platform doesn't charge any commissions when you trade. This is at odds with some other CFD brokers, which charge a fee just for placing a trade. As all of eToro's fees are included in the spread, you'll know exactly what you're paying. Furthermore, this spread can vary and may become tighter during peak trading hours.
Users can fund their accounts from as little as $50 at eToro, with deposits in USD being completely fee-free. In terms of deposit methods, eToro accepts various credit/debit cards, bank transfers, and e-wallets – including PayPal! You can even use eToro's free demo account too, if you wish.
Finally, eToro offers all users a free crypto wallet to store their holdings in. This is important, as it protects your holdings from cyberattacks. In addition, you can easily exchange one crypto for another from directly within your wallet, if you wish.
Cosmos Price Prediction – Conclusion
To summarise, this Cosmos forecast has discussed what the Cosmos platform is and how it functions. We've also touched on the coin's short and long-term outlook, highlighting the key findings of our analysis. As you can see, we are relatively bullish on Cosmos, as the platform offers a much-needed service within the sector. Interoperability is something that all networks should aspire for – and Cosmos provides a streamlined and beneficial way for blockchain platforms to get involved.
So, if you wish to buy Cosmos today, we'd recommend using eToro. As noted earlier, eToro is a commission-free broker and allows investments from as little as $50. What's more, the sign-up process is super easy and only takes a few minutes to complete!


67% of retail investor accounts lose money when trading CFDs with this provider.
FAQs
What is the price of Cosmos right now?
The current Cosmos price is trading around $33. This represents an increase of approximately 435% since the turn of the year.
What drives the price of Cosmos?
As more and more platforms join the Cosmos network, it naturally increases the value of Cosmos' native token, ATOM. This creates even more hype, which causes investors to buy – leading to more significant price increases.
Where can I buy Cosmos?
Cosmos is now offered by eToro, which is one of the world's largest online brokers. Users can trade Cosmos with 0% commission at eToro and from as little as $50!
Why is Cosmos going up?
Cosmos is going up due to the growing popularity of the platform. More and more people are talking about Cosmos, creating a snowball effect of publicity and price appreciation.
What will Cosmos be worth by 2022?
Our Cosmos prediction for 2022 sees the coin reach $60 by the early part of the year. This would represent a 78% increase from today's price.
What will Cosmos be worth in 2025?
Our Cosmos forecast for 2025 estimates that the coin could reach a value of $200. This would likely be achieved if Cosmos can continue growing its ecosystem and making it the 'go-to' for new blockchain platforms to join.
About Connor Brooke
PRO INVESTOR
Connor is a Scottish financial expert, specialising in wealth management and equity investing. Based in Glasgow, Connor writes full-time for a wide selection of financial websites, whilst also providing startup consulting to small businesses. Holding a Bachelor's degree in Finance, and a Master's degree in Investment Fund Management, Connor has extensive knowledge in the investing space, and has also written two theses on mutual funds and the UK market.