Many crypto investors got burned by the greed and mismanagement of major centralized crypto exchanges in 2022. Could 2023 see them flock to decentralized exchanges like Uniswap?
The crypto management platform Bitwise anticipates that Uniswap could actually surpass the trading volume of the Nasdaq-listed Coinbase by Q4 2023. It argues that investors have lost so much faith in centralized exchanges that decentralized alternatives will become the norm.
FTX Collapse Could Benefit Uniswap
Coinbase is the biggest listed centralized crypto exchange in the US Currently, its 24-hour trade volume is slightly above $2 billion at press time, according to CoinGecko.
The Uniswap exchange currently ranks at the top of decentralized trading platforms volumes at over $1.2 billion. Today's total combined volume across all decentralized exchanges is $2.4 billion.
Bitwise stated that Uniswap's volume overtaking that of Coinbase would not be shocking, considering the former already achieved this briefly in November 2022 following the FTX collapse.
Uniswap and other DEX volume calculated by The Block
Bitwise asserted, "The ratio reverted in December, as the markets settled down. We think it flips more sustainably in Q4 2023 when Uniswap passes Coinbase and possibly never looks back."
DEX to CEX Spot Volume Positive Indicator
Already this month, Uniswap settled $12 billion in trade volume, according to the analysis by The Block: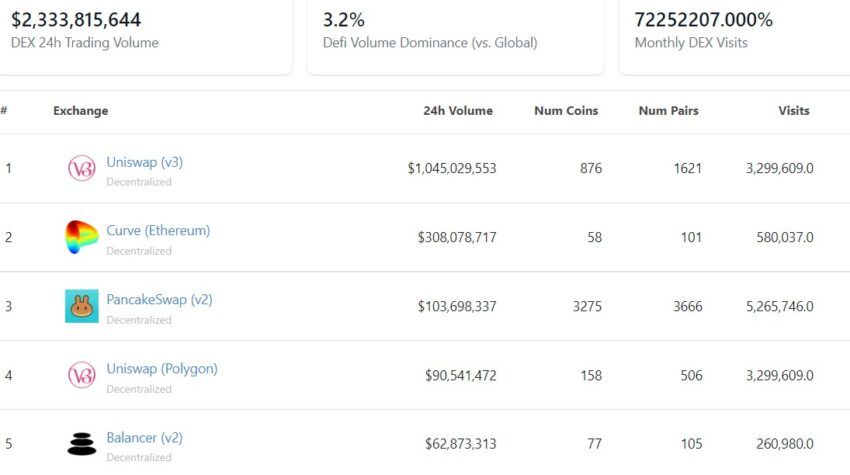 Uniswap V3 tops DEX exchanges on CoinGecko
In its December release, CoinMarketCap also noted that there is compelling evidence that DEXs are eroding the CEX market share by citing the DEX-to-CEX spot volume ratios of 2022. However, January figures are relatively lower for decentralized exchanges.

DEX to CEX spot volume ratio: The Block
On the DeFi front, the DEX has $3.64 billion in total value locked (TVL) according to DeFiLlama. With most of the share on Ethereum, Uniswap V3 (UNI) dominates $2.57 billion of the TVL.
The exchange also recently disclosed plans to introduce UniswapV3 over the StarkNet network. If the proposal is approved, the Ethereum-based ZK-rollup StarkNet might be enabled by Q2 2023:
Uniswap plans to discuss with StarkWare and Nethermind the proposal to deploy Uniswap V3 on the StarkNet network, as well as the new problems faced by its deployment on the first non-EVM network. https://t.co/bCmohkOKh5
— Wu Blockchain (@WuBlockchain) January 16, 2023
Meanwhile, UNI, the governance token of Uniswap, is hovering close to $6.40 on CoinGecko. It has gained over 22% so far in 2023 but is down 0.8% in the past day.
Disclaimer
BeInCrypto has reached out to company or individual involved in the story to get an official statement about the recent developments, but it has yet to hear back.