Are you interested in cryptocurrencies or are you looking for an honest, thorough one Review of Crypto.com? In this guide, we're going to give you a simple approach. Crypto.com is a full-fledged crypto hub based on the list of supported cryptocurrencies Defi Wallet, Exchange and Well Badges. It enables users to sell and buy Ethereum, Bitcoin and many other cryptocurrencies with the help of top fiat currencies as payment gateways. We'll explain all of these features in detail below.
Overview of Crypto.com
Crypto.com, formerly known as Monaco, was founded back in June 2016 by Kris Marszalek and Bobby Bao. In July 2017, an event named "Monaco Initial Coin Offering" took place where the company raised nearly $ 26.7 million. Currently, Crypto.com is headquartered in Hong Kong and has nearly 350 employees.
Crpyto.com is an online cryptocurrency and fiat currency exchange platform where you can exchange, store and trade nearly 70 major cryptocurrencies. This platform is designed to offer merchants and consumers a wide range of features than any other crypto brand. Today it is the most powerful crypto platform that millions of users around the world trust and rely on.
Countries supported by Crypto.com
Crypto.com is a fully controlled and regulated crypto platform that meets all financial and operational management requirements. This means that you cannot use the services anonymously, regardless of whether it is a payment app or an exchange.
At the time of writing, countries around the world including the United States, Australia, Europe, Russia, the United States, Latin America, and several African and Asian countries are offering Crypto.com services. However, some geographic restrictions may apply to certain Crypto.com services.
Currencies supported by Crypto.com
Crypto.com has an ever growing list of supported coins on its platform. The rule is, the more coins that are supported, the more users will be drawn to the platform. Currently, 89 different high-level coins are supported by crypto.com. One of coinmarketcap's big daddies i.e. BTC, COMP, ETH, DASH, ETC. make it on the list.
When you set up your crypto.com account, you find that fiat currencies can choose between payment gateways. However, we have found that USD, AED, GBP, EUR, AUD, and RUB are the most commonly used fiat currencies. This feature is rarely seen in the market these days. Most of the time, users need to make payments through Cryptos to make purchases.
Crypto.com payment methods
The deposit and withdrawal options are available in both crypto and fiat currencies. Users who are beginners and do not have their own crypto from cryptos.com can buy crypto from cards. You can either use your credit card or transfer the subject amount via the crypto.com app
The crypto.com exchange supports fiat currencies. You need to download the crypto.com app. You can download the app from Google Play or AppStore. On the payout page, you also need an app for crypto.com. Or, you can either send your crypto to an external wallet. There are minimum quantities and time limits set by the app. So enter all details correctly in a transaction to avoid losses.
Crypto.com security
The philosophical concept of "defense in depth" applies here when it comes to the security measures of crypto.com. The platform has divided its security into two parts: hot storage and cold storage. All 100% assets of their users are kept in the cold store. Crypto.com is also working with the Hardware Wallet Ledger to make the security levels more reliable.
All daily transactions are stored in hot storage wallets. In this regard, the general ledger with its security features contributes to smooth disbursement. Insurance with a value of EUR 360 million is retained, especially for the crypto assets held on crypto.com. This insurance protection offers its customers an additional level of security. According to a recent report, nearly 3 million people are covered by their insurance policy.
Crypto.com support
Customer care plays an important role in running them and the organization. Based on our experience, crypto.com offers its customers a very enjoyable experience when it comes to helping them. The team provides 24/7 live chat support to its users. There is a chat icon in the lower right corner of the crypto.com official website
A full FAQ page is also on the website. The team tried to answer as many questions as possible, ranging from general to technical. You can search your questions using the search option or send them a direct message. The customer team will respond as quickly as they receive the message. In addition, crypto.com has growing social media channels on various platforms. You can follow them to keep up to date with the latest events.
Crypto.com fee
It is FREE to have your MCO Visa Card authorized and delivered, except for stakeout requirements. It is also FREE to debit your MCO Visa Card with money. Domestic transaction costs are not available. If you buy something from your MCO Visa Card in a different currency, you will also receive the interbank exchange rate. There's a monthly limit, but if you go beyond that it's only a 0.5% fee (which is competitive). There is no monthly administration fee available. However, if you do not use a card at least once for 12 months you will be charged £ 5.00. Below is the table to help you do this. For the deposit or withdrawal fee, you can read the official article from crypto.com.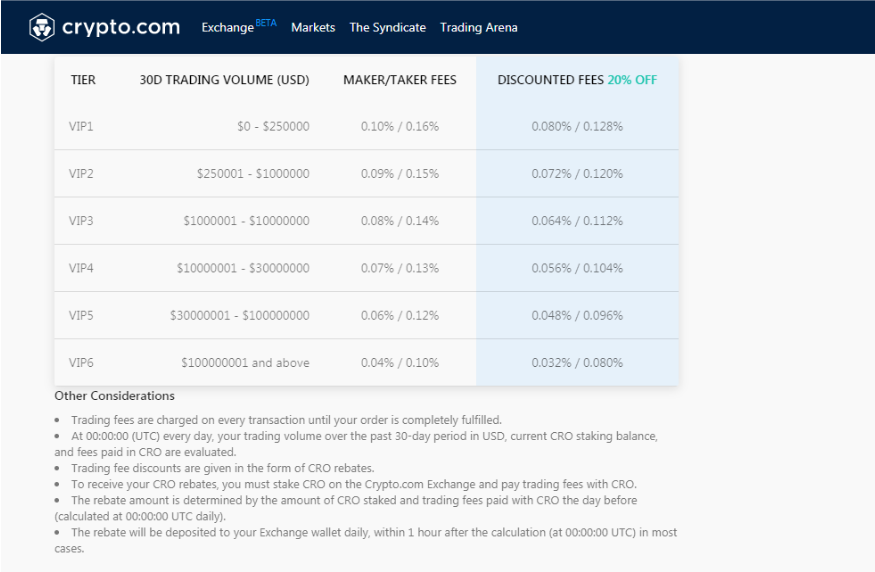 Advantages and disadvantages of Crypto.com
benefits
It will take less than 5 minutes for your account to be approved. You can get a quick review here on this platform.
It's free to open an account on crypto.com. The platform is free, but there are certain non-negotiable fees that you have to pay when making transactions.
Debit cards and MCO Visa cards are issued and delivered to your address free of charge. There are no monthly maintenance fees for these cards.
You can get 10% cashback on a selected brand when you purchase their gift cards with your cryptocurrency balance.
disadvantage
There is no office or customer care center in the United States or the European Union.
If you don't hold your crypto for 3 months, crypto pays off with very low interest rates. You need to lock your crypto deposit for at least months.
Many users have reported on various platforms that the MCU cards will not be issued. The issue of cards takes one month after ordering.
Many of its functions are not available in different countries. They also didn't have a specific list on their website to make things easier.
Is Crypto.com Safe?
They are so much safer than any other exchange. Many of the users have claimed that they keep 90% of their funds on crypto.com. The platform has proven itself in a very short time. Crypto.com uses traditional banking features to make it easy for users to earn and fund. As mentioned above, the cold room is used to store all of the customers' digital assets. Meanwhile, Hot Storage uses Ledger's security features to manage the day-to-day transaction task.
Also is the fact that they are now insured. The company is checked by a big 4. It's very fair to say they didn't build that image overnight. If it was a scam, the crypto.com team wouldn't work hard to come up with more amazing features and wouldn't have released a product.
Frequently asked questions (FAQs)
Is crypto.com legit?
They offer debit and MCO Visa cards. They are just as legitimate as the other platforms with a crypto-friendly environment
Is crypto.com better than Coinbase?
Coinbase deals with the high volume traders, while crypto.com is more of a mundane service.
Conclusion
Crypto.com is a user-friendly crypto trading site that facilitates popular crypto trading. Crypto.com also has a variety of popular features for beginners that you can find in one place, as well as crypto pairings. This includes 0% trading costs, which are particularly attractive for high-frequency traders. It can hold its own against its competitors with interest rates, benefits, and discounts, plus the ability to make large payments and withdrawals. In addition to trading, the Crypto.com app supports the withdrawal and deposit of fiat currencies.
In addition, everyone can make their own choice. It is entirely up to them to make decisions. There are few options on the market, but we offer the best option available in the market here. Don't forget to share your experience with us. Let us know in the comments section below