Please note that we are not authorised to provide any investment advice. The content on this page is for information purposes only.
One of the significant issues facing cryptocurrency is the lack of scalability that certain platforms have. However, as developers begin to understand blockchain technology more and tweak it to become more efficient, that paves the way for new and exciting networks to spring up – such as Elrond.
In this article, we'll discuss our Elrond Price Prediction in detail. We'll touch on what Elrond is and how it works before showing where you can invest in cryptocurrency today – with no commissions!

MultiversX (Elrond) (EGLD)
Price
$ 34.39
Elrond Price Prediction 2021 to 2022
Throughout this Elrond stock forecast, we'll cover both the short and long-term prospects of this platform. However, if you're in a rush, the bullet points below highlight the main findings of our Elrond prediction 2021 for the months ahead.
One Month – The current Elrond price is hovering around the $242 level, following a gradual rise since late September. Over the next month, we estimate that Elrond could hit a valuation of $290.
Three Months – The firm uptrend in Elrond's price shows no signs of stopping, meaning that the previous all-time highs look likely to be broken. Over the next three months, our analysis projects that Elrond could hit a valuation of $375.
Start of 2022 – Assuming the Elrond price can finish the year strongly, we'll likely see the bullish momentum continue into next year. As such, we estimate that Elrond will reach a valuation of $400 by the start of 2022.
67% of retail investor accounts lose money when trading CFDs with this provider.
Elrond Price History – the Story of 2021 So Far
Investing in cryptocurrency can be tricky, which is why it's crucial to understand the asset you're looking to purchase and how it operates. This is particularly important for Elrond, as this network has various features that differ from traditional platforms such as Bitcoin (BTC) and Ethereum (ETH). With that in mind, let's discuss Elrond and how the price reached this point.
Elrond is a blockchain network that is designed to maximise scalability and minimise transaction costs. The network does this through a process called 'sharding', which breaks that network up into pieces and means that validators only focus on a specific set of transactions at one time. Ultimately, this means that more transactions can be handled – with Elrond being able to facilitate 16,200 transactions per second!
The great thing about the Elrond network is that transactions only cost around $0.001 to make and have instant finality, which refers to the state when transactions on a blockchain are 'final' and cannot be reversed. Thus, the Elrond network has positioned itself as the ideal platform for developers to create decentralised finance (DeFi) projects and decentralised applications (dApps).

Elrond's native cryptocurrency is called EGLD, which is what you'll be purchasing if you invest in Elrond. Like other platforms, this token is called a utility token and is used for various tasks, such as staking and paying smart contract fees. Thus, as EGLD is inextricably linked to the Elrond platform, any increase in the popularity of Elrond will likely translate to an appreciation in the price of EGLD.
Overall, Elrond is a platform with an exciting future when it comes to DeFi and dApps due to its transaction speed and scalability. According to DefiPulse,  the total value locked in Defi projects right now is $95.53bn – which is more than 3x what it was at the beginning of the year! As you can see, the growth of DeFi shows no signs of stopping, meaning Elrond is in a prime position to benefit from this.
Looking at the price chart, the EGLD token has been on a pretty wild ride in 2021. Between the start of January and the time of writing (October 2021), the price has increased a remarkable 818%. The price of Elrond peaked in April before the broader market effects caused it to decline during May and June. However, since late July, EGLD has shown some solid bullish momentum and printed an all-time high of $300.56 on September 14th, 2021.
Elrond Price Forecast
Now that we've explained what Elrond is and its price history, let's peer into the future and determine this coin's outlook. As we've noted in our other cryptocurrency price predictions, many different factors can affect a coin's price, so it's wise to do your own research. With that in mind, let's look at the technical and fundamental elements of this Elrond forecast.
Technical Analysis
As you can see from the chart, the token price has been climbing steadily since July. Price is printing clear higher-highs and lower-highs, indicating a strong bullish trend. Although there was a significant price change in September after EGLD hit its all-time high, the token has recovered well and seems to be making an attempt once more.
The support level around $198 seems to be relatively strong, as the price has been rejected three times since early September. This is a good sign, as it gives added optimism that Elrond can break past the previous all-time highs. Furthermore, EGLD is trading above the 50-day and 200-day EMAs, which measure the average price over the past 50 and 200 trading days, respectively. Again, this is a signal that the price is showing a bullish trend.
Overall, if you were looking to invest £1000 UK, we'd wait to see how the price reacts around the $300 area. There's a chance that price could reject and head lower – or we could see a solid close past this level. If the latter occurs, that may represent a good investment opportunity if you're looking to gain exposure to the EGLD price.
Fundamental Analysis
On the fundamental side of things, EGLD currently has a market cap of $4.7bn, according to CoinMarketCap. This means that Elrond is the 39th largest cryptocurrency globally at the time of writing, with a circulating supply of 19.5m EGLD tokens. The trading volume in the last 24hrs is $83.5m, down 29% from the previous day.

67% of retail investor accounts lose money when trading CFDs with this provider.
One great thing about Elrond is their Maiar Exchange. This decentralised exchange (DEX) allows users to trade tokens and earn a passive income stream. Furthermore, this exchange is fully integrated with Maiar App, which is powered by Elrond. Therefore, users have complete control over their assets and avoid the centralised nature of large cryptocurrency exchanges.
Elrond Price Prediction 2025 – Long Term Outlook
The next step in our Elrond price prediction is to look at the long-term prospects of the token. As we've noted, Elrond offers excellent scalability and low fees, making it a viable alternative to the likes of Ethereum and Cardano. However, most people who buy cryptocurrency will still lean towards these two due to their 'hype' and community-backing.
Over the long term, the prospects of EGLD look great. EGLD tokens have a max supply of 31.4m, meaning that 62% of the tokens that will ever exist are already in circulation. This means that EGLD is scarce – and due to the laws of supply and demand, this is a good thing for the price. Ultimately, once all the coins are in existence, there will likely be upwards price pressure.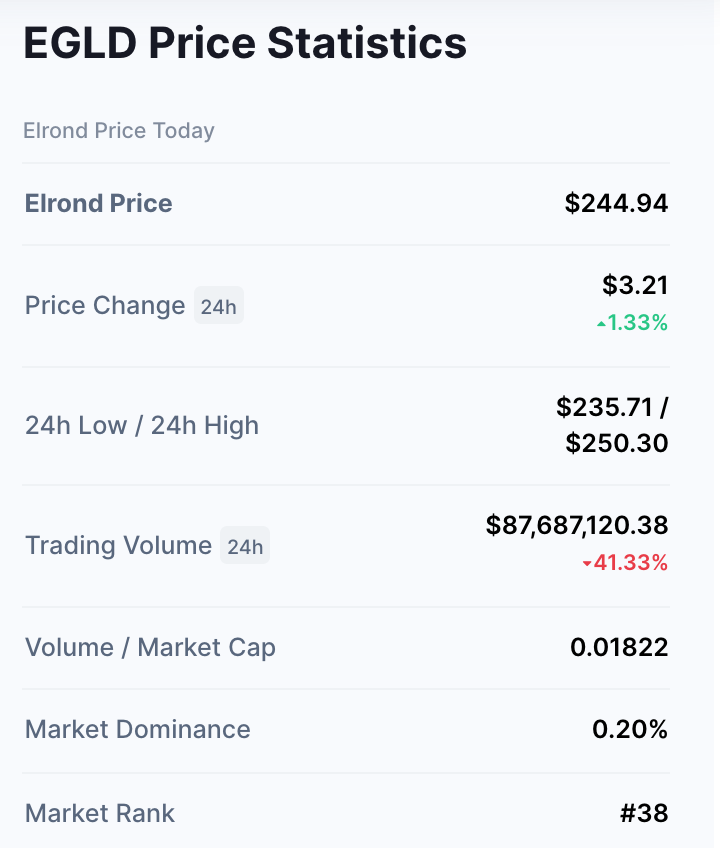 Furthermore, the sharding mechanism used by Elrond is thought to be the future of scalability. ETH2.0 (the upcoming upgrade to Ethereum) will be implementing sharding, whilst Zilliqa (another exciting network) already does. Furthermore, the consensus algorithm used by Elrond is a modification of the Proof of Stake algorithm used by many other networks, except a rating is given to each node, which should improve the security of the network overall.
So, with all of that in mind, we're pretty optimistic about Elrond over the long term. The development team is highly skilled, and the network can rival (or be even faster) than Cardano. Thus, our Elrond price prediction 2025 estimates that the token could reach a valuation of $800.

Looking even further ahead, our Elrond price prediction 2030 is also encouraging. As more people begin to buy NFT tokens and DeFi protocols become more prevalent, it's likely that the Elrond network will be inundated with developers looking to build their apps on it. If this occurs, we estimate that EGLD could be valued at over $1200 by 2030.
Elrond Price Chart
Most people who enter the cryptocurrency market tend to buy Bitcoin, as they believe that's the best way to generate returns. However, as Bitcoin is so well-established now, price movements are much less volatile and provide fewer returns. As such, if you are happy taking on some additional risk, then investing in a crypto such as EGLD could be the ideal avenue for you to explore.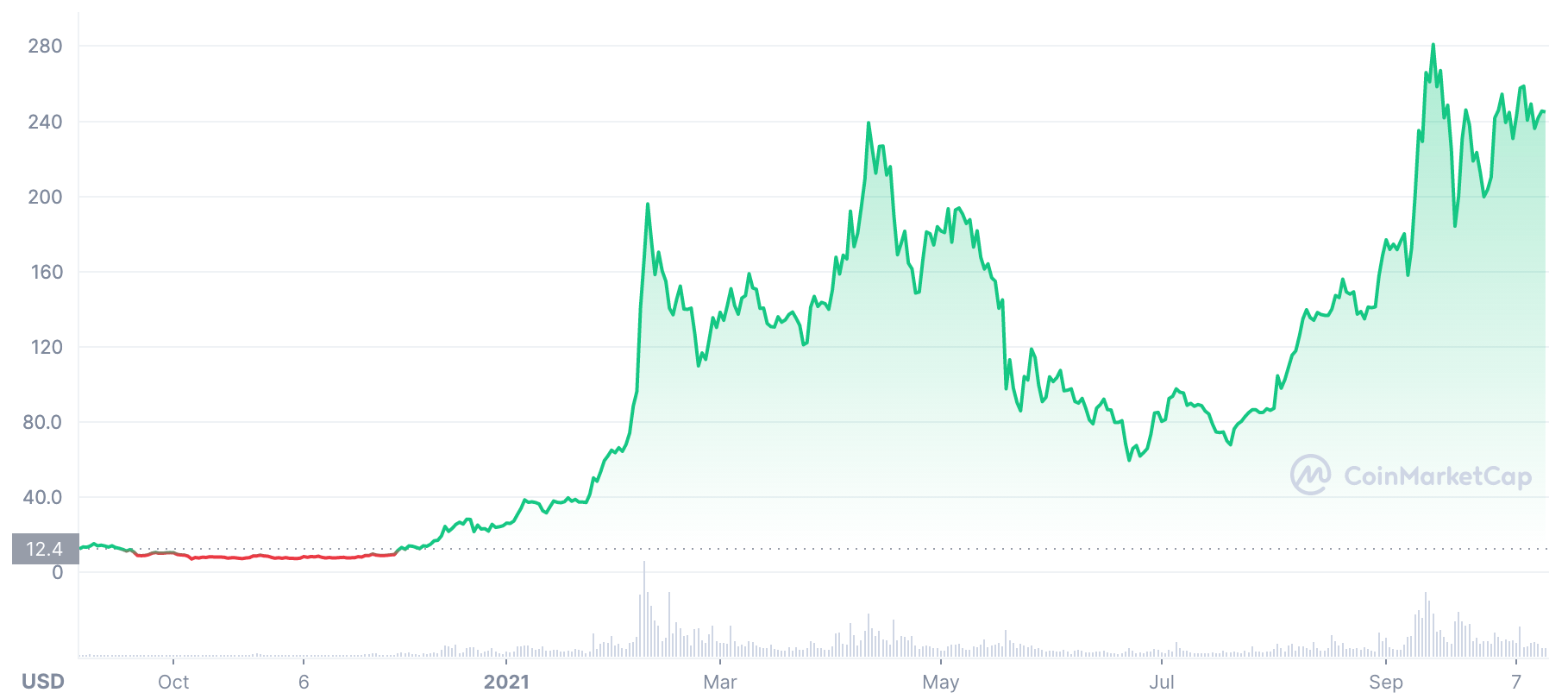 67% of retail investor accounts lose money when trading CFDs with this provider.
EGLD is very early into its lifespan, so the price chart doesn't offer much in the way of technical analysis. However, major exchanges such as Binance now allow users to buy Elrond using FIAT (such as USD) or cryptocurrency. Ultimately, this has increased liquidity and made it easier for EGLD to show some bullish momentum.
In the future, if EGLD can secure some listings with major online brokers, this is another element that will go in the token's favour. The coins that seem to do the best in the market are those that are easy to access for both retail and professional investors. With that said, although Elrond is still very early in its lifespan, now may be a great time to invest to generate substantial gains in the future.
Where to Invest in Elrond
The final stage of this Elrond prediction is to discuss the investment process. Right now, many of the best crypto apps and online brokers will not offer Elrond as a tradeable asset, as the token doesn't yet have the mass appeal that others do. As such, you'll have to use a cryptocurrency exchange to buy EGLD.
These exchanges allow you to use FIAT to buy crypto, or you can transfer crypto onto the exchange and transfer it into another token (if you already hold crypto). However, if you are a beginner investor, this process can be a little confusing at first. So, if you'd like to begin trading a different crypto, then we'd recommend using eToro.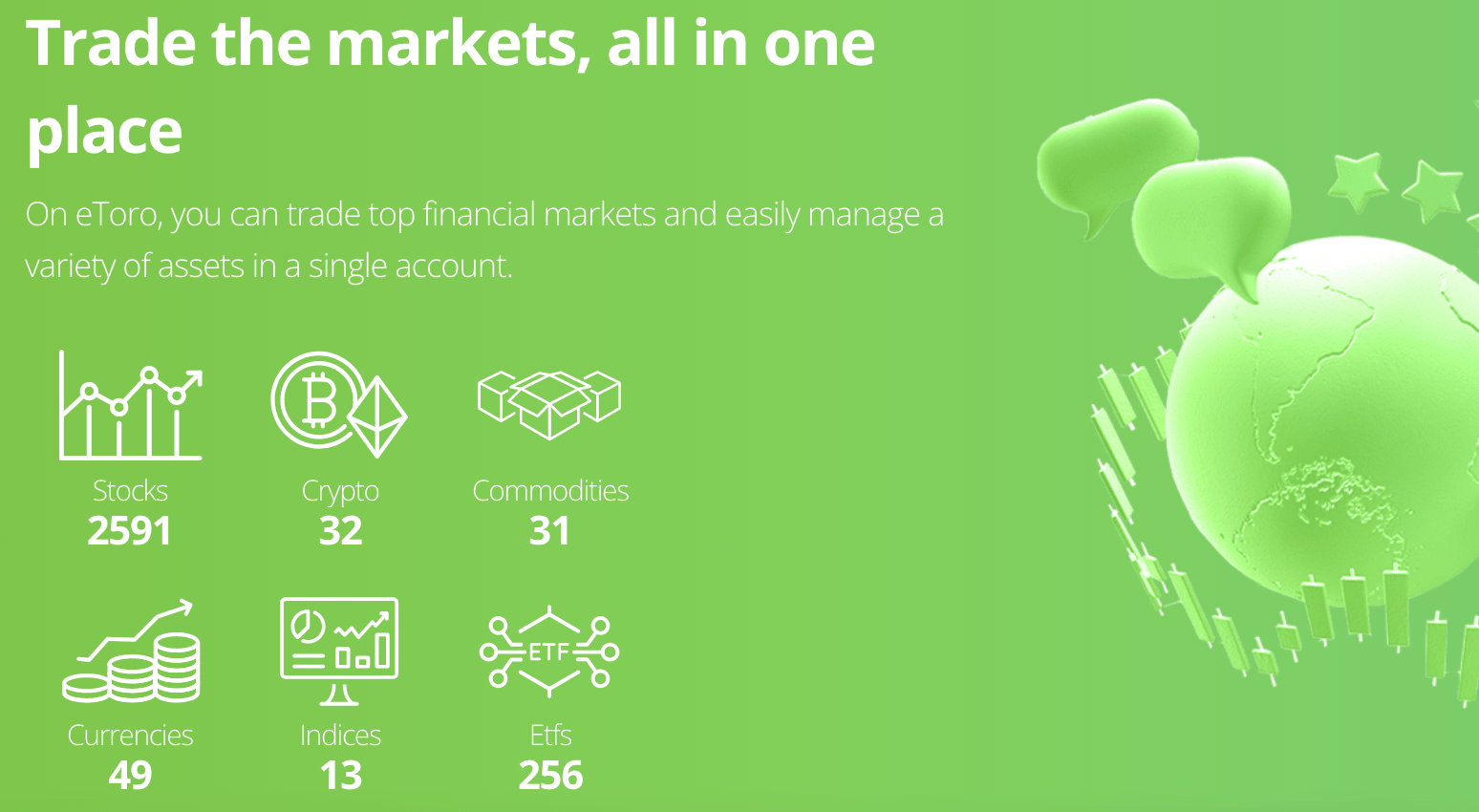 eToro is one of the best CFD brokers for crypto trading, thanks to heavy regulation and an attractive fee structure. eToro is regulated by the FCA, ASIC, and CySEC – three of the most reputable entities in the industry. What's more, eToro is also covered by the FSCS, which insures users up to £85,000.
Users can trade completely commission-free at eToro, which is one of the platform's main strengths. EToro's fees are included in the spread, which is the difference between the bid and ask price. Fortunately, this spread does fall in line with the spreads offered by other platforms, but it can fluctuate depending on market conditions and the time of day.
Finally, eToro accepts deposits from as little as $50 (£37), which come accompanied by no fee if you fund your account in USD. Deposits can be made via credit/debit card, bank transfer, and various e-wallets (such as PayPal). Finally, eToro even offers a free demo account that you can use. This account uses demo money and allows beginner traders to get a feel for the markets before they trade for real!
Elrond Price Prediction – Conclusion
In summary, this Elrond forecast has examined what the Elrond network is and how it functions. We've also explored the outlook for Elrond over the short and long term, ensuring you have all you need to make an investment decision. Overall, we're pretty bullish on Elrond due to its scalability and low fees. These factors will undoubtedly go in the platform's favour when attracting dApp developers and DeFi protocols.
So, if you'd like to begin investing in crypto today, we'd recommend using eToro. eToro is one of the world's most respected brokers and has over 20 million users globally. What's more, users can invest in crypto commission-free – and from as little as $50!


67% of retail investor accounts lose money when trading CFDs with this provider.
FAQs
What is the price of Elrond right now?
The Elrond price today is hovering around $242. Although this is slightly down from September's all-time highs, the EGLD price is still up 818% since the beginning of 2021.
What drives the price of Elrond?
As EGLD is the utility token of the Elrond network, the more users on the network, the higher the value of EGLD. As such, adoption by major companies and institutions is one of the main drivers of Elrond's price.
Where can I buy Elrond?
Many major online brokers do not offer EGLD, so you'll have to use a cryptocurrency exchange to buy it. However, if you're looking to invest in a different cryptocurrency, we recommend using eToro.
Why is Elrond going up?
The pending release of Elrond's DEX, combined with the overall bullish sentiment, is helping push Elrond's price higher. Furthermore, with more updates in the pipeline, we may see further moves upward in the months ahead.
What will Elrond be worth by 2022?
Our Elrond prediction for 2022 sees the coin hit $400. This would represent an increase of 66% from today's price.
What will Elrond be worth in 2025?
Our Elrond forecast estimates that EGLD could reach $800 by 2025. If this occurs, it will represent a return of 231% if you invested today.
About Connor Brooke
PRO INVESTOR
Connor is a Scottish financial expert, specialising in wealth management and equity investing. Based in Glasgow, Connor writes full-time for a wide selection of financial websites, whilst also providing startup consulting to small businesses. Holding a Bachelor's degree in Finance, and a Master's degree in Investment Fund Management, Connor has extensive knowledge in the investing space, and has also written two theses on mutual funds and the UK market.