EOS price is one of the worst performing cryptocurrencies today. It has fallen more than 30% from its high of $ 3.9 yesterday, and is now trading at $ 2.77. Its market capitalization has also dropped to over $ 2.7 billion, making it the 16th largest cryptocurrency in the world.
EOS versus BTC, ETH, XRP
What's happening: The EOS price is falling mainly due to the general collapse of the cryptocurrency market. Other digital currencies have fallen sharply, with Bitcoin losing more than 7,000 points. Ethereum and Bitcoin cash have also fallen more than 250 and 120 points, respectively.
The EOS price is also falling due to what is going on at Block.one. In a statement over the weekend, the company's founder Dan Larimer announced that he had resigned. Block.one is known for raising more than $ 4 billion through its Initial Coin Offering (ICO). In a statement he said:
"I will continue my mission to create a free market and voluntary solutions to secure life, freedom, property and justice for all. I'm not sure what's next, but I tend to develop more censorship-resistant technology. "
He made this statement after saying that he was boycotting social media because of its censorship. As a result, the EOS price may fall as investors may lose confidence in the currency.

EOS price forecast
The daily chart shows that the EOS price hit a high of $ 3.9 over the weekend. This is a notable price as the currency hit the same level in August and November. This means that it has formed a triple top, which is usually a bearish sign. Price is also important as it is along the Fibonacci retracement level of 61.8%.
Hence, we believe that EOS will continue to decline in the near future, with the next support at $ 2.40, which is the 23.6% retracement level. On the flip side, a move above USD 3 will result in more upward movement.
Don't miss a beat! Follow us on Telegram and Twitter.
EOS forecast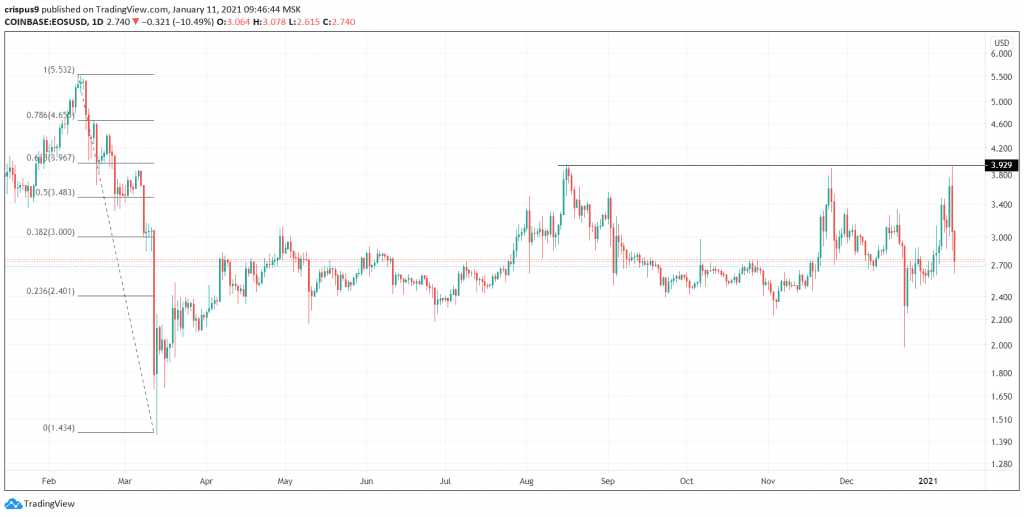 More content