Both ethereum and cronos are trading down over 50% year to date. Photo: Unknown man / Shutterstock
A long-awaited update to the Ethereum (ETH) blockchain is expected to shake up the cryptocurrency market.
The Ethereum 'Merge' will see the blockchain transition from its current energy-intensive proof-of-work (PoW) process to the more environment friendly proof-of-stake (PoS).
The wait for the transition seems to be ended, with 'The Merge' event set to commence on 6 September. The 'Bellatrix' update will go live on the Beacon Chain, kicking off the first phase of The Merge, according to Ethereum's timetable. The Merge is anticipated to be completed on September 15 at 12:30:00 PM CET.
The Merge is coming: UPGRADE YOUR CLIENTS!
• The Bellatrix upgrade is scheduled for epoch 144896 on the Beacon Chain – 11:34:47am UTC on Sept 6, 2022
• The TTD value triggering The Merge is 587500000000000000000000, expected between 10-20 Sep 2022
MORE: https://t.co/CdW89oSoE6
— Ethereum (@ethereum) August 29, 2022
Many market players anticipate that the merger could have a favorable impact on the price of ether in the coming months.
Cronos (CRO), on the other hand, is powered by Ethermint, a PoS chain compatible with Ethereum. Cronos intends to dramatically extend the chain's decentralized finance (DeFi) ecosystem by enabling developers to quickly migrate applications and smart contracts from Ethereum and other Ethereum Virtual Machine (EVM) compatible chains.
As of 6 September 2022, ETH's year-to-date (YTD) losses were around 55%, compared to CRO's YTD losses of approximately 79%, according to CoinMarketCap.
In this article, we have compiled important information about ethereum and cronos. You will also find a historical price analysis of ETH to CRO price rates, analyst view and ETH/CRO predictions.
What is ETH and CRO?
Ethereum (ETH) is a blockchain-based platform that allows developers to create and deploy decentralized apps (dApps). As a result, users can develop a decentralized application whose decision-making power resides with the program's participants.
The widely anticipated update, Ethereum 2.0, aka 'The Merge', is predicted to assist the second-largest cryptocurrency by market capitalization in achieving its long-term scalability and adoption objectives.
It is expected that Ethereum's shift to a PoS consensus could make its blockchain more scalable, accessible and less energy-intensive than the current PoW architecture. As PoS replaces PoW, miners will be replaced by stakers, who will be required to lock up their ETH tokens in smart contracts to collect staking incentives for verifying transactions.
Meanwhile, Cronos (CRO) is the first blockchain network that supports DeFi, non-fungible tokens (NFTs) and the metaverse, and interoperates with the Ethereum and Cosmos (ATOM) ecosystems.
Cronos intends to expand the Web3 user base by enabling developers to rapidly move applications and crypto assets from other chains with cheap cost, high throughput and rapid finalization.
Crypto.com works as an exchange platform and mobile application where users can buy, trade, and earn digital assets. CRO is both the Crypto.com blockchain and the Cronos EVM chain's native cryptocurrency. In addition to powering the ecosystem, the CRO token is also used for staking, paying users with free Netflix and Spotify subscriptions, and other cashbacks and prizes.
What is your sentiment on ETH/USD?
Vote to see Traders sentiment!
Market sentiment:
Give ETH/USD a try
Start trading
or
try demo
ETH/CRO price analysis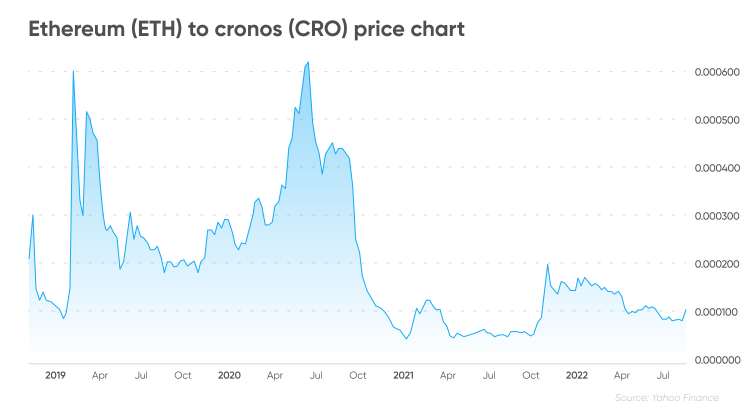 Ethereum was launched in July 2015, and has since had a return of investment (ROI) of 58,300%. Cronos was launched in November 2021 and has returned an ROI of 504%, suggesting that ETH has been the better-performing cryptocurrency.
According to the historical ETH chart, the coin was trading at $0.7084 on 10 August 2015 and rose 2,806.55% to $20.59 on 16 June 2016. However, ETH went into a bearish trend afterwards and reached $6.82 on 5 December 2016.
2017 would be a very fruitful year for ethereum, as it saw a year-to-date (YTD) increase of 9,162.3% from $8.17 on 1 January to $756.73 on 31 December. However, 2018 was a troublesome year for the cryptocurrency market, and ether was no exception. The price declined again, bottoming at $84.31 on 14 December, before rebounding slightly to close the year at $133.37.
On 1 January 2019, CRO was trading at $0.02147 and ETH at $140.82. For the next few months, bullish sentiment paved the way forward for both cryptos. By 26 June, CRO was trading at $0.0689 and ETH at $336.75, having gained 220.91% and 139.14%, respectively.
ETH declined to $122.60 on 17 December, amid overall bearishness in the market, and CRO followed suit, reaching $0.03057.
During 2020, CRO's market sentiment turned very bullish, reaching $0.1798 on 1 September, a rise of 488% from the December 2017 low. Meanwhile, ether gained 289% from the low to reach $477.05.
The rally continued for ether, which closed the year at $737.80. However, CRO's market sentiments turned bearish. It closed 2020 at $0.05853.
In 2021, cryptocurrencies began gaining mainstream acceptance. Riding the wave of positive sentiment, ETH reached its all-time high price of $4,891.70 on 16 November. Similarly, CRO reached its lifetime high of $0.9698 on November 25, 2021.
Intriguingly, the highest recorded price of ethereum and cronos occurred on 10 November 2021, when ETH peaked at 40,796 CRO. The ETH/CRO exchange rate has decreased 65.71% from its all-time high.
ETH closed 2021 at $3,682.63, and CRO at $0.5575, down 24.71% and 42.51%, respectively.
ETH opened 2022 at $3,683.05 and declined to $2,308.91 on 24 February. On May 12, the price fell below the $2,000 threshold to $1,748.30 in an environment affected by the Terra meltdown, despite the market's attempts to rebound.
ETH fell to $896.11 on 18 June, its lowest level since late 2020, due to continued selling. The Ethereum Foundation declared on 27 July that the Goerli merger would proceed, and the ETH price increased by 98% to a high of $1,774.58 the following day.
In June, the suspension of withdrawals on the Celsius (CEL) cryptocurrency lending platform reinforced the bear market, and cronos fell to $0.09902 on 18 June.
At the time of writing (6 September), ETH was trading at $1655.63 and CRO at $0.1196. According to CoinCodex, 1 ETH is currently worth 14,057 CRO. The lowest exchange rate YTD was 11,610 CRO on 13 February.
ETH and CRO news and price drivers
ETH and CRO have undergone several important milestones lately, which may drive the exchange price.
The merge announcement
The Ethereum Foundation revealed the formal criteria for the long-awaited upgrading of The Merge blockchain to a proof-of-stake consensus mechanism in August 2022.
The Merge will begin in many stages, beginning with the Bellatrix update on September 6 and concluding between September 10 and 20.
The Beacon Chain will trigger the Bellatrix upgrade on September 6th. This update is responsible for initiating the remainder of The Merge procedure.
The activation is slated for Beacon Chain epoch 144896, which should occur at around 11:34:47 UTC.
The Terminal Total Difficulty (TTD) figure that triggers The Merge will be 58,750,000,000,000,000 trillion after this. This TTD is anticipated to be attained between 10 September and 20 September. The Ethereum devs have indicated in previous conversations that they are targeting 15 to 16 September.
During this time, the degree of difficulty will climb to the point where PoW crypto mining will become impossible.
When TTD hits 58,750,000,000,000,000 trillion, the network's execution layer will be merged with the new consensus layer, and the network will shift to the new proof-of-stake consensus protocol.
Launch of cronos' Chain Ambassador Program (CROnauts)
Cronos announced the introduction of the Chain Ambassador Program in September 2022 to begin bringing in additional retail customers to see the use cases of Web3.
As a 'CROnaut', participants would have the following core responsibilities: spreading the word about the Cronos ecosystem and getting new users; contributing to the growth of the ecosystem and the community; attending regular meetings and involvement in community discussions; creating, curating and maintaining Cronos ecosystem content; and organising, promoting and conducting events and workshops.
ETH to CRO forecast: Predictions for 2022 and beyond
According to Messari statistics, the total number of unique addresses active on the Ethereum network grew to 529,156 on 6 September, from 466,381 on 30 August – a gain of 13.46%. This indicates that more buyers are joining the market in the wake of the Ethereum 2.0 update.
Similarly, Cronos saw a slight rise in unique addresses from 550 on 30 August to 580 on 6 September, a more than 5% increase.
Price Prediction's algorithm-based ETH to CRO estimate, as of 6 September, had ETH trading at an average price of $1,952.15 in 2022 and $6,421.33 in 2025. Its CRO projection had the coin at an average price of $0.18 in 2022 and $0.54 in 2025.
DigitalCoinPrice predicted that ether could trade at an average price of $2,195.11 in 2022, $6,711.41 in 2025 and $23,125.77 by 2030. The forecaster's predictions for CRO had it trading at an average price of $0.16 in 2022.
It should be noted that analysts' and experts' price projections can be wrong. Forecasts should not be utilized in place of your own research.
Always do your own due research and remember that your choice to trade or invest should be based on your risk tolerance, market knowledge, portfolio size, and investment objectives. Never invest more money than you can afford to lose.
FAQs
Why has ETH to CRO been rising?
Market sentiment for Ethereum is favorable ahead of the widely anticipated Ethereum 2.0 upgrade, which may have translated into a bullish ETH to CRO forecast. Note that these predictions can be wrong. Always do your own research before investing. And remember to never invest or trade more money than you can afford to lose.
Will ETH to CRO go up or down?
As of 6 September, market sentiment was neutral. However, with The Merge date coming, ETH may have an advantage over CRO, implying that ETH to CRO could rise. However, it is impossible to say for certain.
When is the best time to trade ETH to CRO?
The best time to trade ETH to CRO is after you have done your research and taken into consideration your attitude towards risk, the spread of your portfolio and expertise in the market, among other factors. Crypto markets are open 24/7, and the highest trading hours tend to be 8.00 to 16.00.
Is ETH to CRO a buy, sell or hold?
It is widely expected that The Merge could have an unprecedented impact on ETH/CRO price.
Whether this makes ETH/CRO a buy, sell or hold is a question that you will have to answer for yourself. Before you do so make sure to conduct your own research. Prices can go down as well as up. Remember to never invest more money than you can afford to lose.
Further reading: