It's that time again.
We just updated the Airdrop Guide with some fresh airdrop predictions for our Bankless Premium members to get the jump on.
We've already been proven right on a lot of them so far. Only question is: which one is next?
If you're not already a Bankless Premium member, upgrade now to get immediate access.
Dear bankless nation,
There's no way around it — November was a rough month for crypto.
Markets are down, lenders and funds are dropping like flies, and the bear market vibes are in full effect.
As we continue to wade through the wreckage of FTX and Alameda, it's clear some communities were hit a lot harder than others.
This week, we dive into the tough times that have hit the Solana ecosystem, digging into how exactly the network is struggling and where the community is showing resilience.
– Bankless team
Modular blockchains are the future. L2s alone won't solve the scaling problem; for this, we need to move toward a modular architecture. Fuel is the fastest execution layer for the modular blockchain stack, enabling maximum security and the highest flexible throughput.
👉 Go beyond the limitations of the EVM: explore the FuelVM
Bankless Writer: Ben Giove, Bankless Analyst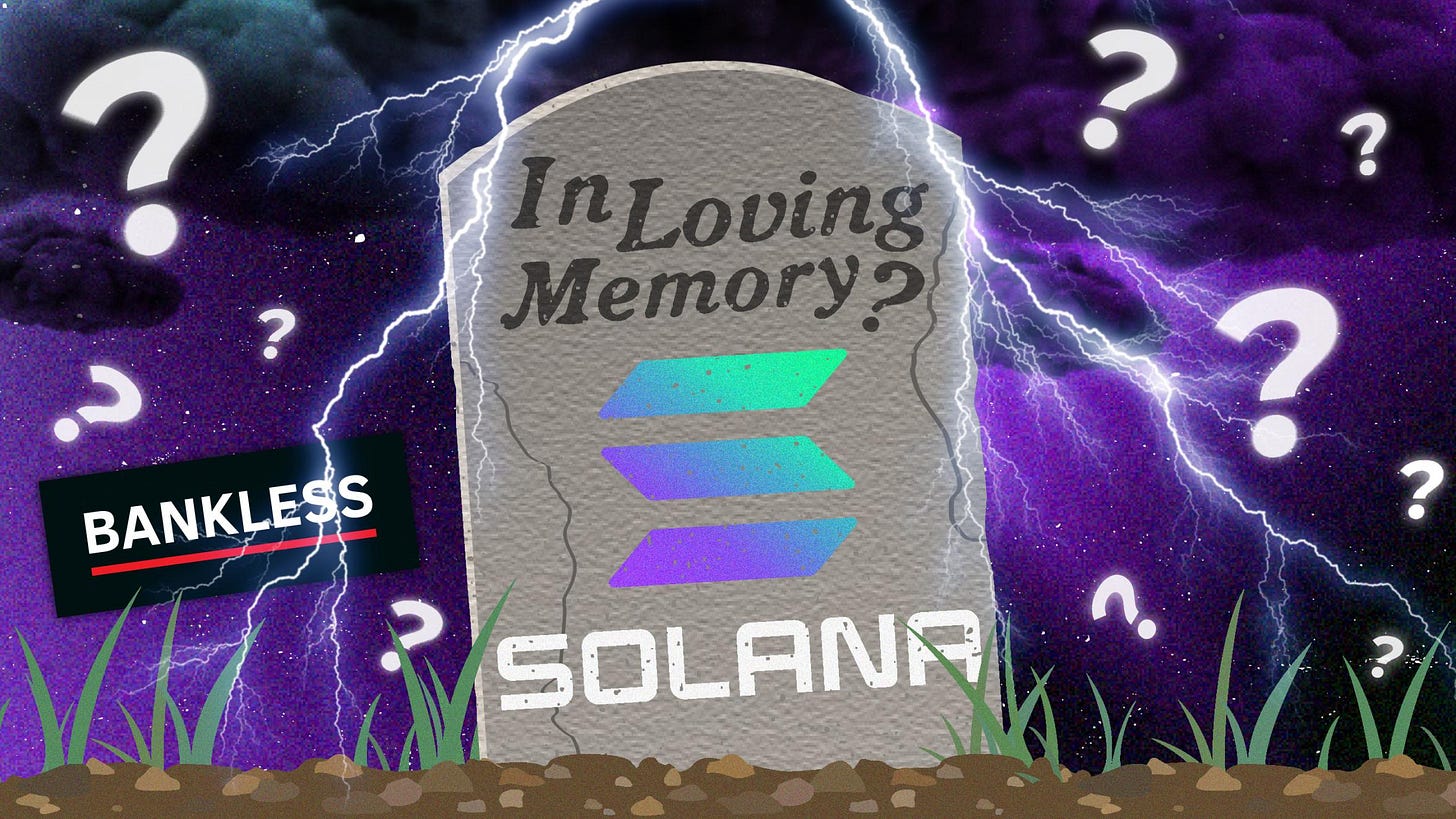 Graphic by Logan Craig
The collapse of FTX & Alameda Research has wreaked havoc across crypto, with lenders, exchanges, and funds alike going bust. The implosion has also wallopped markets, with the total crypto market cap having fallen 14% from $1.0T on November 6 (the day the run on FTX began) to around $860B presently.
Many individual tokens have fallen even further, with ones held by Alameda Research — including Solana — getting hit particularly hard. Per the now infamous CoinDesk report on the trading firm's balance sheet, Alameda held roughly $1.2B of SOL tokens on June 30.
While it's unclear how much of the recent decline was driven by Alameda itself or fear among traders — SOL plummeted from ~$35 to as low as ~$11 (68.5%) in the weeks following the FTX/Alameda implosion.
After being one of the best performing tokens of the 2021 bull-run, SOL now sits nearly 95% below its all-time high. A crash of this magnitude will not only shake the faith of its most ardent supporters, but has the potential to pose a significant risk to its DeFi ecosystem and the security of the network as a whole.
This begs the question…is Solana ded? Will it recover?
Let's examine the aftermath of the crash and look ahead at Solana's future to see if we can answer that question.
An L1's native token dropping 60% in 72 hours represents an enormous stress test.
Not only does a crash of that size pose a risk to a chain's DeFi ecosystem via mass liquidations that can saddle lending protocols with bad debt, but it also poses stability and security risks by increasing the probability of an outage (a problem Solana has struggled with in the past) and decreasing the cost of network-level attacks.
Solana has experienced a mass exodus of stake in the epochs following the FTX collapse.
A net 54.6M SOL has been unstaked in the 9 epochs (which generally last 2-3 days) since November 6, with the total amount of SOL staked falling 13.2% from 411.2M to 356.6M. This accounts for roughly 15% of the circulating supply of SOL.
Of this, a whopping 29.1M (53% of the net total) was unstaked during epoch 370, which spanned the height of the crisis between November 7-10.
Unsurprisingly, the dollar value of stake securing the network has fallen by an even greater amount. When taking into account its price at the beginning of epoch 370 and end of epoch 378, the value of SOL securing the network has plummeted 65.3% from $14.7B to $5.1B.
This outflow in staking could have been even larger, it was not for a decision by the Solana Foundation to postpone their plan to un-stake 28.5M SOL at the end of epoch 370 following policy changes by Hertznera cloud service provider.
Despite these outflows, and perhaps due to the ~3-4 day delay for when unstaked balances became liquid, Solana did not experience any security issues or major attacks. Even after this stake exodus, the L1 has the fourth largest dollar denominated stake and 19th highest stake rate among PoS networks tracked by Staking Rewards.
Extreme market conditions affect both network security and stability. This is because chains often see a surge in blockspace demand during periods of tumult, placing a strain on validators as users and bots seek to frantically top-up collateral, perform liquidations and capture other arbs that are created by market dislocations.
Solana has been notorious for struggling to handle these surges, experiencing numerous bouts of degraded performance and outages.
Since September 2021, the network has had 4 complete outages, with a total of 37 hours and 11 minutes of downtime.
The Solana community has been working on shipping remedies to improve liveliness, with upgrades like stake-weighted quality of service (QoS) and QUIC live on mainnet. Other improvements such as fee-markets and transaction size increases are slated to ship over the coming months.
It appears as though these upgrades are having an impact, as Solana did not experience any downtime or degraded performance throughout the entirety of the crisis.
100% liveliness, regardless of conditions, is the expectation for a blockchain. But given its history and the magnitude of the crisis, Solana's performance during this period is notable, and an encouraging sign that the network is becoming more resilient.
Solana has experienced a major liquidity crunch post-FTX implosion.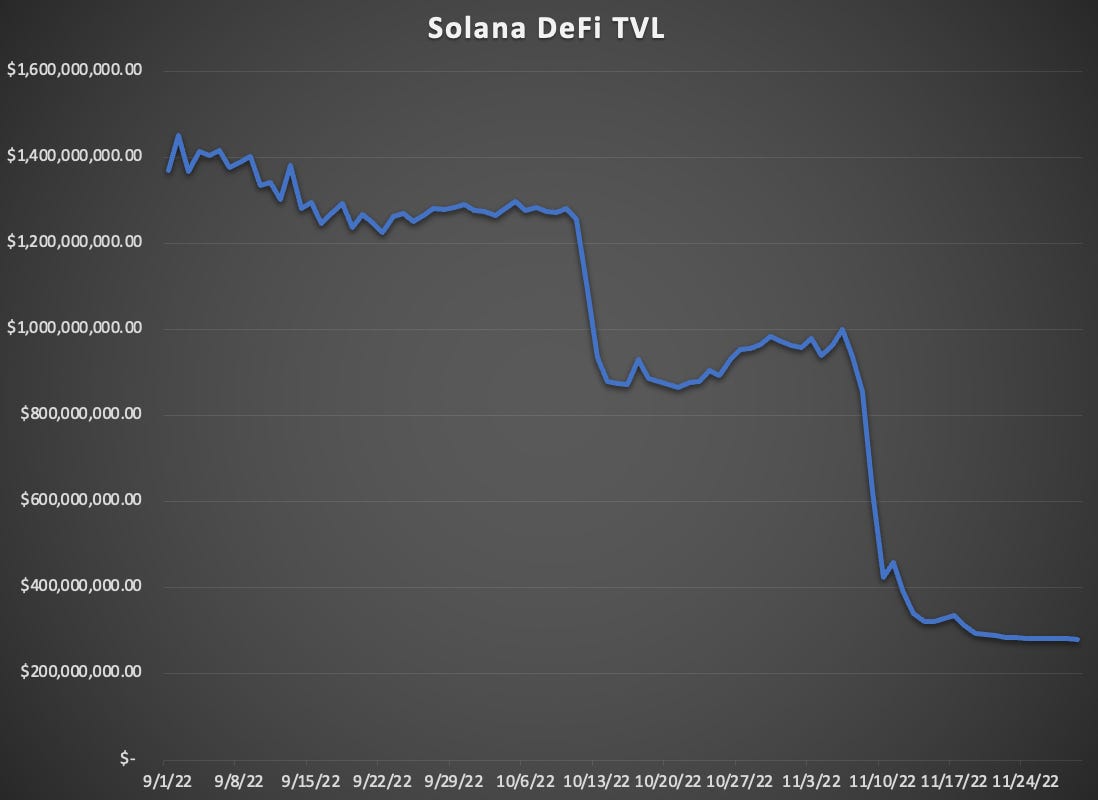 Solana DeFi TVL (USD) – Source: artemis
The network's USD-denominated DeFi TVL is down 72.1% from $1.0B on November 6 to $278.3M. This is to be expected, as many of the assets that are deposited into DeFi protocols like SOL, ETH, and BTC are volatile. Because of this, a TVL decline does not necessarily suggest that users are pulling their funds out of SolFi.
However, SOL denominated TVL tells a different story, having fallen 27.5% from 27.2M to 19.7M since November 6. This indicates that the decline in USD-denominated TVL may not be solely the result of falling prices, but instead from users pulling their assets out of DeFi.
The supply of stablecoins on Solana has also contracted significantly in recent weeks.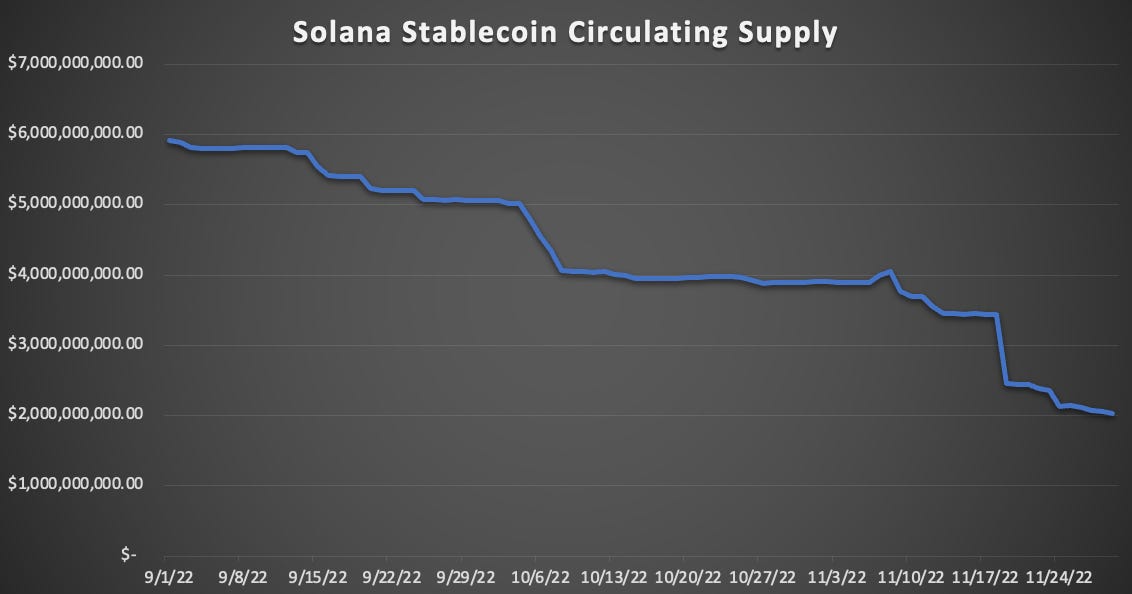 Solana Stablecoin Circulating Supply – Source: artemis
The network's stablecoin market-cap has shrunk 46.1% since November 6 from $3.9B to $2.1B. This decline has been driven in large part by a "chain-swap" from Tether, with the USDT issuer migrating $1B of supply from Solana to Ethereum on November 18. This transaction has contributed to 55.5% of the total stablecoin outflows since the crisis.
Many DeFi protocols have suffered acutely in the wake of FTX, with projects sporting close ties to Alameda hit the hardest.
The most notable of these is Serum, an order-book based DEX that's governance token, SRM, has become the poster child of "low-float, high FDV" token design which enabled the firm to take out large loans against the token at an inflated valuation.
SRM still trades at a $2.4B FDV even after a 69.2% price decline over the past three and half weeks.
Serum was also a core primitive within Solana DeFi, with protocols like Raydium, Zeta Markets, PsyOptions and others having built atop the protocol. This wouldn't have necessarily been a problem were Serum's contracts immutable, as the protocol would be able to function without issue despite the collapse of its governance token.
However, Serum's contracts are controlled by admin keys that are held by FTX. This put Serum, and by proxy Solana, ecosystem at risk, as a Serum hard-rug could lead to catastrophic contagion.
To date, this situation has largely been avoided despite the TVL in Serum falling 99.6% from $121.7M pre-crisis to just $434K, with Raydium pausing market-making on the DEX and Zeta Options holding deposits.
The Solana DeFi community has also deployed a Serum fork, OpenBook, which has attracted $1.5M in TVL. It remains to be seen if the fork will survive, but it could present a makeshift solution for serum-based projects in the interim as a lower-risk liquidity venue than its parent protocol.
As we can see, Solana is suffering, but not ded.
Though the price of SOL is much closer to the $3 figure from SBF's infamous tweet than it was a few weeks ago, Solana's resiliency as a network has been stellar with no-downtime or degraded performance during an extreme volatility event. The chain has also, so far, withstood a significant portion of stake coming offline.
While this is more the case of the blockchain meeting expectations rather than some major accomplishment, it's notable given Solana's history of instability and outages. Operating without a hitch during this tumultuous time should help court deeper trust in the network moving forward.
But that's not to say that it's all clear skies for Solana going forward.
Solana DeFi has endured a significant body blow, seeing major liquidity outflows — with projects that had close ties to FTX and Alameda, like Serum, hit particularly hard.
It will also take time for the blockchain to rid itself of the stench of FTX, which many saw as a key ally to the network. Furthermore, it's unclear how much SOL that Alameda, which has filed for Chapter 11 bankruptcy, holds at present; they will certainly liquidate whatever remains on their books during proceedings.
Concerns surrounding Solana's long-term competitiveness on a technical level also remain, as they very likely will have to embrace modularity rather than sticking to a monolithic architecture. It's worth wondering whether developers and community members, who may not have experienced a 95%+ drawdown before, will stick around over the coming months and years.

Solana Weekly NFT Volume – Source: nansen
With that said, crypto natives know that Solana is more than just an SBF pet project, and have witnessed usage stay sticky even during the bear market.
The blockchain's most recent hackathon had 750 submissionswhile SOL-denominated NFT volume is up 102% M/M, crisis be damned.
In the long run, it's likely the loss of the FTX and Alameda complex could be addition by subtraction, as the ecosystem will not be subject to the whims of their predatory business practices and token designs. Solana may become a more decentralized and equitable place as a result.
Yes. Solana is down bad. There's no dispute that. But reports of his death have, to date, been greatly exaggerated.
Ben Giove is an analyst for Bankless. He's the former President of Chapman Crypto and an analyst for the Blockchain Education Network (BEN) Crypto Fund, a student-managed crypto fund built on Set Protocol. He's also a proud member of the Bankless DAO and methodologist behind the GMI index.
Subscribe to Bankless. $22 per month Includes archive access, innercircle & badge.
👉 Explore the FuelVM and discover its superior developer experience!
Want to get featured on Bankless? Send your article to submissions@banklesshq.com
Not financial or tax advice. This newsletter is strictly educational and is not investment advice or a solicitation to buy or sell any assets or to make any financial decisions. This newsletter is not tax advice. Talk to your accountant. Do your own research.
Disclosure. From time-to-time I may add links in this newsletter to products I use. I may receive commission if you make a purchase through one of these links. Additionally, the Bankless writers hold crypto assets. See our investment disclosures here.