Most days, between the ages of 10 and 14, Kameron Ripple skipped the bus after school. Instead he would ride with his grandfather.
Ripple appreciated the trips the couple took to a pantry near his childhood home in Imperial, Missouri, to volunteer. As soon as he stepped in the door, three elderly women greeted Ripple warmly in the pantry and handed him a list of items to put on the shelves.
The experiences with his grandfather Roger, filling the shelves and distributing food to those in need, had a lasting impact on Ripple. This led him to study during his freshman semester at the University of Missouri-St. Ludwig.
"I always have fond memories of that," said Ripple of volunteering when he was younger. "My grandfather has since died, but I always have these memories close by. That inspired me to finally volunteer for the mobile pantry. "
An afternoon volunteering in a mobile market in 2019 resulted in the junior engineering major becoming the first part-time student at the Triton Pantry. Robin Kimberlin, Director of Student Advocacy & Support, remembers the day well and remembers that everyone was impressed by Ripple's enthusiasm for the job.
"He volunteered at this event and was smiling, friendly – just so committed," she said.
Although Ripple has a knack for service, he wasn't sure what he wanted to achieve in college. A high school teacher suggested engineering because of his gift for math, and Ripple applied and was accepted into the UMSL / Washington University joint undergraduate engineering program.
In the middle of his first semester at UMSL, a campus e-mail drew Ripple's attention to an impending mobile communications market. He decided to interfere, even if he could only make it for the last shift of the day.
"I jumped in," he said. "As soon as I got there, I helped out where I could, ran boxes, gave everything I could where I could."
Back then, he viewed it as a once in a lifetime opportunity for volunteers, unaware that the Triton Pantry was operating regularly on campus in addition to the mobile markets and other events. Kimberlin said the pantry happened to be looking for its first paid part-time job shortly thereafter, and she immediately thought of Ripple.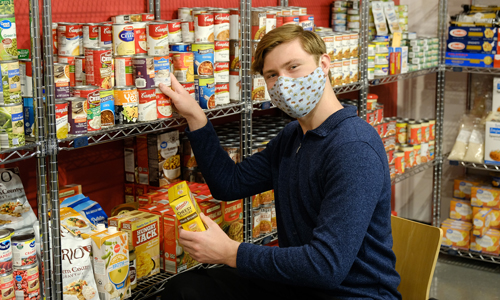 "Somebody got in touch from the Triton pantry and asked me if I would be interested in a part-time position in the actual pantry," said Ripple. "I thought, 'I'll take a look and see if it suits me well.'"
That was it, and he was hired despite missing some important information about the position.
"It was really funny because when I told him what he was going to pay, he said, 'Oh, I didn't even know I was going to get paid. I thought I'd volunteer for the rest of the year, "said Kimberlin with a laugh.
The Triton Pantry usually attracts social work students for volunteering and internships, which makes Ripple's attitude as an engineering student a little unusual. However, the work clearly suits him.
Ripple spends a few days a week in the pantry performing important functions, such as: He has now also paved the way for another part-time employee.
"I find it very fulfilling," he said. "People come in all the time and being able to help them a little bit, as best you can, is fulfilling. You can tell that people are really touched by what we do. It really helps and I love being able to do that. In this way I am helping the community. It may not be the greatest, but it works for me. "
It's a feeling that reflects the memory of his grandfather.
"My grandfather was always a very charitable person," said Ripple. "That's one thing I always remember him. He would help anyone he could, fit or not, he would do anything. Even if he needed help himself, he always made sure that it went both ways. "
If you are a food insecure UMSL student or know another student, the Triton Pantry is here to help: https://www.umsl.edu/studentadvocacy/triton-pantry/index.html
This summer the Triton Pantry is open on Mondays from 9 a.m. to 3 p.m. Wednesdays 1–6pm; Fridays 9 a.m. – 3 p.m.

Short url: https://blogs.umsl.edu/news/?p=88904