Kashmir avalanche: Indian soldier rescued alive six days after 'entire mountain of rock-solid snow' hits military base in disputed region | The Independent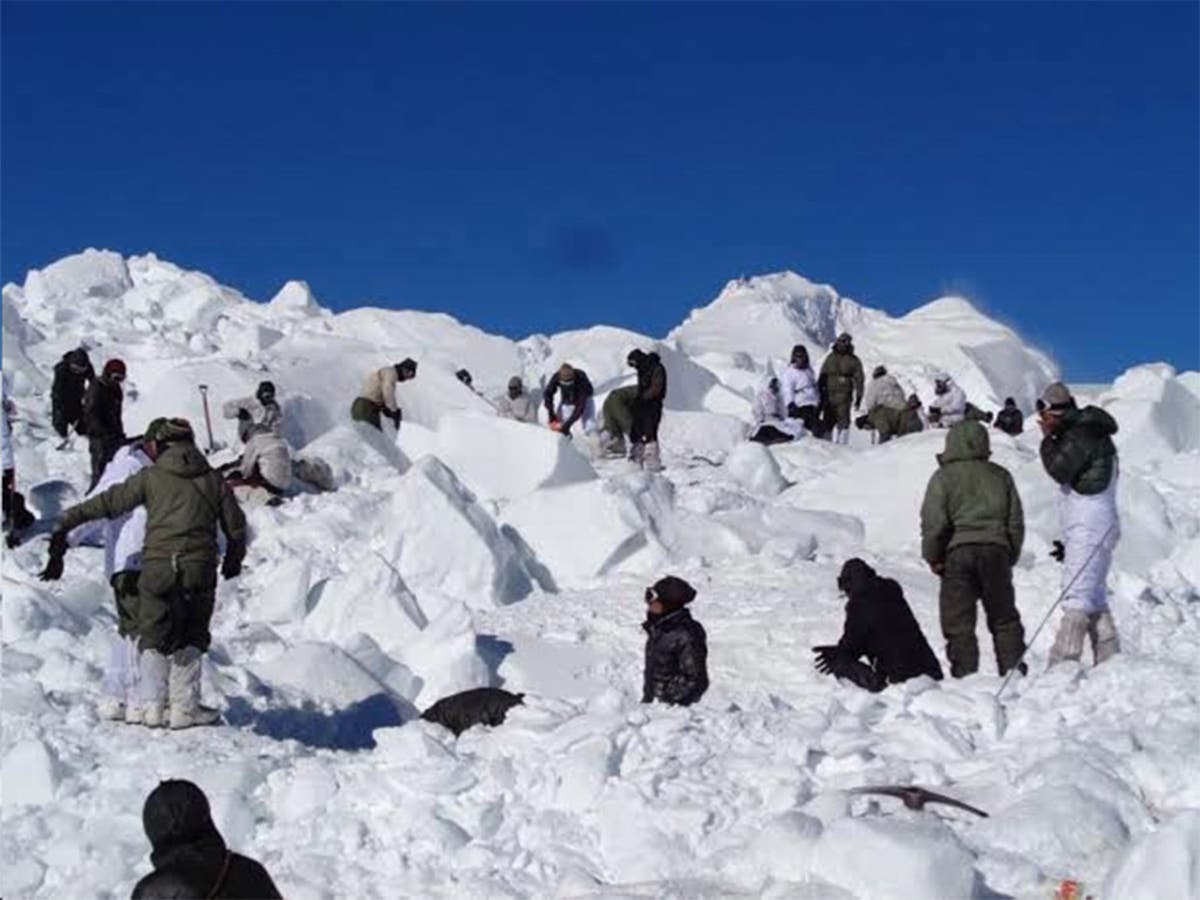 For free real time breaking news alerts sent straight to your inbox sign up to our breaking news emails
Sign up to our free breaking news emails
An Indian soldier has been pulled alive from under 25ft (7.6m) feet of snow six days after a massive avalanche hit a military base in the disputed Himalayan region of Kashmir.
Lance Naik Hanamanthappa Koppad had been presumed dead along with nine other soldiers after what officials described as "an entire mountain of rock-solid snow" fell on his military post on the Siachen glacier last week.
At the time, the Indian army said that the chances of finding survivors were "very remote", but late on Monday, rescue teams using sniffer dogs to scour the nearly 20,000ft-high region, discovered Hanamanthappa Koppad.
The soldier, who had withstood temperatures as low as -45C, was transferred to a hospital in Delhi, where he remains in a critical condition. "We hope the miracle continues," said Indian military commander General DS Hooda, who confirmed that the bodies of the other nine soldiers killed in the avalanche had also been recovered.
Indian army personnel cut through ice as they search for survivors
The Siachen glacier, dubbed "the world's highest battlefield", lies in the east of Kashmir – a region claimed by both India and Pakistan but divided between them along the so-called Line of Control, the de facto border formally accepted by both countries in 1972
Which side has authority over the glacier is unclear, and in 1984 India managed to seize the territory first. It has occupied most of the higher ground ever since.
Although the nuclear-armed neighbors are each estimated to deploy around 3,000 troops in the area, it has seen little combat, with soldiers largely frozen in their positions. The human cost of the deadlock in the inhospitable region has nevertheless been high.
Almost 900 Indian troops have died as a result of exposure to the elements and the icy terrain since military operations began in 1984, according to recent government figures. Pakistan is also thought to have lost hundreds of troops over the same period – 129 were killed in a single avalanche in 2012 on part of the glacier under its control.
With soldiers patrolling the area requiring intensive training and state-of-the-art equipment to endure the extreme cold, strong winds and lack of oxygen, withdrawal from the area would also surely make economic sense for both sides. But despite past talk of demilitarization, little progress has been made on coming to an agreement.
"It is a stalemate," said Manoj Joshi, of the Delhi-based Observer Research Foundation. "They [Pakistan] are entrenched in their positions and we [India] are entrenched in ours."
The family of the rescued soldier has traveled to Delhi from their home in the southern state of Karnataka.
Prime Minister Narendra Modi also visited the hospital where the soldier is being treated, offering prayers for his recovery and praising his "endurance and indomitable spirit" in a statement posted on Twitter.