You may have seen my previous reviews on gaming handhelds, most recently being the Aya Neo but also the GPD Win and the Anbernic RG351V.  Fact is, I've owned quite a few of them over the past years and I can't get enough of them.  Especially considering how far they've come.
The GPD Win was that cool but affordable device that I could play some Windows games and was pretty neat to show people who thought Windows could only be on a laptop computer.  The GPD Win 2 and then 3, plus the Aya Neo are just more expensive versions of the same concept, with better controllers and different hardware configurations to suit the user's needs.
Better hardware obviously produces better results, but it's really cool to see these two companies take it seriously enough to make multiple versions of the same device, aiming for perfection.  I only got to experience the GPD Win 2 when it launched and then the Aya Neo up until today.  My experience with the Aya Neo was good at first, but it turned out even better than expected after I got my upgrade kit, replacing pretty much all the things I originally complained about.
But even as I wrote that review last year, the Steam Deck was looming and was an incredibly similar yet intriguing device.  What makes it stand out from the rest is the fact it uses SteamOS instead of Windows, which can be tailored to suit their needs and make the games run better.
On top of that, Windows is still supported.  Although there is no official dual boot pathway yet, I was able to do so on my own pretty easily and it seems to work well, minus a few driver considerations.  It's enough for me, for now at least.
Many impulse-bought the Steam like I did, but there might be others who are wondering if it's still worth all the hype.  It's nowhere near the Aya Neo's price tag, but it's still significantly more than a console or the Nintendo Switch.
I didn't even give it a second thought – I ordered it as close to the launch window as I could and my device has finally arrived.  I've certainly had enough time to play with it and now write about it, but it's still only been a few weeks.  So I'm sure this article will develop more over time, but here are my thoughts after using the device in my short time so far.
Specs sheet as reviewed – Valve Steam Deck
Valve Steam Deck
Screen
7 inch, 1280×800 px (16:10), 215 ppi, IPS, 60 Hz, touch
Processor
AMD "Zen 2", 4C/8T, 2.4 Ghz base, up to 3.5 GHz Boost
Video
8 RDNA 2 CUs, 1-1.6 GHz
Memory
16 GB LPDDR5
Storage
256GB NVMe PCIe gen 3
Connectivity
Realtek 8822CE Wireless AC and Bluetooth 5.0
Ports
USB-C 3.2 Gen 2 with DP 1.4 and charging, 3.5mm audio headphone jack
Battery
40 Wh, 45W PD 3.0 charger
Size
298 mm or 11.73" (w) x 117 mm or 4.60" (d) x 49 mm or 1.93" (h)
Weight
.67 kg (1.47 lbs)
Extras
Dpad, ABXY, L1, L2, assignable grip L4 &L5, R1, R2, assignable grip R4 & R5, dual joysticks with clickable L3/R3, dual touchpads(clickable and haptics), four utility buttons, rumble feedback,
stereo speakers, 6 axis gyro, accelerometer
Design and construction
Don't fool yourself into thinking this is portable enough to fit in your pocket – the Steam Deck is a huge handheld.
It's larger than the Aya Neo I reviewed last year, and it's a complete beast compared to the Nintendo Switch.  This isn't necessarily a bad thing though, because the build quality and ergonomics more than make up for it.
Though it's completely made from plastic, it's still very high quality and feels durable.  I think it could easily take a few drops without damaging the internal components.  I also think the glass is well protected and likely won't break when dropped.  It helps to have a pair of joysticks to prevent it from striking a flat surface.
When I say it feels durable, I really mean it.  I get almost no flex when intentionally trying to twist or bend the chassis.  It also has a little heft to it, but isn't overly heavy.  1.5 lbs is not a lot to carry, especially how spaced apart your hands are.
The grips are where it's at too.  When I first saw the device specs, I was a little caught off guard with how wide this device is.  But after finally handling it, I totally get it now.  The spacing of my hands is much better than that on my Switch or Aya Neo.  And the fact it has actual grips built-in makes it feel that much more comfortable.  Close to Xbox controller comfortable, which to me is perfection.
There are two notable weak spots on my device and that's with the top and bottom edges.  The top is the worst of it with the exhaust vent, it's just got some flex to it is all, and shouldn't affect anything provided you don't go out of your way to put excessive pressure on it.  The bottom edge has a minor creak where the chassis halves interface.  It's so slight that I never would have noticed it without hunting for it.
I'll get more into the buttons in the next section.  Needless to say, there are a lot of them.
On the front of the device, there's a pair of front-facing speakers.  And of course, the large touchscreen is in the middle of it all.  The only criticism I have with the front design is the bezels are a bit large.  I like the size of the device though, so I would have preferred an 8" screen to fill in that black space.
There's nothing notable on the sides of the device, due to the grips.  But the bottom of the device has a microSD card slot, for added storage.  I don't think I'd use this for SteamOS as much, but I certainly plan on using it for Windows where I can put a lot of emulator games or non-steam games that don't require a lot of SSD speed.
The top of the device has the rest of the IO.  Not a whole lot to look at, unfortunately.  There's a single USB-C port that supports both charging and DP 1.4.  If you plan on dual-booting, you will most definitely need a dongle to expand your IO.  I use a Hyperdrive dongle that I already use for my iPad, which works great.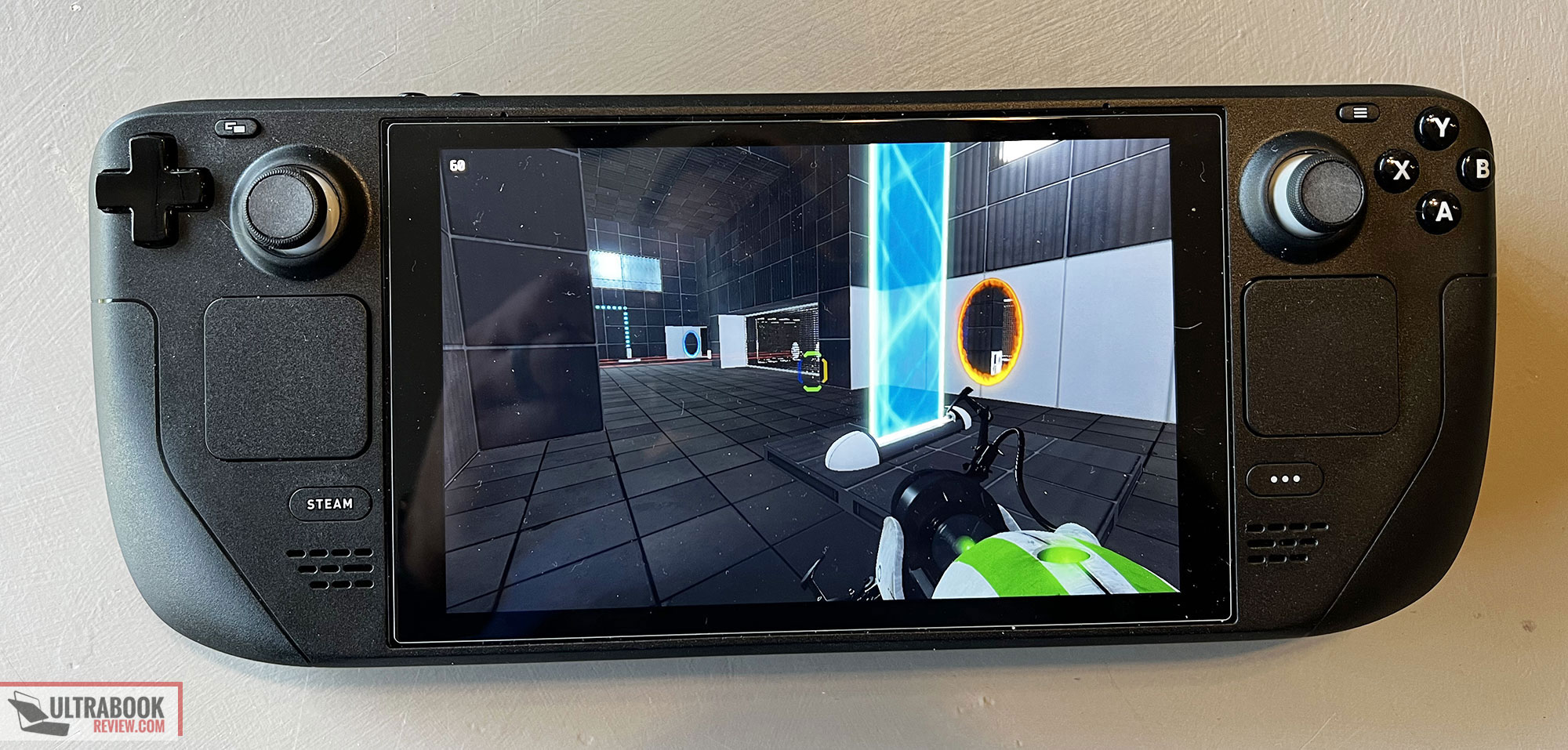 Also on the top is a headset jack, as well as the volume buttons and power button.  The buttons are on opposite sides so there's no way to confuse them.  The last notable feature on the top is the fan exhaust in the center.
The back of the device has a few more buttons and what looks like an intake vent.  There's nothing internal you can see though, because it looks like a heat shield is right behind the vent.  A modest Valve logo is centered on the back of the device.
There are a bunch of screws on the device, but I didn't dare venture to take it apart. I don't plan on updating the SSD which is likely the only thing that is upgradable.
Minor weak points aside, this is an excellent design.  It has a premium feel despite the modest cost of the device.  I especially like the grips, because they fit my hands so well and make the device a comfort to use for long periods of time.  Not sure I have any criticism on what to add for the next version.

There are many buttons on this device, making it very versatile.  It'll get even better once Windows gets full support, which I'll explain shortly.  But as far as the necessities for SteamOS go, I really like what Valve has done here.
You get the typical buttons of an Xbox controller, which is pretty much the bare minimum these days.  Those are the dual analog joysticks with integrated clickable L3 and R3 buttons, a D-pad, ABXY and L1, L2m L1 & R2 buttons.  The "start" and "select" buttons are also present at the top edge of the front panel.
What takes this device a step further is the dual trackpads.  These serve the same purpose as the joysticks but can also be used for fine-tuning your aim.  These are pretty much the same thing as what was in the Steam controller, if you ever used that device.  There's also haptic feel when using them, which is a nice effect.
In Windows mode, these are especially useful because the right one serves as a trackpad for the mouse pointer.  Both of these trackpads are clickable, by the way, serving as a left or right click depending on which one you press.
The last buttons to note of are the grip buttons.  On each grip, you get two separate buttons, labeled R4, R5, L4 & L5.  These are user-assignable for each game you play.  I didn't use these as much as I wanted, but when I did, I appreciated the versatility for sure.  Especially for some of the older titles that clearly didn't have Xbox controllers in mind when they originally made the game.
Now that I've described all the buttons, let's talk about how they perform.  The easy answer is very well.  I'd rank this up there with some of the better controllers that you can buy on the market today.  Of all the gaming I did on this thing, I didn't feel like I had any missing button pushes or accidental ones.  It really just worked as it should, naturally.
To put it into comparative terms, the buttons feel more like Xbox style than they do Nintendo Switch.   In other words, there's a definite silicone dome feel to them on the throw, and there's also that extra squish factor when the button is depressed.  With the Switch style buttons, the throw is much more shallow and clicky.  I honestly don't mind either way, but these buttons are easier to use for emulation games in my opinion.
The D-pad and joysticks also work particularly well.  I definitely used both equally as much and have no complaints there.  There's nothing remarkable about either of them, but there's also nothing to complain about either.  It's exactly what I expected and they work perfectly.  One interesting thing about the joysticks is they have a haptic sensor so that SteamOS knows your thumbs are there.  I have no idea what games actually use this feature though.
The shoulder buttons are equally as good.  These are not all clicky style, which is very important in my opinion.  The Switch and Aya Neo (first version) both have clicky triggers and it definitely gets to you over time.  On the Steam Deck, the bumper buttons are normal clicky switches with a decent amount of travel on them.  The trigger buttons are analog though, which is very nice for racing and flight simulators because these can be used for speed control.  They perform great for me, although I only had limited time with the analog aspect so far.
The last buttons are those triggers on the back.  It's going to take a while for me to get used to these, but I still like them.  My problem is remembering which one does what.  I'm constantly hitting the top one instead of the bottom and vice versa. Sometimes I would also squeeze my fingers accidentally for no reason.  These buttons are unique to this device so it's just a matter of time until my muscle memory kicks in.
So I can certainly praise the controller aspect of this device.  I think as a whole, everything works well.  The Steam button and menu button are good avenues to take for performance settings and in-game menu options too, so it's not like I spent too much time trying to figure out which button did what – I got used to it.
Valve's problem will likely be with Windows support though.  Now I've only spent limited time with Windows so far, but one of the things I quickly noticed was the lack of controller support.  This is especially so with non-Steam games.
Steam games work fine.  There's something in Steam that makes the button assignments the same as they would be in SteamOS.  Other non-Steam modern games also work fine for the most part.  Take this with a grain of salt though, because like I said, I haven't tested all that much.
But what I found lacking were older titles and especially emulated games.  There's no way to assign new buttons to the controller because the controller doesn't come up as a Windows device.  At least not yet.
Now I'm positive Valve will have a solution for this.  Or maybe there is one and I just didn't find it yet.  It's not on their driver list though, so I'm guessing that it'll be something they will fix in the future.  Clearly, Windows support is on their radar, but it's not a top priority.
In the end, this is fine.  It was designed for SteamOS and I think they implemented it very well for a first crack at this device.
Screen
Valve went with a 7-inch 16:10 1280×800 px screen for the Steam Deck, similar to most of the other handhelds.  It's touch-enabled too, which is a must for some aspects of the UI, even though the controller and buttons can be used for almost everything you need.
The screen itself has excellent viewing angles.  There is a little IPS glow at the extreme angles and my unit suffered a fair amount of backlight bleed.  The backlight bleed is clearly a symptom of the screen being taped unevenly inside the chassis because twisting the device just slightly will change the severity.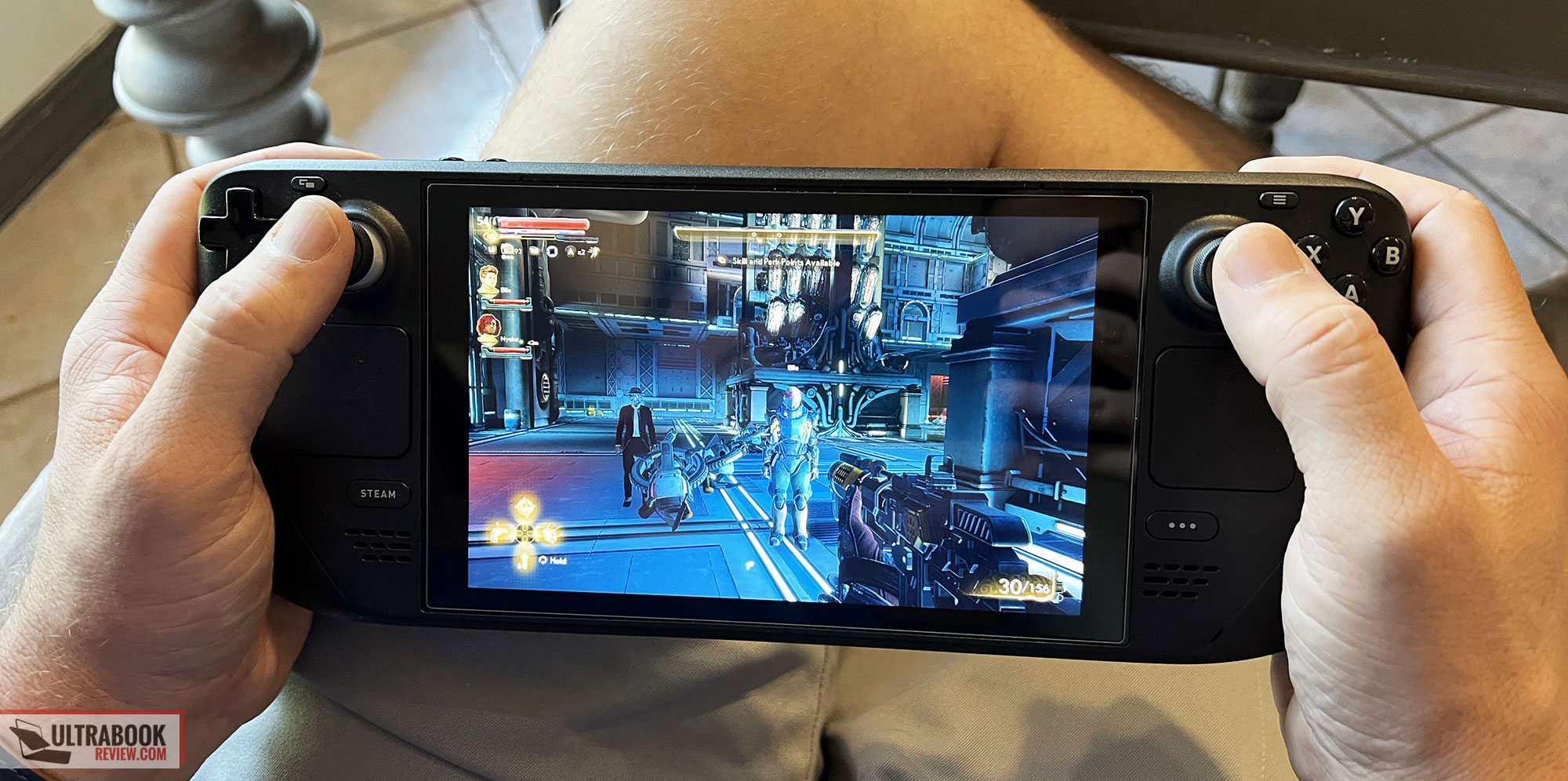 You could argue that the resolution on this panel is too low, however, like the Aya Neo, I don't think this is the generation to jump into a 1080p screen just yet.  You want your performance to be good, and driving a lower-res screen is probably the best way to do it with an integrated GPU.
I did some limited testing on my X-rite i1 Display Pro sensor.  The screen was too small so I didn't get to spend as much time with it as I normally do.  Here's what I got:
Panel HardwareID: unknown
Coverage: 65.9% sRGB, 45.4% AdobeRGB, 46.7% DCI-P3;
Max brightness in the middle of the screen: 347 cd/m2 on power;
Contrast at max brightness: 1200:1
Native white point: 8100 K;
Black on max brightness: 0.29 cd/m2.
Not too bad on the specs, but the big red flag to most would probably be the gamut coverage.  66% sRGB is probably as bad as it gets for IPS screens, especially these days.  What's weird though is it didn't really bother me.
In SteamOS, I never would have guessed it was a low gamut screen.  Perhaps the brightness makes up for it or the colors are just calibrated properly right out of the box.  In Windows, I suspected they might be lower, but it still wasn't bad – especially after calibrating.  All these specs above were measured through Windows, by the way.
As a whole package, the screen is perfectly fine for me.  I like this a lot better than the first screen I got on the Aya Neo (before the upgrade).  But this one is very bright, has good viewing angles, and excellent contrast ratio.  That's all I ask for on a handheld.
If this kicks off a handheld craze, like I suspect it might, I expect future models to offer a more premium screen option, such as the OLED that is on the new Nintendo Switch.  I can understand why they didn't offer it today because it would be a burn-in nightmare without software supporting it, but I would hope to see this in the next-gen.
Hardware and performance
There's not a whole lot I can tell you about the Steam Deck specs, other than what Valve advertises.  As you can see from my Hwinfo screenshots, there's very little info on the CPU, RAM, and many of the internal components.
What I do know is it's an AMD Van Gogh CPU which is designed to give RDNA 2 GPU architecture to the handheld.  And it works too.  The CPU isn't as fast as what I saw in the Aya Neo, but this thing clearly handles games better.
Let's talk about the synthetic benchmarks first.  I had to boot into Windows to get these readings and I set the battery mode to High Performance. Here's what I got:
3DMark 13 – Fire Strike: 4222 (Graphics – 4737, Physics – 10206);
3DMark 13 – Time Spy: 1672 (Graphics – 1535, CPU – 3389);
Uniengine Superposition – 1080p Medium: 2979;
GeekBench 5: Single-Core: 914, Multi-core: 3443;
CineBench R15: OpenGL 64.07 fps, CPU 633 cb, CPU Single Core 140 cb;
CineBench R23: CPU 3779 pts, CPU Single Core 940 pts;
So this pretty much verifies my statement above.  The GPU power is significantly better than the Aya Neo, which was running a Ryzen 5 4500U with Vega graphics.  The CPU scores are also pretty decent.  They are slightly lower than the Aya Neo, mainly because we're only dealing with 4 cores here instead of 6.  This shouldn't adversely affect most games, though.
What really matters is the actual gaming performance.  That is why you buy this device, after all.  I did a series of tests in both SteamOS and in Windows.  I also added in a game that was on my Origin account, but wasn't on Steam, which is why there isn't a result.
See below for my results:
| | | |
| --- | --- | --- |
| | SteamOS | Windows |
| Star Wars Squadrons (High settings) | 60 fps typical, 50 fps low | 57 fps avg, 44 fps low |
| No Man's Sky (Standard Settings) | 58 fps typical, 48 fps low | 50 fps avg, 38 fps low |
| Doom Eternal (Medium) | 60 fps typical, 55 fps low | 50 fps avg, 40 fps low |
| Valheim (low) | 34 fps typical, 25 fps low | 28 fps avg, 23 fps low |
| Dragon Quest XI S | 52 fps typical, 43 fps low | 52 fps avg, 43 fps low |
| Jedi Fallen Order | – | 35 fps avg, 25 fps low |
| Power Wash Simulator | 52 fps typical, 35 fps low | 46 fps avg, 32 fps low |
| Witcher 3 (Medium) | 53 fps typical, 43 fps low | – |
| Wolfenstein II: New Colossus | 60 fps typical | – |
| Final Fantasy XV | 40 fps typical, 33 fps low | – |
| Horizon Zero Dawn | 34 fps typical, 20 fps low | – |
| Outer Worlds | 55 fps typical, 50 fps low | – |
| Portal Reloaded | 60fps typical | – |
Pretty impressive results, especially considering the lack of a dedicated GPU.  It's interesting how some games performed better in SteamOS than in Windows too.  This is probably the result of having more CPU resources and better-tweaked drivers.
But boy was SteamOS a treat to use.  I really was surprised just how many games in my library are already fully supported.  And even the ones that aren't fully supported yet, I was still able to try out and get decent framerates.  Most of the Indie games I own hit 60fps easily.  But even AAA titles like Witcher 3, Valheim, and Final Fantasy XV are totally playable.
The nicest part about SteamOS is when it's "supported", they take care of the tough parts like assigning controller buttons and adjusting the graphics settings for optimum performance.  I pretty much didn't have to do anything with these games except figuring out which buttons do what.  And there's a menu to figure that out and adjust as needed.
If a game isn't supported, it'll give you a warning.  Sometimes it says something like it'll run but it's not recommended because they are still working on it.  Other times it'll just tell you that it doesn't work properly and you might need other controls (probably keyboard and mouse) in order to run the game.  A couple of games warned me that the text may be cut off due to the resolution.
With Windows, you're much more on your own.  You get zero tweaking on the graphics settings, but you do get the controller support for the modern titles.  So for your non-Steam games, you're pretty much stuck with Windows and will have to figure this out on your own.  At least we have the option, though.
Take all this with a grain of salt, because even though I am praising the Steam Deck on how many games it can play, it doesn't necessarily mean the experience is as good as on a desktop or laptop.  Fact is, this is a small low-res screen.  Sure, it's similar resolution to the Nintendo Switch, but with that device, the games were actually MADE for it.  Most game developers didn't have the Steam Deck in mind when they made their Steam port.
What I'm getting at is that for the past 5+ years, 800p screens have been nothing more than an afterthought.  Many modern PC games are built for FHD + resolutions and screens way larger than 7 inches.  When you have low ppi on such a small screen, the UI is not ideal for some titles, which may diminish your experience.
This is especially so for open-world games such as Horizon Zero Dawn and Valheim.  The fine details of each of these games are what make them most enjoyable.  Especially HZD where you have to hit tiny components on the machines that you intend to kill.  On a screen this small, this is super challenging to accomplish, especially turning the graphics to low in order to play it.  Sure it's better than nothing, but I honestly would never recommend anyone play this game through on the Steam Deck over a PC or console – it just diminishes the experience.
On top of those, any game that has really tiny UI aspects or tiny text will be a struggle to use.  Luckily most games allow you to adjust the UI scaling, but some do not.  Outer Worlds was an example where some texts are just too small to read.  It's still playable, but the dialog portions are hit or miss.  I guess what I'm getting at is you might want to do a little homework on what games you intend to play before purchasing this device.
A good way to play those AAA titles that require low graphics settings just to play, is to use Steam Stream.  This relies on another PC on your local network to be available to do all the processing.  The advantage of this is you pretty much will get 60fps on any game, provided your PC has decent specs to do that on an 800p screen.  You also get better battery life.  I used it on a limited basis just for testing and it worked just fine.
With my earlier example, Horizon Zero Dawn, I was able to achieve 60fps on ultra settings.  I even upscaled the quality in settings to make the text look sharper.  But you won't be able to achieve native sharpness on the text, which is the drawback to streaming.  I'm still investigating how to stream higher res.
This all said, I'm very impressed with the Steam Deck's performance.  Not only does it perform better than my Aya Neo, it also has a custom OS that looks like it was originally intended for this device all along.  And I still get Windows support for the emulated and other non-steam games that I have.  The tinkerer in me is very excited to eventually get this device into dual-boot perfection.  But even with just SteamOS, I still think it's a fine gadget.
Emissions (noise, heat), Connectivity and speakers
The cooling solution on the Steam Deck is pretty simple.  It's a fan on top of a heat sink.  I didn't open mine yet, so I can't tell you much firsthand.  But judging from what I've seen in teardown videos, it looks like the air is drawn through the vent on the back, across a heat shield, and then to the fan and out the exhaust.  Check out ifixit's teardown video if you're interested- it was really cool to see.
The fan noise on this device is arguably the one thing I hate about it.  Not only is it loud, there's also some coil whine on my unit.  It was super annoying hearing the constant whistle noise while it was on my desk merely downloading games.
I used my sound measurement tool and got 40dB(A) about a foot from the device.  This was while doing something simple too, like downloading a game.  The noise persists while playing the game, but gets washed out by the front-facing speakers at least.
The fan noise does decrease while this stis idle.  But really though, who cares?  When you're not using the device, it'll be on standby and the fans will be off.  And when it is on, you're going to be playing games 98% of the time.  So expect a constant 35-40dB of fan noise and possibly some coil whine.
I did take some thermals on the unit after a 30-minute session playing Outer Worlds.  The good news is temperatures are nothing to worry about.  The hotspots are nowhere near where you would be touching.  I guess this is an advantage to having such a wide design because your fingers are nowhere near the CPU.

The Wifi module is good enough for me.  It's a Realtek 8822CE module which is Wireless AC and Bluetooth 5.0.  I was getting 515Mbps about 30 feet from my router which was just fine.  Both gameplay and download speeds of games were just as good as they are on my PC, so no complaints there.
The speakers are pretty good on this device, but mainly because they are in the right direction, front-facing.  They reach about 67db(A) about a foot away from the front of the device.  It's enough to wash out the fan noise at full volume at least, but I would have preferred it be a tad louder.
The sound quality in the highs and mids are good, but the drivers definitely lack bass.  Bass is inaudible below 140Hz, which is below average for even the thinnest of laptops.  Maybe it's for the best though, because a lot of bass would be annoying to feel vibrating through your hands.
There's no webcam on this device.  But there is a microphone array and an ambient light sensor.  I never use the microphone in games, so I couldn't really test this for you guys, but the light sensor does its job fine.
Haptics are the last thing I should probably cover.  I'm no expert with this by any means, but the haptics on this device are a little strange to me.  Sometimes they are over the top like when I'm using the keyboard.  And other times in games it's like they are barely even on.  I don't know if this is a setting Valve can tweak over time, but if you're expecting PS5 level controller haptics, it's not gonna happen.  Not even PS4 haptics.
Still, take this with a grain of salt because I'm no judge on haptics by any means.  To me it's just better than nothing.
Battery life
The Steam Deck has a 40 Whr battery.  It's a rather small battery, but a larger one would just add to the heft, so I get it.
There's really no good way to do my normal battery tests.  I normally use Hwinfo in Windows but I think that's an unfair assessment since this is designed primarily for SteamOS.
The best I could do was run a game for a period of time and eyeball what the average use was.  For this test, I did Outer Worlds with the brightness slider at 75ish% and the volume cranked all the way up.  My typical power draw on the battery was 24W, so under this exercise, we're only looking at 1.7 hours of battery life at best.
There are a number of things you can do to improve the battery life.  First thing is to push the settings button with the three dots on the right-hand side.  Under the battery settings, you can adjust lots of stuff.  Like framerate, for example, can be limited to 30 fps.  Running the same game with the same settings lowers the draw to 13.5W, bringing the estimated battery life to almost 3 hours.
There are also ways to limit your TDP and GPU clocks.  Same game, same settings, but now without the fps cap, I was able to drop TDP to 9 watts and limit the clocks to 700Mhz.  This dropped my performance to 35-40fps, but my battery draw was 17.5W here.  So roughly 2.3 hours battery life.
The last thing to consider is Steam Streaming.  This drops the battery draw to about 7.5W.  You'll get over 5 hours of battery life this way, but you sacrifice a little image quality and have to accept the latency from the stream.
Is this any good?  I guess so.  There are just not that many handhelds of this caliber and the ones that are in existence today have similar battery life.  So it is what it is.
So either plug into a wall or keep a battery bank on hand – either will work fine to keep you playing.  Or just keep your sessions to under a couple of hours.
Price and availability- Steam Deck
The Steam Deck is available on Steam's website, starting at $399.  This is for the 64GB model though, which I do not recommend unless you plan on opening it and immediately replacing the drive.  I have individual games that won't even fit on that model.
The model I have on hand is $529, which comes with faster and larger storage (256GB) and a nice carrying case.  It's worth the extra $129 for sure.
The top model is $649 and has 512GB of storage and also has some anti-glare glass.  Is it worth the extra $120 over the model I have?  For me, no, but it's not really that much more of an expense.  I just don't plan on having that many games on it at a time which is why I stuck with 256GB.  I also didn't want to preorder a frosted touchscreen without seeing reviews.  I hear it's ok, though.
Regardless of which model you want, you can't get one today.  Since launch, it has been on a long, long preorder, which Valve is slowly still getting through.  At the time of this review, current orders are due to deliver Oct 2022 or later.  So if you're thinking of getting this for Christmas, order now, cross your fingers, and plan to potentially be disappointed.  Nothing seems to deliver on time these days.
Final thoughts- 2022 Steam Deck
So I'm really digging this Steam Deck.  Valve has done what no other PC handheld manufacturer has been able to do yet, which is polish it for the average end-user.  As cool as I found the GPD Win and Aya Neo, I still wouldn't have recommended them to everyone.  But this is different.
With the Steam Deck, all you have to do is log in, download and play.  That is, at least for the most part, and assuming you have a Steam library already.  But I think anyone considering buying this must already have a decent gaming library on Steam, otherwise why not just get a Nintendo Switch.
As far as handhelds go, this device has all the things that count.  Good screen, good speakers, and good controls.  The ergonomics are very good too, which really helps this device shine.  Add in the good build quality and some decent internal hardware and you have a recipe for a great handheld.
Of course, there is room for improvement. The screen gamut could be higher.  The speakers could be louder.  They probably could have used Wifi 6E.  They could even have put a USB-A slot somewhere too. But this would have likely added to the cost and put them closer to where all the competition is pricing their units.
As it is now though, this is a real bargain.  You get a device that can outperform the GPD Win 3 and Aya Neo and also costs just a fraction of the price.  That's the true draw to the Steam Deck.  So yep, I'm excited.  And yes I'm probably going to put my Aya Neo up for sale after what I've seen. For what is worth, this article also covers the smallest mini laptops currently available, for a wider selection of such micro-computers.
So that about wraps up my opinion on the Steam Deck.  I may add in some more gaming benchmarks or elaborate more on some sections in the future as I learn more.  More likely, I'll write a follow-up article in a month or two.  If you're interested or have any questions though, please leave me a comment below.
Disclaimer: Our content is reader-supported. If you buy through some of the links on our site, we may earn a commission. Learn more.
In addition to being a tech enthusiast, Derek has a career as a biomedical engineer. He enjoys taking things apart, figuring out how they work and finding ways to make them better. His other hobbies include spending time with his family, "Do it yourself" projects such as home automation and running.