Source: Instagram, Binance
The Binance Coin (BNB) is the third highest cryptocurrency by market capitalization after its price rose more than 40% in 24 hours. BNB now stands at USD 270 (13:45 UTC), with the Binance exchange's native token benefiting from the migration of DeFi users towards the Binance Smart Chain (BSC).
The herd of decentralized financial users towards a centralized platform has left Ethereum (ETH) proponents with a sour taste in their mouths. Some figures even speculate that Binance is responsible for the recent spike in Ethereum's gas fees, which is pushing users away.
However, other commentators have praised Binance for providing a real alternative to high fees, while others have urged Ethereum development to speed up their work on moving to a proof-of-stake mechanism.
According to Mable Jiang, Principal at Multicoin Capital, the DeFi industry is in a phase where ETH is expensive to use, Layer 2 solutions on the Ethereum blockchain are not yet ready, and the UI of some promising Layer 1s are not ready yet -Alternatives is not particularly good.
"BSC picked up on that narrative perfectly and fitted into this free phase by tapping into two crowds: 1. [People] who are less evangelical and only want to make cheap on the chain [transactions] ;; [People] who have never used ETH and had their first knowledge [DeFi] about Binance, "she said, adding that this is bullish for ETH in the longer term.
Jiang said that it helps educate more people about DeFi and that they don't have to spend a fortune on fees to study.
"For projects that are more difficult to compete on Ethereum, it makes sense for them to take advantage of this ecosystem as Binance has worked hard to build the BSC community and offer a lot of support. Have on this alternative battlefield they might be a better one. " Chance, "she added.
Meanwhile, Jason Choi, general partner at The Spartan Group, said that while he "can't talk about how organic the volumes are in BSC logs," this may be the first time users have come to lower fees and sensitivity looking to decentralize now have an alternative.
"Previous attempts (EOS, Tron) never went beyond gambling apps," he said.
BNB missile
30 days ago you could have bought a single BNB token for less than $ 50, whereas a year ago it would have cost you $ 22. Times have certainly changed: the BNB increased by over 1,000% in 12 months and by 118% in just seven days.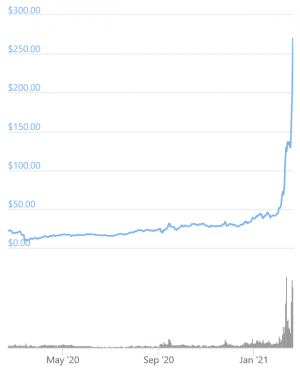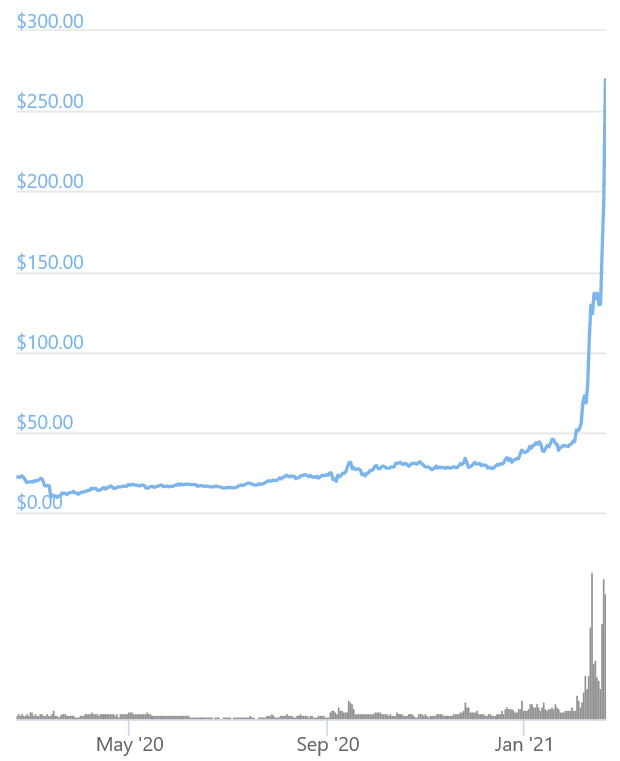 Source: Coingecko.com
Ethereum's gas fees are one of the reasons for this change. Since the average transaction fee for Ethereum is now USD 20 (up over 500% since Jan 1st), using EF-based DeFi platforms like (Uniswap (UNI) and SushiSwap (SUSHI)) is for users on a smaller budget become prohibitively expensive.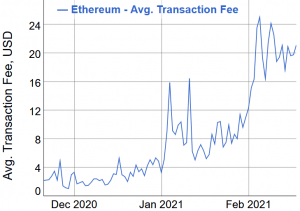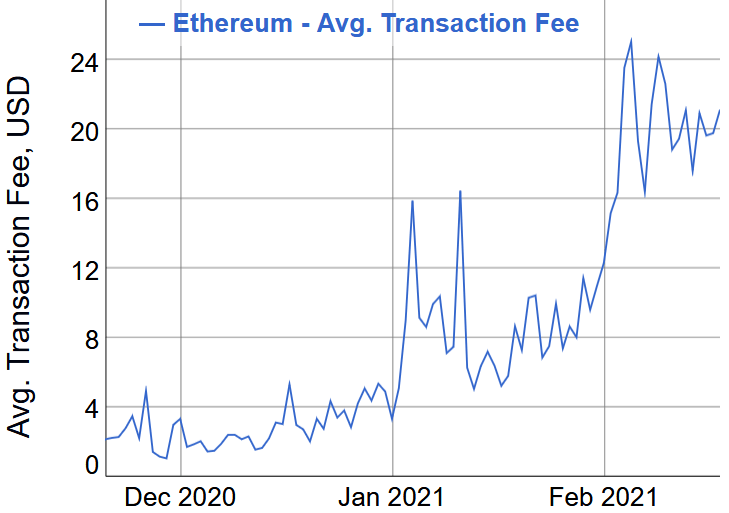 Source: Bitinfocharts.com
Unsurprisingly, such users have gone to DeFi platforms on the Binance Smart Chain as PancakeSwap (CAKE) (a decentralized exchange, DEX) and Venus (a lending platform). As the following chart by Defistation shows, the total value set for platforms at the BSC has increased from under $ 500 million on January 20th to $ 10.5 billion today.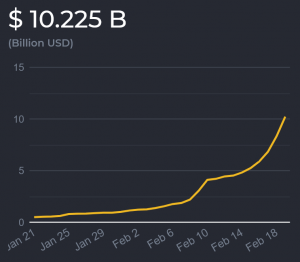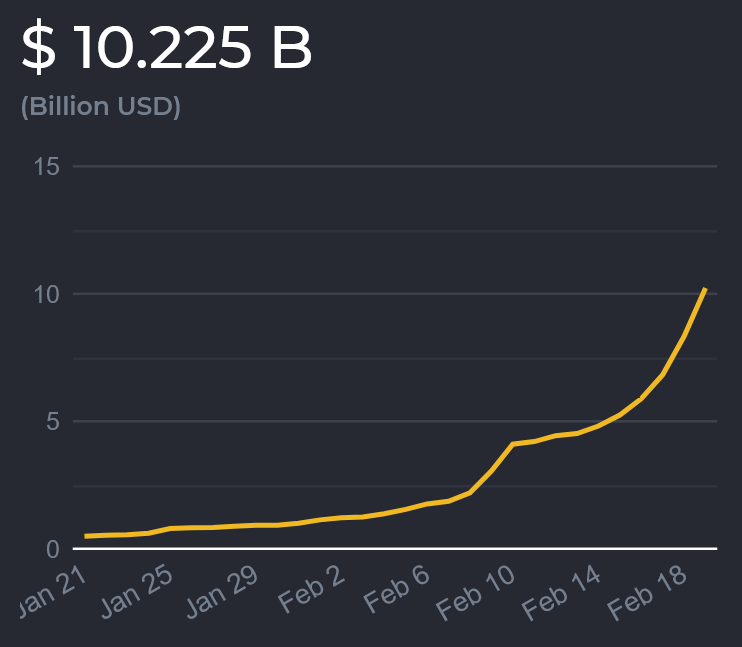 Source: Defistation.io
With users opting for Binance Smart Chain en masse, the demand for BNB has inevitably increased as the token is used as part of the consensus mechanism for proving the authority of Binance Smart Chain.
In addition, the BSC-based PancakeSwap has overtaken the ETH-based Uniswap and is now the largest DEX by trading volume. However, Wrapped BNB and CAKE are the most popular tokens on this platform.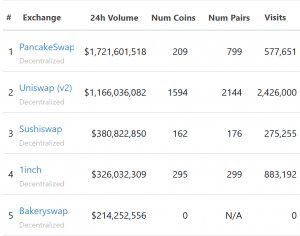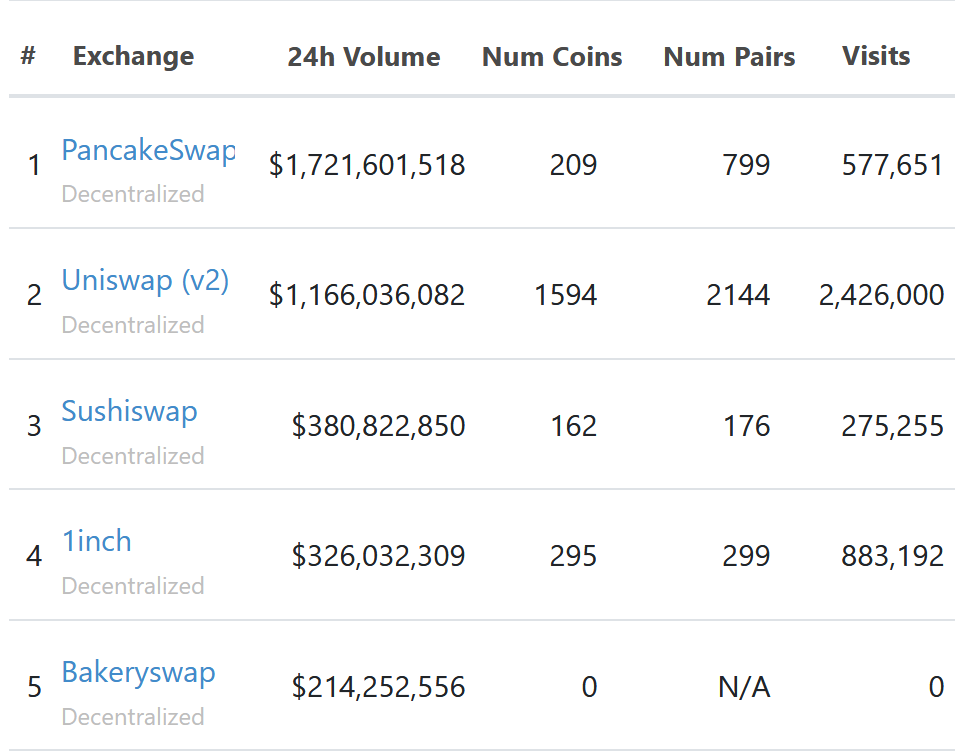 Source: Coingecko.com
Ethereum sour grapes, conspiracy theories and solutions
While the rise of BSC is good news for Binance and anyone wanting DeFi with lower fees, parts of the Ethereum community are not very happy with the development.
Some even suggest Binance is behind the metastatic rise in ETH gas fees.
So today I did some research to find the root cause of high gas charges and I think I figured out why charges on … https://t.co/YO6BDqTPHO are insane
– ₿ulloTaurus (@BulloTaurus)
Likewise, many are unhappy that decentralized financial users have turned to a centralized platform.
Yeah, I'm very excited today.
– Anthony Sassano | sassal.eth 🏴 (@ sassal0x)
On the flip side, more sober people have recognized that Binance Smart Chain is helping people use DeFi at a time of expensive ETH fees.
Unpopular Opinion: BSC saved our asses in the #ethereum ecosystem.
– Marc '五 Billy' Zeller (@lemiscate)
There are also people who think that given the larger network effect of Ethereum, BSC does not pose a real threat to Ethereum.
There is no need for the Ethereum community to be salty about BSC. I know teams who switched from Ethereum to BSC through a … https://t.co/PSbkP9iode
– Qiao Wang (@QwQiao)
While others offer a possible solution.
Hey @Gemini, @coinbase, @krakenfx and other great exchanges with Fiat / Retail Rails … #
– Matthew Finestone | 3body.eth (@finestonematt)
Currently, however, Binance Smart Chain is on the up and it seems it could continue to grow for some time as Ethereum developers work on implementing solutions that could help lower fees.
___
Learn more:
– Solana founder on critical DeFi challenges and how to fix them
– Insane Bitcoin and Ethereum fees dampen the rally and help the competitors
– The Ethereum upgrade encounters an obstacle as some miners try to stop it
– Ethereum fans boast of high fees as an L2 solution
– EIP-1559 doesn't just cut fees for high Ethereum – Professor
___
(Updated at 15:31 UTC with a DEX ranking.)