Ethereum Wallet is an app that lets you interact with your Ethereum account. You can say it is an internet banking app without any physical bank. Further, the Ethereum wallet lets you see your account balance, manage transactions, and connect to other applications. Moreover, getting hold of the best Ethereum wallet is necessary to manage your ETH and send funds.
Also Read:
• Ethereum Classic Price Prediction
• Ethereum Price Prediction
• How To Invest In Ethereum?
• How To Stake Ethereum?
How to create an Ethereum wallet
Creating an Ethereum wallet is an easy job. You don't have to be a Pro to access one. There are numerous web wallets available on the iOS or Google App store.
If you are purchasing Ether for the first time, we recommend you go for a mobile wallet. They are user-friendly and quick to access.
Here is how you can create cryptocurrency wallets;
Go to your AppStore (iOS or Google);
Search and download your preferred wallet;
Add your recovery sentence of 24 words for backup;
Secure your wallet with a strong password;
Add Ethereums to your wallet and use your receiving address to receive your coins.
Without any further ado, let's move toward the list of 16 best Ethereum wallets.
Binance (Cold wallet)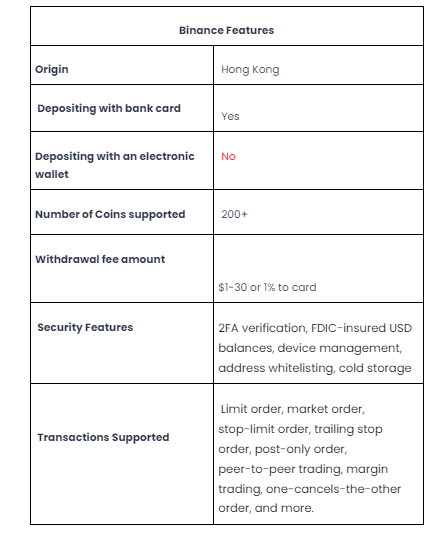 Based in Hong Kong, Binance is the elephant in the room for the cryptocurrency exchange world. Besides being one of the most popular Ethereum wallets.
It is also the safest one as it features two-factor authentication. Founded in 2017, this ETH wallet allows you to deposit and withdraw 200 coins.
The manufacturers have received numerous positive responses from users around the globe, which motivated them to collaborate with third parties like Simplex to enable wire transfer and credit card purchases.
Pros 
Secure and trustworthy
Features complete Defi tools
Comprehensive charting options
Less Instant and Non-Instant fees
Large coin selection
Best exchange rates
Features extra services
Cons
Ledger Nano X (Hardware wallet)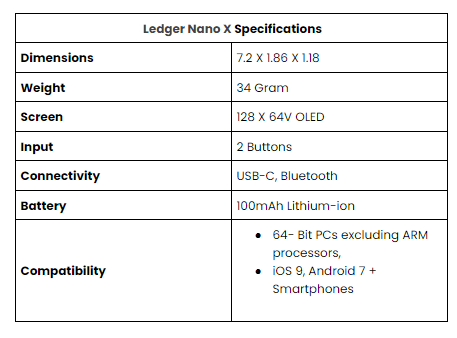 Ledger Nano X is one of the safest hardware Ethereum wallets to buy, exchange, secure, and grow your ETH. Further, it supports more than 1200+ coins and tokens. Now you can control your assets with this Bluetooth-enabled Ledger hardware wallet.
Ledger hardware wallets are all set to secure and manage your cryptocurrencies on mobile devices. You can download up to 100 apps, including Ethereum, XRP, Bitcoin, and more.
The box includes;
Ledger Nano X
USB Type-C cable
Getting started leaflet
3 recovery sheets
Keychain strap
Pros
You can set it up using your smartphone or android
Portable
Built-in Battery
Supports all major blockchains
Easy to Use
Adds coins fast
Supports multiple languages
No critical data like seeds or private keys is transmitted through Bluetooth
Cons
Expensive as compared to other hardware wallets
Coinbase (Digital/Mobile wallet)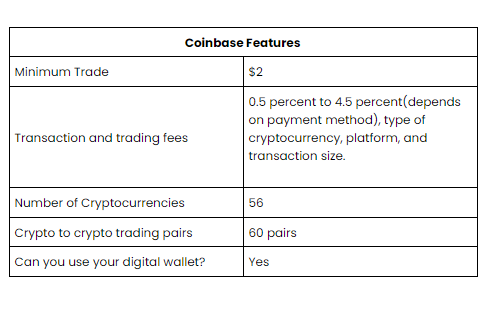 Based in the USA, Coinbase is a licensed cryptocurrency exchange platform. The user-friendly interface is best for beginners.
The traditional Coinbase is an excellent platform for beginners. However, Coinbase pro is far better.
As compared to other traditional web wallets, the cost of trading on Coinbase is a bit expensive. Like other wallets, Coinbase also ensures users' strict security, but it is still not impervious to hacks.
Overall, this ether wallet offers a less complicated fees structure, and the fees are also low. We consider a hot wallet with a simple signup process.
For experienced sellers and buyers, we recommend Coinbase pro as it has reduced fees. Also, the Savvy crypto investors can withdraw their holdings to their own secure Ethereum cold storage.
Pros
Easy to use
Has a solid variety of altcoin choices
High liquidity
Offers access to more than fifty cryptocurrencies
Cons
High fees when not using Coinbase pro
Kraken (Web wallet)

Kraken is an online platform for cryptocurrency exchange. It offers institutions and individuals a wide array of investments (crypto assets, margin trading, futures trading, and OTC trading).
The investor application supports more than 90 cryptocurrencies, including Ethereum coins, Litecoin, bitcoin cash, etc.
Their customer support service is marked underperformed by some critics. Kraken supports JPY, CHF, AUD, GBP, CAD, EUR, and USD.
Pros
Low deposit fees
Features various educational tutorials on digital currency
Availability of OTC (Over-the-counter) trading
Option to earn rewards for taking assets
Cons
Futures mobile platform is not available in the US
Not an own wallet service. 95 percent of all deposit is kept in the offline cold storage. It offers corporate wallets to customers as security while exchanging and trading crypto assets
Argent (Ethereum-only wallet)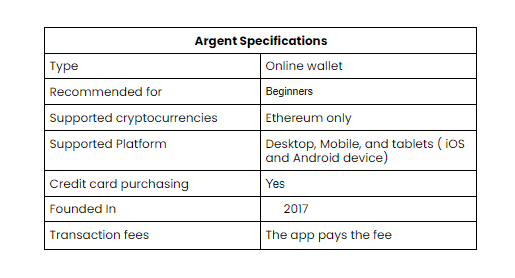 Argent is an Ethereum-only wallet that is ideal for beginners who want to invest in cryptocurrencies. Such crypto wallets are suitable for absolute beginners who are still in the exploring phase.
The number of Defi products available on the Argent makes it distinctive. Another significant feature worth mentioning is the elimination of Ethereum transaction fees.
Argent gives complete control of Ether wallets to its user. It is pretty secure and allocates a unique private key stored on your phone locally with a heavy encryption layer. This private key does not leave your phone.
Pros
Provides a full range of whatever Ethereum offers
Enables you to purchase Ethereum coins with a credit card from within the application
The app pays the transaction fee automatically
Cons
Limited to those in the Ethereum network
Cex.io (Digital wallet)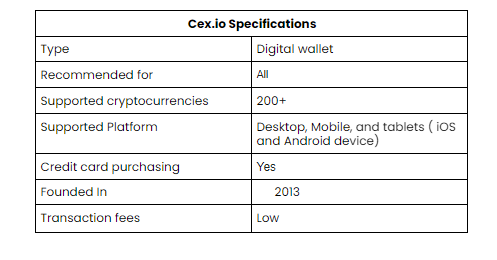 Cex.io is one of the most trusted exchange platforms for digital wallets around the globe. With Cex.io, you can become an owner of digital money within minutes using your credit or debit card.
The process of withdrawing crypto is also easy and quick. You can use your credit card to purchase Bitcoins and other coins on Cex.io with low fees.
Pros
Allows buying bitcoin for less fee using a credit card
Access to keys anywhere
Efficient withdrawal
Less trading fess
Cons 
The verification process to extend buying limit is quite exhausting
Ledger Nano S (Hardware wallet)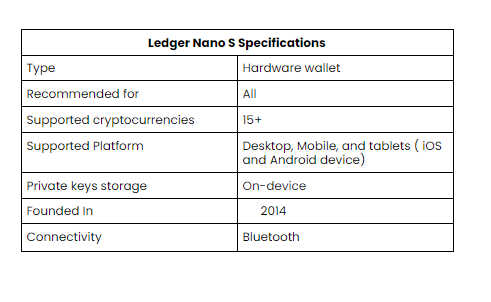 Ledger Nano S is an affordable cold wallet that is less expensive than the above wallets. The Nano S user gets their private keys which are never removed from the device.
Thus the top reason people buy Ledger nano is security!
It supports more than 15 cryptocurrencies. Moreover, the setup is quite simple and quick to set up. The trader is supposed to download the Ledger live to their PC or mobile device.
The next thing they need to do is to select the option to set the new device. The process starts here, and the user has to follow the prompt.
This app is easy to use and beginner-friendly. Unlike Nano x, Nano S is loaded with Bluetooth, allowing users to connect to their Ethereum wallets from anywhere.
Pros
Affordable wallet
Private keys are connected to the device forever
Supports multiple coins and tokens
Cons
Limited storage space for apps (crypto)
Small display
No touch screen option
Gemini (Cold wallet)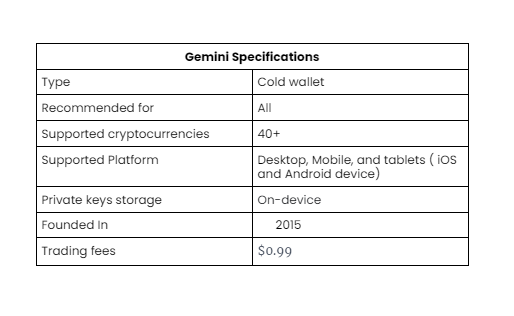 Launched in 2015, Gemini has equal opportunities for beginners and experienced traders. These opportunities include numerous options for selling and buying cryptocurrencies.
Though the trading volume is low compared to COinbase or Kraken, it still offers exciting trading features like Gemini pay, Gemini earns, and Gemini wallet.
This app supports over 40 cryptocurrencies. Each digital currency has its withdrawal fee. However, the transaction fee is charged depending on the amount of crypto you are trading.
Suppose the amount you are trading is less than $10; it will charge $0.99. Moreover, Gemini is also known for its strict security policies.
Pros
Impressive security measures
User-friendly interface
Available in all states of the US
A learning hub for beginners
Cons
High fees based on the market
Trezor Model T (Hardware wallet)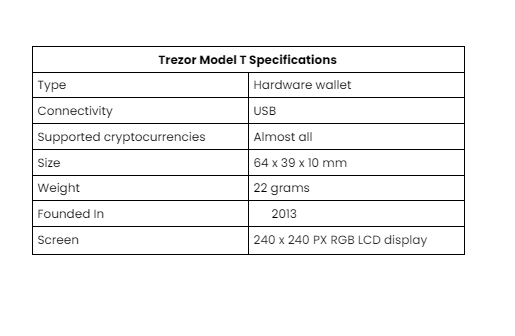 The most exciting feature about Trezor Model T is that you can access your wallet even when you are offline. You only need to have a 12-24 word long recovery seed.
Upon setting the Trezor Model t setup, you will get a seed generated from the app. This will play the role of your offline backup.
This hardware wallet is popular and has gotten positive reviews from Forbes, CNN, and more.
Again this is also one of the safest hardware wallets that have massive users. The trader has to keep his private keys in cold storage not to be easily compromised using the internet.
Utilizing hot wallets, many traders have used paper wallets to cold store their assets which is a complete risk.
The launch of the first hardware wallet has made cold storage a simple and best practice. Trezor's first hardware wallet was patterned in 2012, and they launched their first product in 2014.
The feature that maintains the distinctiveness of Trezor is a slot for SD card, the ability to use a popular splitting critical method called Shamir's secret sharing, and a full-color touch screen.
Pros
Quick and easy setup
Multisig support
Passphrase support
Color touch screen
Cons
Multisig is only supported via electrum
 Atomic (Cold wallet)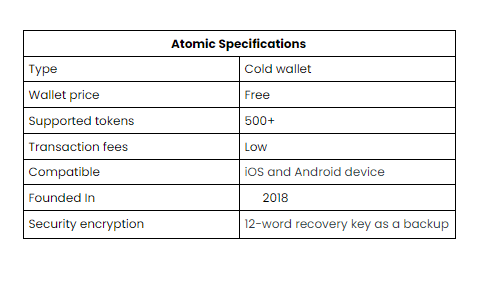 The features that make the Atomic wallet stand out are its cost and token and coins support. Except for the transaction fee, the wallet is free to use.
The app supports more than 500 tokens and coins.
This exchange platform is decentralized, so all the assets are stored in the blockchain. Also, the app gives you a 12-word recovery key as a backup, along with the encryption of the private key.
The security of the wallet is quite reliable, followed by the user-created password.
Pros
Supports more than 500 tokens and coins
Encryption of private keys
Compatible iOS and Android device
Cons
No hardware wallet support
Coinsmart (Cold digital wallet)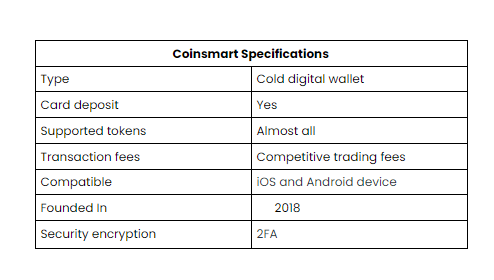 Coinsmart is based in Toronto and has some fantastic features to stand out among competitors. It caters the Canadians who are interested in trading crypto using the Canadian dollar.
There is no app dedicated to Coinsmart, so you can use any device to trade. It gives you access to 11 coins, including Ethereum, Bitcoin, Ripple, and Litecoin.
The security game is high, featuring two-factor authentication and 95% assets being stored in cold storage.
Pros 
Instant verification process
Versatile platform for beginners and advanced-level traders
Competitive trading fee
Features a referral program
The trader gets deposit credits on the same day they are received
Cons
Fiat funding in CAD only
Fiat withdrawals take one to five business days
MyEtherWallet (Web Wallet)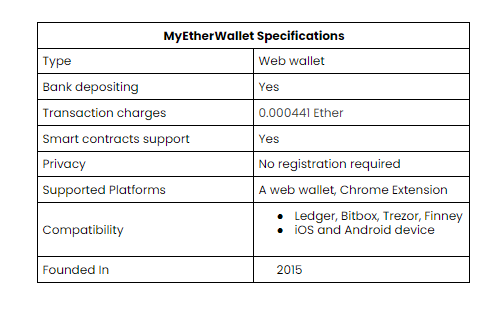 MyEtherWallet aka. MEW falls in the category of one of the most renowned Ethereum wallets. For traders just stepping into the crypto trading game, MyEtherWallet is an excellent option.
This open-source hardware wallet allows users to navigate directly to Ethereum blockchain.
Without the interference of any third party, you can access and control your coins. With complete control over the private key and ERC-20 token, MyEtherWallet is a reliable option. 
Pros
Free to use
Safe and secure
Compatible with hardware crypto wallets
Congenial with any operating system
Can be used with significant crypto exchanges
Cons
Set up process is complex for novices
Exodus Wallet (Desktop Wallet)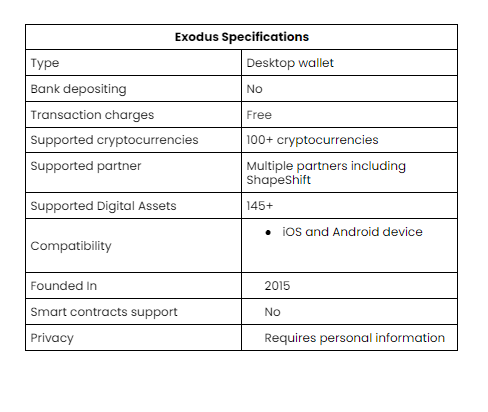 If we have to name the first-ever desktop wallet with multi-crypto assets, we will surely choose Exodus. With an attractive user interface and free-to-use, Exodus is rocking among the best Ethereum wallets.
The best feature of Exodus is the one-click backup option. In case you lose your data, you can recover it by providing your Pin-code and password.
Not forget to mention, the private key is stored offline. The only missing fact about Exodus is it is not open-source.
Pros
Live chat and portfolio
User-friendly interface
24.7 live human agents
Exchange in two taps
Monitor market leverage 
Effortless hardware security
Cons
MetaMask (Popular Ethereum web wallet)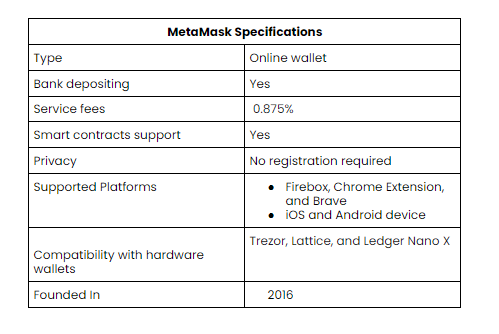 MetaMask is everyone's favorite Ether wallet. The party wallet works like a browser and lets you discover the Ethereum network, enables you to trade coins, access decentralized Ethereum apps, and withdraw effortlessly.
The interface of the Ethereum wallet is intuitive that swiftly shift between the central and testing network.
The private key is stored on your device with password encryption to export keys wherever whenever you want. 
The out-ranking features of MetaMask are the top-notch security and tokens. The Ethereum wallet is compatible with hardware wallets like Trezor, Lattice, and Ledger Nano X. 
Pros
Top-notch security
Highly compatible with other wallets
Password encryption for the private keys
Intuitive design
Brower extension supported
Cons
Greater chances of hacking as the Ethereum wallet is online
Jaxx Wallet (Ethereum classic wallet)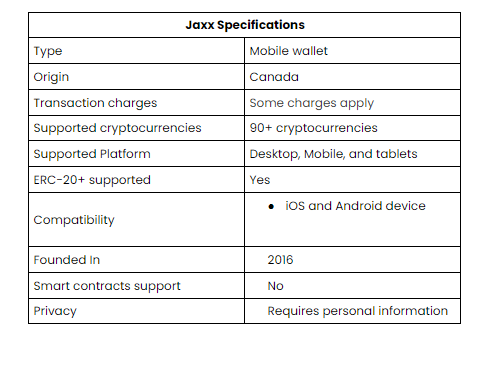 Jaxx is not recommended for Ethereum only, but all cryptocurrencies are available in the marketplace. The interface of the Ethereum wallet is elegant with stout security features.
The great developing community keeps your Ethereum wallet maintained with innovative features. The decentralized platform is a Canada-based company.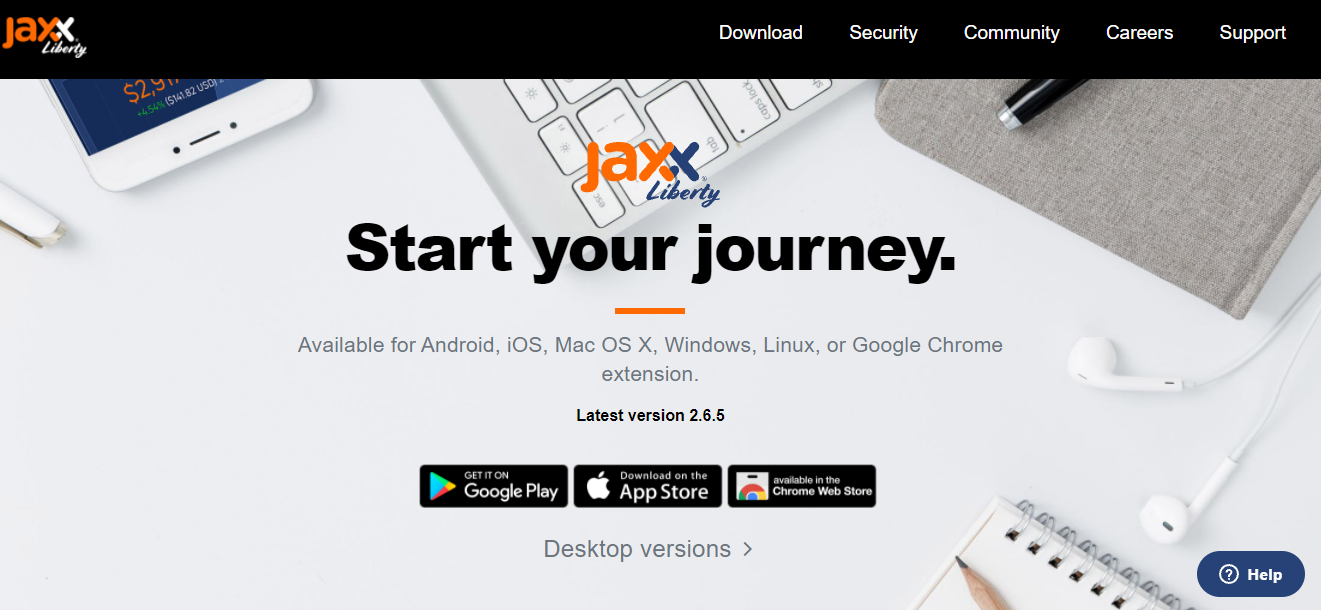 When securing your account, no personal information is required. The seed keys feature guarantees your privates keys on your device.
The Jaxx Ethereum wallet lets you create QR codes with the outlay you want to transact when receiving funds. 
Pros
90+ supported coins
Free to access
Built-in exchange
Cross pairing platform
User-friendly interface
Cons
KeepKey (Hardware wallet)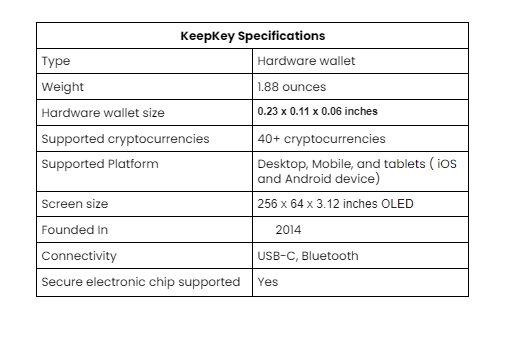 If you have a budget and want the safest hardware wallet for Ethereum mining, nothing can be a better option than KeepKey. KeepKey is the costliest and the best Ethereum hardware wallet.
The hardware wallet is available on the ShapeShift platform at $120. The hardware wallet design is slim and sleek, with cold storage to store private keys offline. 
With ShapeShift, exchange your cryptocurrencies swiftly and direct the bitcoin cash to your hardware wallet. Supported with USB connectivity to access the wallet.
Pros
12-word security sentence with specific Ethereum address
Effortless exchange on ShapeShift
Stress-free security
Widescreen display
Cons
What to look for in the best Ethereum wallet?
This 5-year-old cryptocurrency, Ethereum, is ruling the marketplace. Selecting the best Ethereum hardware wallet is getting perplexing because of the jam-packed market.
Nevertheless, if you focus on the following factors while reviewing the best Ethereum wallets, you can make a reliable decision.
1. Hot or cold wallet?
When deciding on the best Ethereum wallet, you will encounter two categories;
Cold Wallets
Cold wallet stores Ether offline to eliminate all possible chances of hacking and tracking from the third-party wallet. Whenever you decide to transact, you can connect the private keys and perform the transaction. 
The system stores user's private key and wallet address securely offline, typically software that works parallel.
Hot Wallets
Online wallets or hot wallets store private keys online, allow you to access them virtually from anywhere on the planet using devices such as mobile, web, or tablets.
The best part about hot wallets is the convenience of transactions. 
Unlike cold Ethereum wallets, hot wallets are efficient in transactions. Hot wallets are controversial as keys are available online, and anyone can get access to them. 
2. Kind of storage
What are your plans for trading? Are you going to transact daily or going to store the cryptocurrencies in the ETH wallet?
If your plans are about storing the cryptocurrencies, then a wallet with Ethereum cold storage is what you need.
The cold storage protects Ethereum private keys, saves you from downloading the whole Ethereum blockchain, and declines the chances of losing keys. 
3. Two Factor Authentication
Selecting the Ethereum wallet without confirming the security features can be the biggest mistake you can ever make. In terms of security, two-factor authentication is far by the best you can opt for.
This system secures your Ethereum wallet in two steps. First, confirm your password, then send you a numerical code on your mobile device to lock the Ethereum wallet. 2FA dramatically cuts the chances of hacker attacks. 
Types of best Ethereum Wallets
Following are the six types of Ethereum wallets you can opt from;
1. Online wallets
Online wallets can be considered as one of the safest and best Ethereum wallets. These cryptocurrency wallets are located on the centralized crypto exchange. Easy to use with a user-friendly interface, the online digital wallet is the best option for novices. 
2. Paper wallet
The paper wallet was the most used option. In the Ethereum paper wallet, users are granted with Ethereum address and a single private key printed on paper.
The paper wallet was undoubtedly the most unsafe method to store crypto coins and remained in use until 2016. 
3. Software wallets
With full access and excellent security, a software wallet is an application that runs from your computer hard drive. Each coin you hold is accessible and stored on the wallet software.
You have to download your Sofware wallet on your PC. Your wallet is displayed as a keychain that is used to unlock the keys to access the coins.
4. Hardware Ethereum wallets
Hardware wallets are the same as the USB devices we use to transfer and store data. The private keys are stored in a physical medium.
Using the pen drive and entering your Pin-Code, you can access the key on your computer or mobile devices.
5. Mobile wallets
As the name suggests, mobile wallet enables users to store coins in their mobile phones. A mobile wallet is also referred to as a light wallet as it doesn't require downloading the Ethereum blockchain.
It enables you to save your coins on your androids. You can carry them with you anywhere unless you have your smartphone with you.
Nevertheless, mobile wallets are not secure at all because of the high chances of mobile tracking. 
6. Desktop wallets
Desktop Ethereum wallets work on PC and laptops. First, you need to download the blockchain on your device and start trading. Despite the benefits desktop Ethereum wallets offer, there are still some security risks. 
Is Ethereum Wallet Safe?
Ethereum wallets are hardware wallets; they are much secure with the least risk of technical loss or hacking.
Whenever you start a device, you need to enter a safe and unique PIN Code. You cannot enter your web wallet until you remember your PIN code.
So, there is no doubt about the security of your hardware wallet.
Conclusion 
The above wallets are among the top Ethereum wallets. Each wallet has distinct features that help them out-rank other wallets as Ethereum is still young, so the options are limited.
Nevertheless, the time is not far when the technology will evolve.
The best you can go with is the hardware wallet. The security hardware wallets offer way better than other traditional web wallets. The only thing is they are not free!
Lastly, whatever decision you make, make sure you are not compromising on the features and security.
FAQs
What is the safest Ethereum wallet?
Trezor, Exodus, and Ledger Nano and S are among the category of safest Ethereum wallets. The price may vary based on the feature they offer. 
What is the best Ethereum wallet?
The best Ethereum wallet is the one that secures your private keys and offers you decent features. All Ethereum wallets mentioned in the above list are amongst the top ones. 
Is MetaMask an Ethereum wallet?
In short, MetaMask is an Ethereum wallet that stores and secures your ERC-20 tokens and keys. You don't need to register your identification or the wallet on any platform.
Download the extension and store your coins. 
Do I need a wallet for Ethereum?
Yes, for sure. Without an Ethereum wallet, you can't store your coins and ERC-20 tokens nor secure your private keys.
What's going in the marketplace, and what should be our trading strategy? That is all you discern with a wallet.
Is it worth buying Ethereum now?
It depends on what your trading strategy is. There has been no rise in Ethereum value for a few weeks. If you are investing for short-term results, then stay away.
But if you have a long-term strategy, then go for it.