Anyone who has been involved in the bitcoin (BTC) space for some time has probably heard that the way to go is to forget about short-term trading, and instead follow the dollar-cost average (DCA) strategy. But what exactly is DCA, and which services exist to help you automate the process to unleash the full potential of the powerful bitcoin DCA strategy?Source: Adobe/Andrey Popov
The dollar cost average strategy
Put simply, dollar-cost averaging, or DCA for short, is the process of dividing up an investment in a series of smaller purchases spread out over time, rather than going into an investment with a larger amount at one time.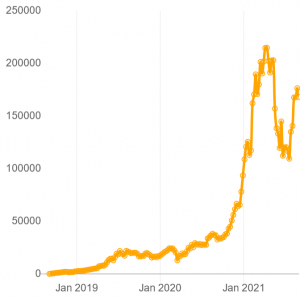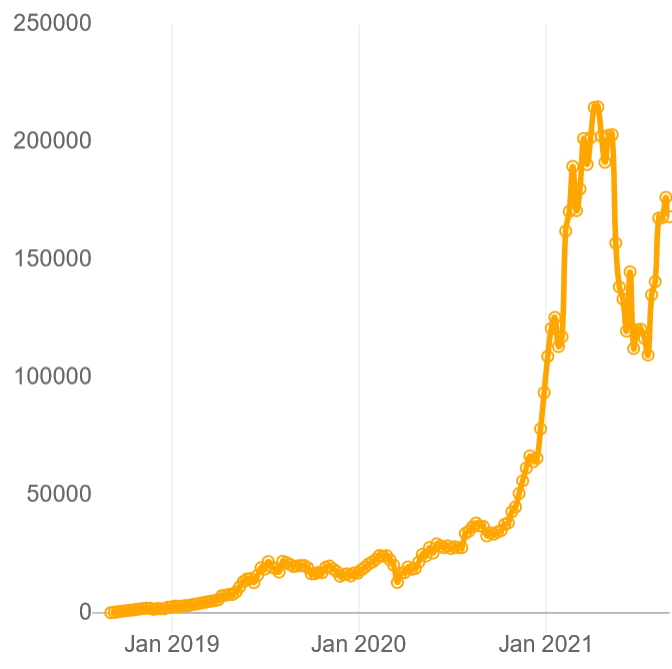 Portfolio value over time of USD 200 invested every 2 weeks, starting 3 years ago. Each dot represents a purchase. Current portfolio value is USD 89,800. Source: dcaBTC.com
The simple idea behind this concept is that timing the market is, in all honesty, next to impossible for most investors. As a result, spreading out purchases over a period of time with fixed intervals means that an investor can channel an asset's volatility to his own advantage.
Sometimes the investor would buy when the price is high, but he will also buy when it's low and most other buyers are too scared to buy. For a volatile asset like bitcoin, this becomes particularly important.
And since the whole point of the DCA strategy is to continue to buy when there is fear in the market, the best way to overcome this mental obstacle is to automate the purchases so that no manual action is needed.
So, to help you get started on your own DCA journey, we've done the research for you and listed some of the popular dedicated auto-DCA services for BTC in different regions of the world:
Amber (USA and Australia)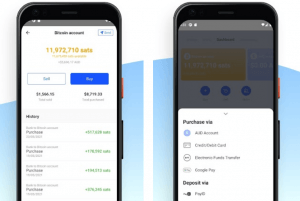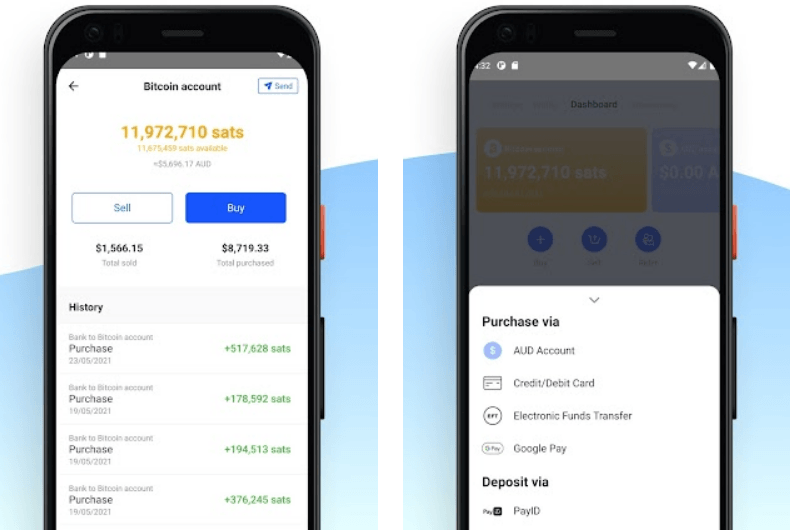 Source: play.google.com
An Australian fintech company started in 2017, Amber is a dedicated DCA service for bitcoin only. For now, the service is only available to residents of the USA and Australia, but the company says it plans to add support for more countries in the future
The main benefit of using Amber is its simplicity and straightforward fee structure. The company has a mobile app that offers bitcoin recurring purchases, and only that.
The con with Amber is the rather high fee of 2% on bitcoin purchases for non-paying "Basic" members. On the other hand, clients who choose to pay a fixed fee of USD 18 per month and thus qualify for "Amber Black" membership, will not be charged any fees on bitcoin purchases.
In addition, there are also fees of between 1.2% and 1.8% for funding an account with credit cards, but this can be avoided by instead opting to fund the account via the free EFT (US electronic funds transfer) funding option.
Swan Bitcoin (US/International)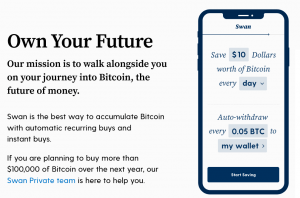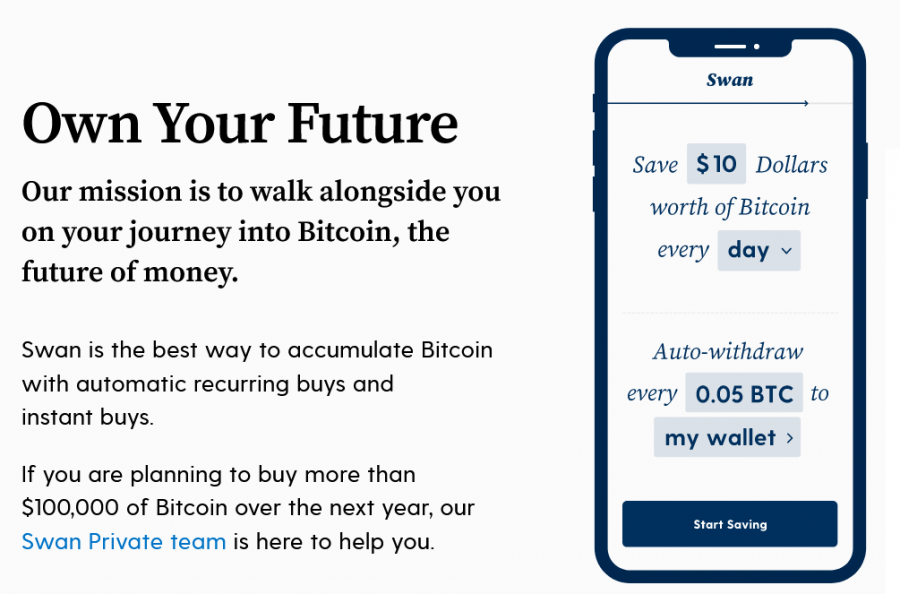 Source: swanbitcoin.com
Headquartered in Los Angeles, Swan Bitcoin primarily serves the US market for recurring bitcoin purchases, although it says it also supports most other countries.
The downside for non-US users, however, is that funds must be transferred to Swan Bitcoin by international wire transfers, since the company does not accept credit cards or popular online money transfer services like PayPal and Wise. Not surprisingly, this may turn out expensive for many international users.
For US investors, on the other hand, the fees for using Swan Bitcoin are more reasonable, ranging from 1.19% to 2.29%, depending on the amount of the recurring purchase. In addition, however, the company also charges fees of between 0.99% and 1.49% for depositing funds on the platform, which can bring the total charge up to as much as 3.78%.
River Financial (USA only)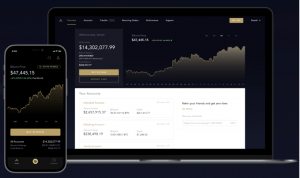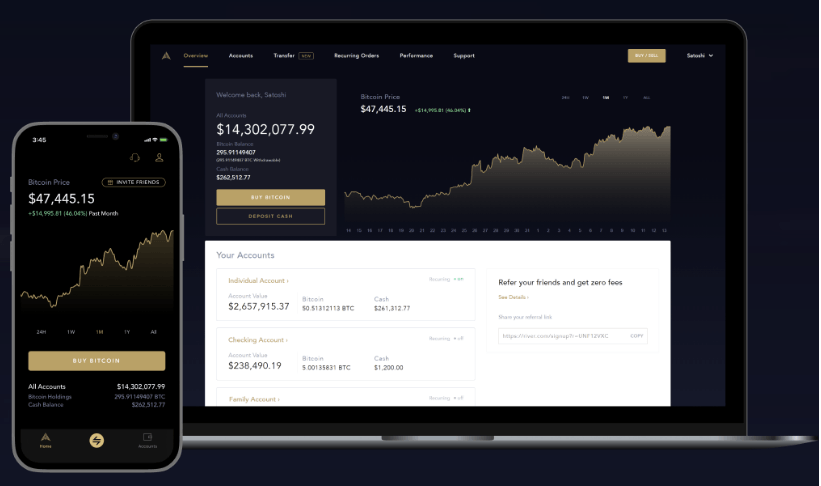 Source: river.com
Based out of San Francisco, River Financial is another bitcoin-only DCA service that caters to the US market. The service works by having the user link his or her bank account, and then set up recurring purchases.
Perhaps the best thing about River Financial is the straightforward and low fees for recurring buys. For purchases of less than USD 200, the company charges a fixed amount of between USD 1.19 and USD 2.39. Meanwhile, buys of more than USD 200 come with a percentage fee ranging from 1.20% for the smallest amounts, to 0.64% for the largest amounts.
River Financial also has an iPhone app – but no Android app – that allows users to keep track of their bitcoin buys from their phone.
Bittr (Europe)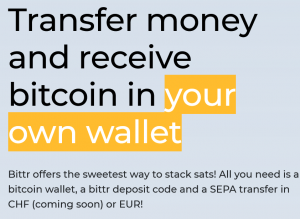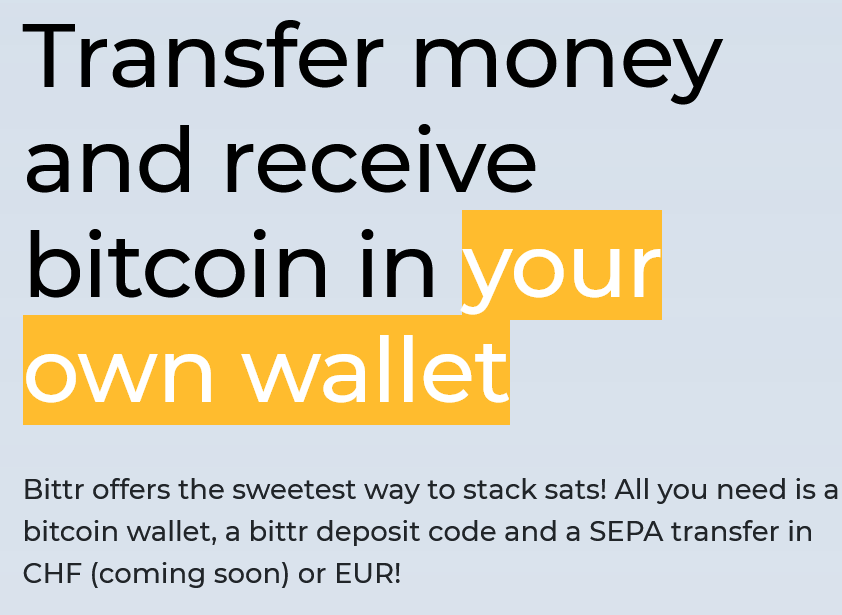 Source: getbittr.com
Available only in European countries that support SEPA (Single Euro Payments Area), Bittr is a Swiss-based bitcoin-only company. Special about Bittr is that instead of accumulating bitcoin on its platform, it automatically sends the coins it has bought on a client's behalf to the client's own chosen wallet address.
Since the process of buying bitcoin happens automatically every time Bittr receives funds from a user, a DCA strategy can be implemented by setting up a recurring SEPA payment from the user's bank account.
Best of all with Bittr is that the onboarding process is easy with very limited know-your-customer (KYC) checks in place. Fees are also reasonable with a flat charge of 1.5% on each deposit made to the company.
Unlike some other DCA services, Bittr does not support the selling of bitcoin back to the company. However, since the coins are held in the user's own wallet, they can relatively easily be transferred and sold elsewhere.
Relay (Europe)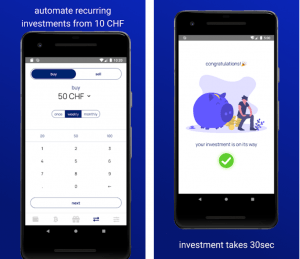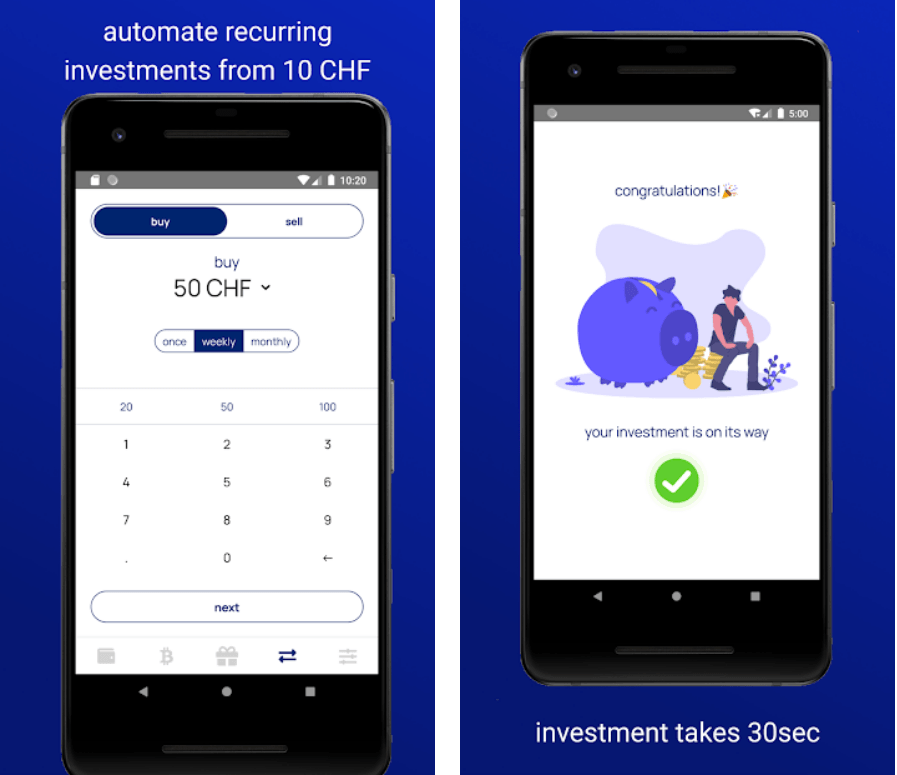 Source: play.google.com
Similar to Bittr, Relai is another Swiss bitcoin company that lets users set up recurring bank transfers to have the company purchase bitcoin. The bitcoins can then be sent automatically to any wallet address, which means the user maintains full self-custody of his coins.
Once again, the main benefit of using Relai is that the app does not ask for any personal information, other than the account number the funds will be sent from. The fee for using the service is a flat 3%. Unlike with Bittr, however, this fee includes both a service fee to the company and any bitcoin transaction fees.
A nice benefit of using Relai is also that it allows its users to sell BTC back if they wish to do so, saving them the hassle of finding other venues for their bitcoin sales.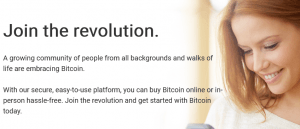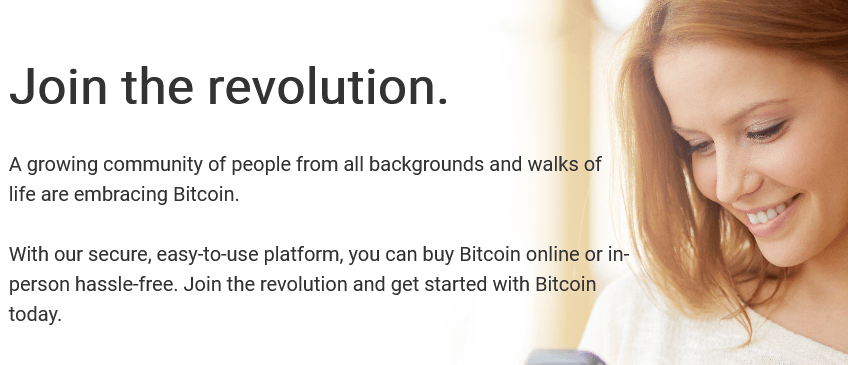 Source: fastbitcoins.com
The global bitcoin marketplace FastBitcoins.com also supports recurring bitcoin purchases through its auto-buy feature, besides traditional lump-sum purchases.
The benefits of using FastBitcoins.com include the global reach of this service, and the fact that it is possible to make purchases with physical cash in selected locations (mainly in Canada, Europe and Australia), in addition to bank transfers.
The fees vary with the deposit method that is used, with bank payments carrying a 2% charge and cash deposits a 4% charge.
Despite the company saying it believes "financial privacy is a basic human right," FastBitcoins.com will still ask its users to upload copies of ID documents such as passports or driving licenses.
Other options
Finally, we should also mention that there are several traditional crypto exchanges that also let users set up recurring purchases of not only bitcoin, but any cryptoasset they want. Although these are not dedicated DCA services, they may be convenient options for people who are already users of these exchanges. Among these are Binance, Binance.US, Gemini, Coinbase and others.
Keep in mind, however, that fees may differ from regular spot trading when using exchanges to DCA using the "instant buy" functions. To make matters worse, exchanges often make it difficult to understand the true costs associated with recurring purchases via instant buying, perhaps making the dedicated DCA services listed above a more streamlined method to use for most investors.
____
Disclaimer: Cryptonews.com does not endorse any of the services listed in this article. We do not take any responsibility for any use of these services. Always do your own research before depositing funds.
_____
learn more:
– Fiat-to-Crypto Versus Crypto-to-Crypto: How Should You Trade?
– 5 Leverage Trading Platforms (for Experienced Margin Traders) in 2021
– Top 4 Risks DeFi Investors Face
– Learn These 5 Key Crypto Terms – and Start Trading Like a Pro
– Three Solutions for Crypto Traders When Markets Get Volatile
– 3 Bitcoin Sentiment Analysis Tools: How They Work & How to Use Them
– How to Apply Forex Scalping Strategies to Crypto Trading
– How to Bet on Bitcoin Volatility Using Bitcoin Options
– 10 Dangerous Traps for Crypto Traders
– Crypto Trader's Murder Blamed On Social Media Bragging